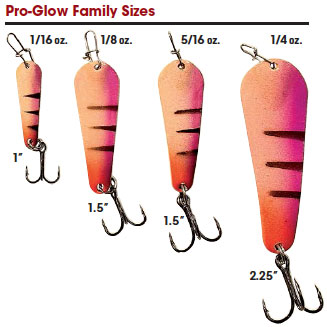 NEW COLOR FOR 2019, WONDER GLOW!!
We've been a family-run company for 30 years, listening to our customers' needs the entire time. Yep, we still pick up the phone when you call. And thanks to your feedback we're able to introduce new fish-catching baits each year.
This year we're happy to provide exactly what you wanted—Pro Series Slender Spoons™ in GLOW! … a haunting red for Lake of the Woods and bright blue for the Dakotas!
And that's just scratching the icy surface. New are eight ultra-bright and long-lasting Pro-Glow patterns with high-end UV coating in the Pro Series Slender Spoon™ family – and in all four sizes – from the tiny 1/16th to 1/8 ounce, 1/4 ounce and 5/16th ounce! All available in nickel or gold back.
We didn't compromise on components either. Each comes with a size 1 or 2 snap for fluid fall and a wickedly sharp VMC® Spark Point treble hook!
Got a trip planned to Lake of the Woods this winter? Don't forget Red Pro-Glow! We tested them extensively last winter while fishing out of Arnesen's Resort – and in Canada – and the results were awesome! Definitely a 2019 MVP.
The brightest bait ... below the ice!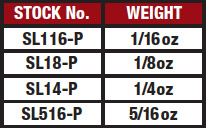 • Red Pro-Glow for Lake of the Woods!
• Blue Pro-Glow for North and South Dakota!
• Green Pro-Glow, a proven performer everywhere
• Variations of Red, Blue and Green with striped patterns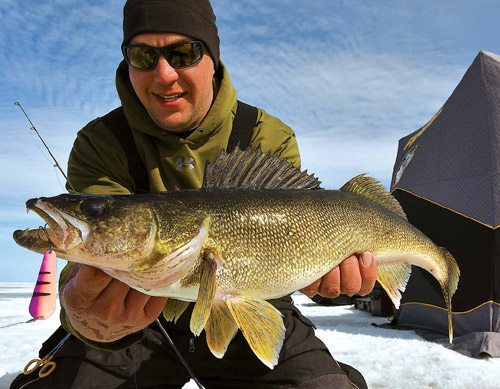 WARNING: Cancer and Reproductive Harm - www.P65Warnings.ca.gov.
Pro glow 1/16 wonderbread slender spoon

There was a blob of clear coat or glue on the backside of the eyelet and some kind of over spray on the lure itself. I'm not sure if it's the glow paint overspray or not but it does not glow very well.

My review is for your spoons. First the pros, the glow on the new pro series is awesome!! One of the best glow baits I have ever used for how long the glow lasts.. second the hooks on the pro series are very good hooks with no bending and few missed fish. The only con I have for your spoons are that I would like to see you start using the same hooks for your pro series on the original slender spoons. I typically always switch the hooks out when I get the original spoons as they tend to bend very easily. That is my only con, awesome hooks. These are awesome baits that are usually on at least two of my setups and are my first go to bait.

Just spent 3 days in a sleeper shanty on lake of the woods. Had the most hits on the lure. Walleye bite was slow but I did get a nice 18 inch using this. Love your lures!!