Fact:
Minnow-shaped jigging baits catch loads of fish through the ice and in open water.
Now meet Custom Jigs & Spins' Rotating Power Minnow™ (RPM) – which brings anglers several new unique features to a proven bait category! Trust us, fish have never seen a bait do anything like this! Behaves like natural forage!
Features:
• Features a unique eyelet that swivels to minimize line twist while imparting life-like action
• A wide glide to fish far off the side of the hole, maximizing your fishable space
• No nose hook to get hung up inside the hole
• Various forage-matching colors
• A smaller, more compact profile to entice finicky fish but with increased weight to fish fast
• An epoxy'd belly hook with "eye" attractor to bring fish in from afar, and gets the negative ones to strike the attractor treble
• Designed so it doesn't snag on itself
How To Fish It:
• Short repetitive rod snaps to attract fish
• On expansive flats, occasional high rips so fish can see and feel the bait from afar
• Alter jigging to what you see on your flasher
• In clear waters, fish the RPM higher off the bottom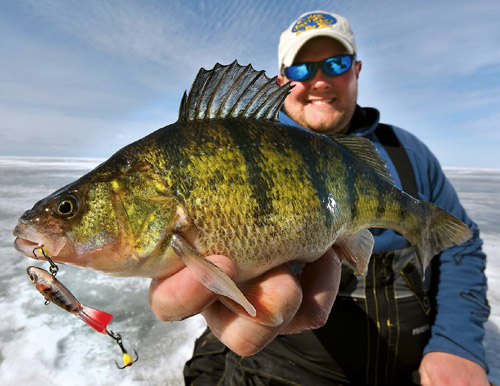 WARNING: Cancer and Reproductive Harm - www.P65Warnings.ca.gov.
The product quality is excellent. Unfortunately,I have not been able to use the lures. I live in southwest lower Michigan close to Lake Michigan and the weather has been terrible, cold (some snow), very rainy with water levels very high and windy on the local lake I fish for walleyes. The weather looks to be improving so as soon as I am able to use these lures I will send you an email about the results. keeping the water temps on the inland lake I fish for walleyesla. The weather is improving and I lookhas been terrible

Hands down, the best! Please make a 5/8oz. so it will get down with a good chop.

Best design of this lure type

Exceeded my expectations in every way! Far superior to all other lures in this category. Top quality, top service. The fish absolutely lost their minds!