You can use Original Finesse Plastic as replacement tails for Ratsos and Shrimpos or on any of your favorite baits in place of, or in conjunction with live bait.!
Original Finesse Plastic is great for ice or open water fishing. Designed to replace live bait on that jig you attach it to! Here's a great ice fishing tip, when after finicky bluegill, you can shorten it up (cut it) and just use the tail or use the tail plus one, two or three of the ball segments!
Each package contains 10 tails.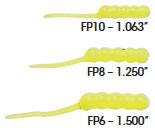 WARNING: Cancer and Reproductive Harm - www.P65Warnings.ca.gov.
Great for Spring and Summer Too!

Know mainly for ice fishing in these parts the Ratso is great in open water too. Custom Jigs and Spins is an excellent company to do business with. I have found that the retail stores do not offer the full selection so I have been buying direct. Thanks!

I used blood red Finesse plastic on a Glazba Firetiger tungsten jig and slammed jumbo perch! I'm a believer!

Early Spring after Ice-out I use #6 Size Ratso Tail on a 1/32oz Jig Head. Best color for me is black Ratso Tail and black 1/32oz Jig Head. Also like pink Jig Head with white Ratso Tail. Chartreuse Ratso Tail color combinations are also good with black or white Jig Head.