Product Description
An ultra-slim, super-sensitive tail also reacts to the slightest movement of your rod tip... You can use Original Finesse Plastics as replacement tails for Ratsos and Shrimpos or on any of your favorite baits in place of, or in conjunction with live bait.
Each package contains 10 tails.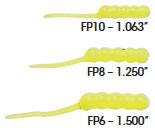 WARNING: Cancer and Reproductive Harm - www.P65Warnings.ca.gov.
Product Reviews
Write Review
Previous | Showing reviews 11-19 of 19
Shrimpo tails

Posted by sportsman on Mar 15th 2017

Great neutral action tail, wouldn't be without it in my arsenal!!

Fish catching

Posted by Alex Doughty on Feb 18th 2017

I use these everytime I go out fishing for pan fish and never go home disappointed.

great plastics

Posted by ben merkley on Dec 30th 2016

When live bait isn't the ticket and I need something with a little more finesse, these finesse plastics are just right. Subtle movements, these baits are great.

No more live bait

Posted by Dale Collins on Dec 29th 2016

Since I have started using the plastic bodies I have caught more bluegill and larger bluegills.

great plastic

Posted by Unknown on Dec 21st 2016

very good plastic..durable

The only soft plastic you will ever need

Posted by Bill Bottger on May 30th 2016

Although they are great as manufactured, I alter them slightly to make them even more deadly. I will describe if you wish

You will catch more fish!

Posted by Drew on Apr 2nd 2016

Great product. You will catch more fish, more often when you switch to these.

Fantastic Plastic

Posted by Unknown on Dec 23rd 2015

I have been using these tails for quite a few years and have had very good success with them. They are my #1 go to for panfish. Don't leave home without them in your tackle box.

Original Finesse Plastic

Posted by Roger Evilsizor on Dec 15th 2015

Have used the Original Finesse Plastics on the Ratso jigs, and the gills love that little fluttering tail with no need to tip with waxworms.
Previous | Showing reviews 11-19 of 19
Find Similar Products by Category