Product Description

Fact:
Minnow-shaped jigging baits catch loads of fish through the ice and in open water.
Now meet Custom Jigs & Spins' Rotating Power Minnow (RPM) – which brings anglers several new unique features to a proven bait category! Trust us, fish have never seen a bait do anything like this! Behaves like natural forage!
Features:
• Features a unique eyelet that swivels to minimize line twist while imparting life-like action
• A wide glide to fish far off the side of the hole, maximizing your fishable space
• No nose hook to get hung up inside the hole
• Various forage-matching colors
• A smaller, more compact profile to entice finicky fish but with increased weight to fish fast
• An epoxy'd belly hook with "eye" attractor to bring fish in from afar, and gets the negative ones to strike the attractor treble
• Designed so it doesn't snag on itself
How To Fish It:
• Short repetitive rod snaps to attract fish
• On expansive flats, occasional high rips so fish can see and feel the bait from afar
• Alter jigging to what you see on your flasher
• In clear waters, fish the RPM higher off the bottom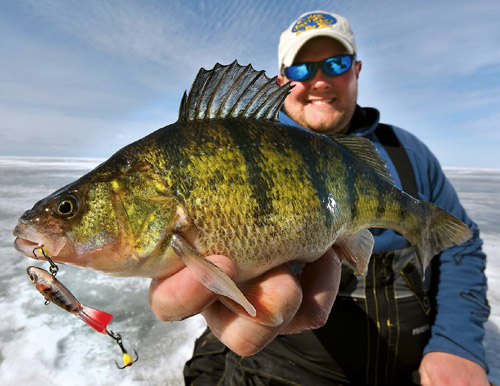 WARNING: Cancer and Reproductive Harm - www.P65Warnings.ca.gov.
Product Reviews
Write Review
Showing reviews 1-10 of 13 | Next
Quality product

Posted by Frank on May 8th 2019

The product quality is excellent. Unfortunately,I have not been able to use the lures. I live in southwest lower Michigan close to Lake Michigan and the weather has been terrible, cold (some snow), very rainy with water levels very high and windy on the local lake I fish for walleyes. The weather looks to be improving so as soon as I am able to use these lures I will send you an email about the results. keeping the water temps on the inland lake I fish for walleyesla. The weather is improving and I lookhas been terrible

RPM

Posted by Erik Mort on Jul 26th 2018

Hands down, the best! Please make a 5/8oz. so it will get down with a good chop.

Best design of this lure type

Posted by Joe Kraan on May 22nd 2017

Exceeded my expectations in every way! Far superior to all other lures in this category. Top quality, top service. The fish absolutely lost their minds!

Great Product

Posted by Chris on Feb 1st 2017

This is a quality product that catches fish. I fished it the day after I recieved it and was catching fish in no time. great color and great presentation.

Great quality

Posted by Unknown on Dec 18th 2016

Haven't used product yet, quality seems great, awesome color, look forward to trying.

just bought my first one

Posted by Michael Zortman on Dec 6th 2016

I just bought my first RPM and based on my success with your Ratfinkees I expect it to perform very well. Just not sure when I will use it since I whenever I target perch I use the Ratfinkees???

worked this fall, now hoping for ice!

Posted by Unknown on Nov 17th 2016

works well, love new colors


walleye coyote

Posted by Berenie Erickson on Oct 14th 2016

Product has great design with swivel hook and no front hook to snag your fingers or to increase the chances to loose a fish. I certainly hope you increase the size selection up to 3/4 and 1 ounce sizes for deep water jigging for walleyes. I look forward to these sizes in the future.

Rotating Power Minnow

Posted by Brian on Sep 21st 2016

This lure design solves many of the problems with the Jigging Rap style bait, including the treble hook on the tail, rotating line tie, rotating middle hook hangar, and omission of a nose hook. The color patterns and finish are awesome. Very realistic! I would give this 5 stars except I really wish there was an even larger size available vs. the two sizes offered. Everything else is fantastic. A+++

They work

Posted by Unknown on Sep 19th 2016

Tried my rpm5 out last week end on an inland lake in Michigan. Caught 2 walleye in an hour and a half.
Showing reviews 1-10 of 13 | Next
Find Similar Products by Category
Customers also viewed