Posted by Walt Matan, Chief Lure Designer on Oct 4th 2020
When I was a kid we didn't have much. It was a big deal to go for a drive out in the country and go apple picking. My mom was so happy. "Just look at the beautiful Fall colors", she would say.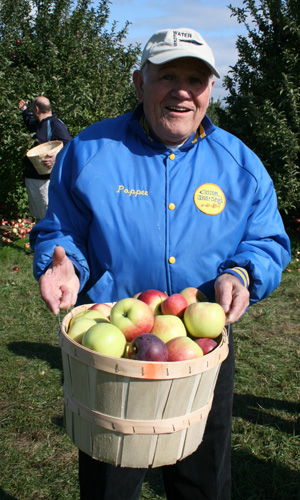 Once at the apple orchard, we'd take the tractor ride out to the fields. "It's so beautiful here, just smell that fresh air, look at the trees, where's my camera...those were happy times.
While she was excited about nature, my father Poppee and I were excited about one thing...apples!
Me and Poppee just love apples
The plan was to eat as many apples as we could humanly stuff into our mouths, as fast as we could, before anyone saw what we were up to. And that's just what we did. We'd take giant bites of the freshest, ripest apples while hiding from the "apple wardens" patrolling the perimeter.
When we were finished picking and eating, we had a small basket of apples and had eaten at least three times as much! Now that was some apple enjoyment!
Fall is also great for catching walleye
Not having much as a kid, leads to how you behave as a fisherman. If you ever wondered why people try to keep everything they catch, I'd say it's either because they don't have much now or at one time they came upon hard times. Luckily for the fish population, there are limits, restrictions and DNR enforcers to keep hungry, greedy fishermen in check!
Last fall I caught some good walleye. It was probably because I fished longer and harder than I have done in the past. Maybe it was because I fished smarter. I know it was because I fished some big walleye areas. Maybe the cooler water temperatures helped. It wasn't because I was enjoying the beautiful Fall colors.
While I was out fishing all these different lakes and rivers, one thing remained constant...a walleye was a walleye wherever I went and the same lures worked in all these areas, too. Deep water or shallower waters didn't matter. Maybe a little tweak here and a slight modification there and I was back in the catching business.
My top Fall walleye lures are blade baits, jigs-n plastic and hair jigs. All these baits have been around a long time, but once you start catching fish on them, they move up to the prime position in your tackle box real quick.
Sport our colors this fall
Custom Jigs and Spins and AuthentX branded gear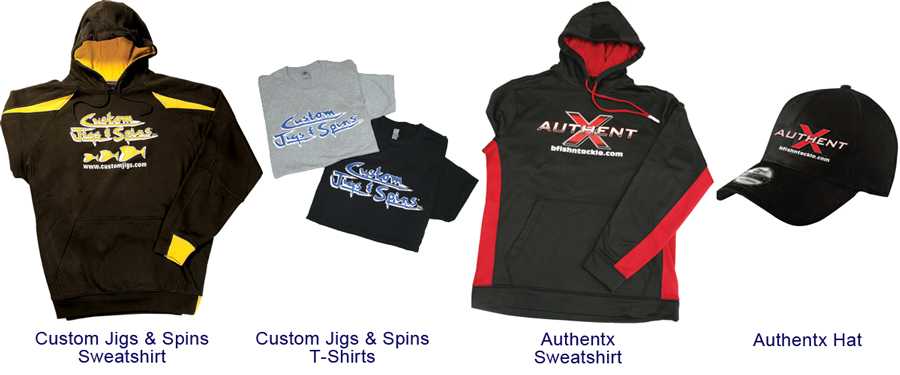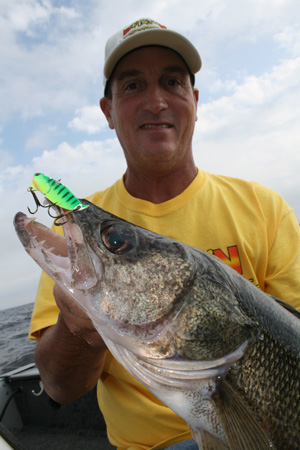 Blade Baits
Blade baits can be cast out or vertically jigged. They are some rock and brush snag catchers, so you really have to pay attention to fallen tree location and other debris that they will snag upon. My favorite fall blade colors are firetiger patterns, glows, and gold.
I like to pitch them shallow for bank runners, aggressive walleye that really slam the blade! I'll also use them in deep holes in the river. River bends, that hold steep drop offs and around dams and bridge pylons with rock piles and scattered gravel edges.
Jig'N Plastic
More and more anglers have gotten away from jig'n minnows or live bait, and have added jig'n plastic to their Fall and Spring walleye arsenal. Fall aggressive walleye will hit a moving target and a jig n plastic combo is ideal for a reaction strike. Bright colors in dirty water are keys to catching fish.
My top Fall colors have chartreuse, orange and glow mixed in. The B Fish N Moxi and Ringworm are Fall favorites. I usually fish in the Wisconsin River in current areas, around the same areas that I find fish in the Spring. But, I also find them to work in the Flowages, also around deadfalls.
AuthentX Ringworm Fall Colors Kit

includes 12 each of our top fall colors - 72 pieces total


Hair Jigs
I had a bunch of hair jigs that were over 30 years old, rusted up with the hair rotting off, so I threw them away. Then, all of the sudden there is a hair jig resurgence! Walleye anglers couldn't get enough of them. Everyone from Al Linder to Bret Alexander is touting how hair jigs are the new big thing for both walleye and smallmouth...not just for Spring and Fall fishing, but all year long!
So I grabbed a few of B Fish N Tackle's Bucktail Hair Jigs and added them to my arsenal. They are made from my favorite H20 jig heads and are tied with premium bucktails. At first, I was skeptical, adding a minnow for security purposes, figuring that the bucktail would add bulk and color attraction and the minnow would catch the fish. It sure did.
Then, after a few casts using the bucktail jig plain, I started catching walleyes of all sizes, white bass and even a catfish. So there you have it, bucktail jigs are what the well dressed angler will be casting this Fall!
So this Fall, if you must, try to enjoy the beautiful Fall colors and be sure to enjoy catching a bushel basket of walleye!
For more information on walleye fishing, Bucktail Jigs, B3-Blade baits, as well as AuthentX plastic log on to www.customjigs.com or call 800-831-5535 for a FREE catalog!
If you enjoyed this article, you may also enjoy: