Posted by Walt & Poppee Matan on Jan 27th 2018
Ice fishing is a daunting endeavor, especially for the first time angler. On our first time out many years ago, we didn't have much gear. We had a few Ratfinkees, two rods, two buckets and some wigglers for bait. We were after yellow bass and yellow bass supposedly liked wigglers. We walked out on our local lake, and found a few open holes. As luck would have it, we caught one after another and we were hooked on ice fishing forever!
The next weekend we went back to the same lake, the same area and found our old holes. This time we had an auger and we drilled a couple of new ones next to the old ones. Down went the wigglers and hours went by with no fish. We had to move, but where? We looked around and saw a crowd of anglers on the other side of the lake so we went there. We saw guys reeling in fish, so we got near them. They were ok guys and we caught a few fish that day too.
The moral of the story is when you don't know what to do, follow the crowds. If you are a likeable sort, someone may take pity on you and teach you a lake secret. Every lake has a bunch of secret baits, jigs and spots!
Getting started in ice fishing isn't a big thing. You can get by with a Ratfinkee, a rod, some bait and a bucket. But if you really want to be an ice angler, you'll need a little more gear. Let's take a look at what we use now.
Rods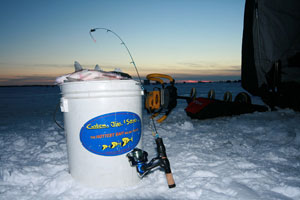 Frabill makes some great combos. In fact, they have some species specific combos for crappie, perch, walleye, bluegill and larger gamefish; these rods were developed with a lot of angler input. Frabills 26" Ice Hunter Quick Tip Combo was designed by us. It features a smooth operating spinning reel with a good drag system and 3 ball bearings for smooth operation. The rod has quick tip so you can see the slightest bites. We opt to add a (#1682) Frabill spring bobber, they come two to a package. We also like to stretch the spring bobber out a little longer to make them a little "looser," since they are wound pretty tight and a little to stiff for our liking.
We like to have a few rods rigged up and ready to go, that way when the fish stop biting, you can quick change to another jig. This really, really works and we can't tell you what a difference it makes.
For larger gamefish like walleye, we go with Frabills 26" medium combo. This rod is designed by Dale Stroschein of Sturgeon Bay and the action is just right for every walleye we're after. The length is right too, since a 26" rod is the perfect size for fishing in a shelter.
Jigs
Custom Jigs & Spins makes some great jigs. Not just because we've designed them, but because they are precisely balanced. Two models; the Rafinkee and the Demon each come in five sizes and a myriad of colors. They will catch you every species of fish that swims under the ice.
From the tiny size 12 to the largest size 4, these jigs can do it all, yet will react totally different under the ice. The Demon is an ultra light vertical hanging jig. It will flutter on the fall and works best with a flutter/fall jigging motion.
The Ratfinkee is totally different. It rides horizontally and has a ball shaped jig head. The Ratfinkee works best with more of a rapid-fire jigging.
When fishing with either of these jigs it is best to use live bait. Spikes, waxworms and wigglers will work well for panfish, while minnows or minnow heads will work best for crappie, walleye and other gamefish.
The best part of ice fishing is that you can see the fish before they strike. This allows you to alter your presentation to the fishes mood. The two best ways to see the fish are with a dark house in clear water or with a flasher stye locator.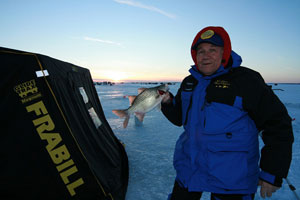 The Dark House
Surprisingly fish will get extremely shallow, especially panfish and walleye. Couple this with a clear weedy, lake and you have a recipe for an education in how a fish feeds.
If you have a dark tent, like the Frabill Trekker series, you can view the action a lot easier, since all the glare is eliminated. Another advantage to the tent is that since all wind is eliminated you can detect the light biters a lot easier.
Sight fishing is very, very exciting. As you peer down your hole at your jig, not much is happening at first. But as you look closely, you can see a shadow of a fish off to the side and the next thing you know, it is on your jig. If you don't react at the precise moment the fish will suck in the jig and spit it in an instant!
Other times, two or three fish might move in and it becomes a guessing game of which fish will attack first, unfortunately many times the tiniest fish is the most aggressive. The longer you watch the action, you will realize that one wrong move will spook the fish and often times a quick color change or a change in jig size will produce.
Flasher Style Locator
The flasher allows you to find fish and also to see when they are upon your jig. Humminbird makes some LCD flashers that are high powered and super sensitive. Their Ice-55 is their top of the line model that allows you to see the tiniest jig under the ice.
If you've never seen a flasher in action, they are very simple to use. Just place the transducer in the hole and then lower your jig down around it. You will be able to see your jig as it sinks, once the units gain is properly set. Your jig will look like the second hand of a clock as it falls. If a fish is around it usually comes up under the jig as a larger band. Once the two bands meet, it's time to watch your rod tip and be ready to set the hook.
What makes the Humminbird so great is that it is a six color flasher. The colors vary from green to yellow to orange to red and shades in between. The redder the color the bigger the fish!
This season pick up gear we've discussed and try some of the techniques we've highlighted. The best way to catch fish through the ice is to spend time on the ice! So give ice fishing a SERIOUS try this winter.
Walt & Poppee Matan are chief lure designers for Custom Jigs & Spins. For more information on ice fishing and to see Custom Jigs & Spins full line-up of tackle log on to www.customjigs.com or call 1-800-831-5535 for a FREE "Tips & Tricks" catalog. Walt & Poppee have also helped in the design of their Ice Hunter 26" Quick Tip Panfish Rod from Frabill. To view some of Frabills great ice fishing products log on to www.frabill.com.