Posted by Walt & Poppee Matan on Dec 17th 2018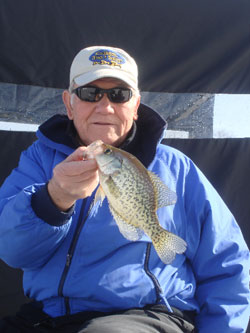 There is something mysterious about crappie. They are good fighters that are tricky to catch and even trickier to pull out the hole. Crappie will feed during low light periods and will return to popular haunts near dusk. Crappier are suspenders. They will find a spot at the weed edge, around fallen timber or even in open water, where food is plentiful and suspend there waiting with open mouths!

A good crappie area in a lake is a weedy bay. Early in the season and at last ice, crappie will be in as little as a few feet of water and as long as weeds are present, crappie will be too. As the season progresses, the best crappie spots in the bay are the edge of a drop-off. Green weeds are still key crappie ambush areas. Remember that the cleaner and clearer the water, the thicker and greener the weeds will be. Depths that fish may be found can vary anywhere from eight to thirty feet.

If the lake is dirty or stained, it can still be good crappie water. Even if there are no weeds at all, the drop off near a flats area is usually a good spot. Depth can vary anywhere from three to twelve feet. You need to find the depths where most of the other anglers are catching crappie. Talk to the guys at the local bait shop or try to get some info from guys on the lake. The best information you get from strangers on the ice will usually come from angers that are leaving.

Our tent of choice has a flip over design and is great for one or two anglers. It's super warm and can be set up quick. It can be easily moved because of the easy sliding Glide Trax system. You can pull it around on foot, throwing all your gear in the sled base or you can hook it up to an ATV and zip around easily.

Inside your tent you'll need two rods. Your first rod should be a dead stick, which is a very noodley soft rod that you rig with size 6 Custom Jigs Ratso and small minnow. When the crappie suck in the minnow, the rod will bend slowly and the hook will be set.

Your rod should have a very slow/soft tip that you watch as the minnow dances around. You'll need to rig up a rod holder inside your Trekker tent so that you can set this rod in and let the minnow do the work. You'll also need to set the drag loose so that when a fish sucks it in, he'll feel little resistance.

Your other rod should be actively jigged. A 26-28" Fast action tip is about right and we'll be using a spring bobber on the tip.

The key to catching crappie is to find at what depth they are feeding. A good starting point is half way to bottom. If you are fishing in six feet, drop your jig down about three feet and so on. The easiest and fastest way to catch these fish is with a good locator.

If you drill a third hole between the holes you are fishing out of, you can drop the transducer of the locator down the hole and see the action on both of your jigs. If two anglers are in the same tent and you only have one locator, keep it in the hole between your jigging rods and put your dead sticks to the outside.

Custom Jigs & Spins Demons, Ratsos, Shrimpos and Demon Jigging Spoons are our favorite crappie jigs. We have several rods rigged and ready plus we use small FasSnap eyelets, which make for quick changing of jigs. Let's look at some of the jigs we use.

The Demon is a very effective weapon that has been in ice anglers tackle boxes for more than 25 years! The Demon has a beetle shaped body and comes in two–toned glow colors as well brightly colored two-tone colors with nickel spoon backs. The Demon hangs vertically and when tipped with a few spikes or a waxworm is really effective. The Demon is available in sizes 12, 10, 8, 6 and 4. Match the size of the jig to the aggressiveness of the fish.

The Demon Jigging Spoon is a new style of Demon that works totally different. The Demon Jigging Spoon (DJS) is best used loaded with spikes on the red treble or a small minnow head. The DJS is for aggressive crappie that are actively feeding. Work it a little faster than the regular Demon that many fish will suck in on the fall. You can also use the DJS to attract fish in and then quickly switch rods to catch the crappie on the regular Demon.

The Ratso and Shrimpo are unique in that no live bait is necessary, since they are both equipped with Finesse Plastic. You can add a spike or a waxworm for confidence, but once the bite is on, bait is definitely not needed! The Ratso rides horizontal and imitates a small minnow. As you twitch your rod tip the Ratso will hop and dart like it's scared.

The Shrimpo hangs vertically, but the Finesse Plastic tail will float out horizontally. The Shrimpo imitates a daphnia or freshwater shrimp that crappie feed heavily upon. The Shrimpo could just be the most effective ice jig for crappie ever invented, just ask the crappie!

Well there you have it. The right location coupled with the right equipment and of course a good supply of crappie jigs will make this season more productive.

Walt & Poppee Matan have developed dozens of styles of ice jigs over the years. Custom Jigs & Spins is the largest manufacturer of ice jigs in the world; chances are you've got a few in your tackle box!