Posted by Walt & Poppee Matan on Apr 3rd 2018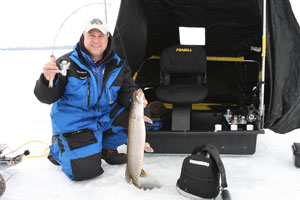 Poppee was fighting a mighty white bass and he yelled for help. "Come here Waaalt, I neeed you nowww!" "Leave me alone, Poppee, I've got one of my own on the line and there's a school down below", I replied. "Even through his yelling, I could his little reel screaming drag that's no white bass, I thought.
I flipped up the Frabill Trekker tent and sure enough, his rod was straining. Off went the gloves, out of the hole came the Humminbird transducer and then we waited. Sure enough, Poppee gained quickly, too quickly and a 12" white bass popped through the hole.
Typical Poppee story, always making a production out of every fish. The only difference this time was that the little white had nearly been shredded in two! What had grabbed it? A northern pike? A monster muskie? We were supplied with the answer in a few seconds as the tip-up twenty feet away tripped a flag and line was zooming off.
The hook was set and the pike was carefully fought, photographed and released. But that's when the action really started, because for the next three hours our group of four caught and released ten more nice pike up to 38".
For the most part, we are panfishermen. Very seldom do we target predators specifically, but we are always prepared when they show. Whether its bluegill and the bass move in, perch with walleye on the attack or white bass that turns into a northern pike frenzy; were are usually prepared with heavier gear rigged and ready and a few tip-ups to boot.
How can you not take along a few tip-ups? You can take along a half dozen large minnows or you can hook on a small panfish. Predators are feeding on those some panfish you are catching and as long as you catch a small one from the same body of water you are fishing, you can use it as bait, (check local lake and state regulations, however).
When we're in the tent alone, we sometimes set a second rod with a panfish hooked through the dorsal fin. A Custom Jigs & Spins size 4 Mega-Glow Red Demon adds color and a glow flash and has a big enough hook to get the job done.
Custom Jigs & Spins 1⁄4 ounce Slender Spoon is our 'el numero uno lure choice for predators. The Slender Spoon is a jigging spoon with a lot of attitude. A flip of the rod tip sends the Slender Spoon into a frenzy, which calls a bass, walleye or pike in for the kill! More rapid jigging motions get it to dance the dance that big fish can't resist.
Another favorite lure, especially when perch and walleye are in the same vicinity, is the Custom Jigs & Spins Slipdropper. The Slipdropper system consists of a spoon and a hook that you attach kind of like a slipbobber set-up. By this we mean you are able to adjust the line between the hook and the spoon by sliding it through the "snubbers" (see photo).
What this allows you to do is too fish for perch with a 12" dropper and then when the walleye move in, you can shorten the dropper line to an inch and catch walleye. We'll use a single hook with several spikes for perch and then add a perch 'eye for the walleye.
Next time out, be prepared when the predators to move in. There is always a reason that the panfish action slows and if you are prepared for a school of predators that arrive to feed, you will take advantage of some fast and furious action!
Walt & Poppee Matan have developed dozens of styles of jigs for Custom Jigs & Spins over the years. Custom Jigs & Spins is the largest manufacturer of ice jigs in the world; chances are you've got a few in your tackle box!