The Ratso features a super soft, ultra-slim Finesse Plastic body on a precision lead-head jig. Use the Ratso without live bait for monster bluegill and crappie! It catches slab-sized panfish when conventional methods fail.
Our precious metal series Ratso features either a gold or nickel plated head with a soft Finesse Plastic tail!
Order your replacement tails here https://customjigs.com/products/original-finesse-plastic.html
Ice Fishing
The Ratso's horizontal orientation resembles a small minnow. The lifelike Finesse Plastic tail is constantly on the move and is all that is needed, since the Ratso should be used as-is, without live bait. In shallow water situations, darken your portable fish house by closing all windows and peer down the hole. A bright-headed Ratso jig that can be easily seen is best used in this situation. When the head disappears… set the hook! The larger size 6 Ratso can be used for walleye with excellent results. The Ratso's head shows up well on electronics, making them ideal choices in deep water.
Open Water
A size 6 Ratso is an excellent choice with an ultra-light rod rigged with 2- to 4-pound line. Keep a rod rigged in your car at all times … The size 6 Ratso will catch crappies, 'gills, bass, catfish, perch and especially trout. Its size is the perfect mimic of a shiner minnow, which all fish love.
Speaking of shiners … When crappies, walleyes, trout and big 'gills are on a minnow feed, almost nothing out shines a Precious Metal Series Ratso. Choose a Nickel Head and Hook in Glow Brite, Glow Brite Blue or Smoke Glitter to match emerald shiners and fatheads… Pick a Gold Head and Hook and match golden shiners or mayflies. There are definitely times when metal rocks! Choose the right color body, head and hook and the Ratso can mimic just about any forage that swims!
WEBSITE PRICES ARE PER JIG, sold individually.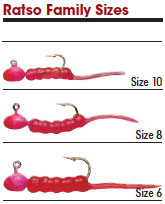 WARNING: Cancer and Reproductive Harm - www.P65Warnings.ca.gov.