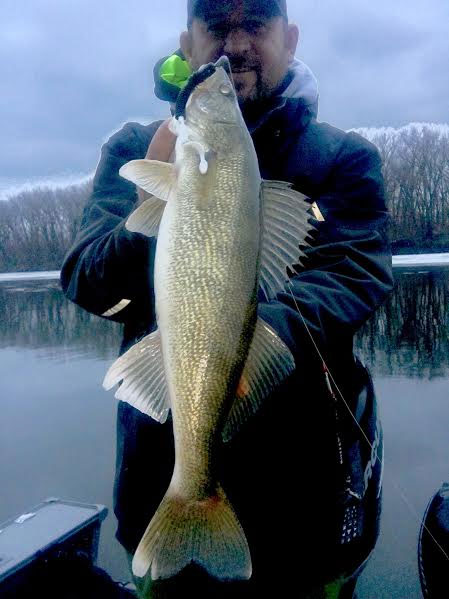 Your prescription-strength "cure" for slow walleye fishing is now available over the counter …
For decades, thin-profile plastics have quietly produced numbers of oversized walleyes for tight-lipped anglers on lakes and rivers across the Midwest. When you could get one of these secretive trophy hunters to share of the tricks employed to consistently catch 10-, 12- and even 14-pound walleyes on plastics, one common theme emerged. While plastics are incredibly effective, it took a veritable arsenal of soft plastics in a vast array of sizes and shapes to consistently put fish in the boat. "As the guy who answers the phone and talks to the customers, I get a lot of feedback and suggestions for product improvements from anglers," says Bob Gillispie, owner of B FISH N Tackle in Coralville, Iowa. "That's when the idea for a new line of AuthentX soft plastics was born. I wanted to do away with so much of the smoke and mirrors that catches more fishermen than fish and focus on producing a thin profile bait that would produce under a wide variety of conditions."
We created a soft plastic bait like no other on the market. It has a thin profile, yet a beefy belly and a longer tail that "thumps" so loud fish have to check it out!" The Moxi is available in 18 fish-catching colors tested over years of on-the-water R&D.
New Kit with our 8 Hottest selling colors: click for more info.
Photo to right: AuthentX Pro Staffer Ryan King caught this quality Mississippi River walleye while testing out the 6 NEW Moxi colors in January!


WARNING: Cancer and Reproductive Harm - www.P65Warnings.ca.gov.
When the fish want a Moxi they want a Moxi and nothing else.

Incredible bait with unparalleled tail action...
Caught walleye and sauger while fishing pool 9 on the MISSISSIPPI... chartreuse/green core and firecracker/chartreuse tail were the top producers paired with 3/8-5/8 oz jigs...very happy with my purchase, and will definitely be ordering more.

Best plastics on the market for walleye.....PERIOD!!

Have caught so many eyes on these plastics! The firecracker chartuese color is so deadly on mississippi river walleyes!