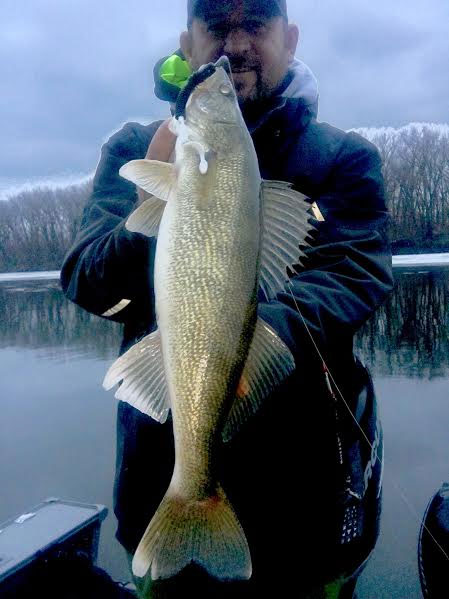 Your prescription-strength "cure" for slow walleye fishing is now available over the counter …
For decades, thin-profile plastics have quietly produced numbers of oversized walleyes for tight-lipped anglers on lakes and rivers across the Midwest. When you could get one of these secretive trophy hunters to share of the tricks employed to consistently catch 10-, 12- and even 14-pound walleyes on plastics, one common theme emerged. While plastics are incredibly effective, it took a veritable arsenal of soft plastics in a vast array of sizes and shapes to consistently put fish in the boat. "As the guy who answers the phone and talks to the customers, I get a lot of feedback and suggestions for product improvements from anglers," says Bob Gillispie, owner of B FISH N Tackle in Coralville, Iowa. "That's when the idea for a new line of AuthentX™ soft plastics was born. I wanted to do away with so much of the smoke and mirrors that catches more fishermen than fish and focus on producing a thin profile bait that would produce under a wide variety of conditions."
We created a soft plastic bait like no other on the market. It has a thin profile, yet a beefy belly and a longer tail that "thumps" so loud fish have to check it out!" The Moxi is available in 18 fish-catching colors tested over years of on-the-water R&D.
New Kit with our 8 Hottest selling colors: click for more info.
Also Kit with our 8 NEWEST colors: click here for more info.
Photo to right: AuthentX™ Pro Staffer Ryan King caught this quality Mississippi River walleye while testing out the 6 NEW Moxi™ colors in January!


WARNING: Cancer and Reproductive Harm - www.P65Warnings.ca.gov.
This is by far my favorite plastic. If you don't find one laying in the bottoms of the boat to use I have a whole sack full. Weather it early spring walleyes on the river or finicky mid summer walleyes I can always count on a bite with a precision jig and moxi! If you can't tell it's my favorite plastic!

This moxi is made of high quality and has a great action. There are no other plastics on the market that have the ability to move so good through the water but yet so durable.

The Moxi is at the top when it comes to plastics. Day in day out walleye killer.