A must for any ice jig box, the 'Gill Pill is a tiny—yet heavy—ice jig with a half-moon profile. It has a flat bottom for added fluttering action and an ultra-sharp 45-degree offset hook for solid hook sets.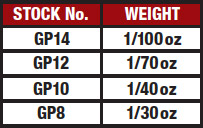 Ice Fishing
The 'Gill Pill is designed for bluegills and crappies. Size 16 and 14 will catch fish from shallow water weed areas of clear water lakes. When sight fishing, use white or glow colors that can be easily seen. Add spikes, waxworms or Wedgees for added attraction.
Open Water
Use the heavier size 12 or 10 'Gill Pill on 4-pound test for lights-out spring panfish action, no bobber required. You'd be surprised how far you can sling these baits on light line and longer, ultralight rods! Waxworms, tiny leeches, and 'crawler bits work best for tipping. When fishing deeper, use a slip bobber and adjust your depth so your 'Gill Pill rests 1-2 feet above the weeds.

WARNING: Cancer and Reproductive Harm - www.P65Warnings.ca.gov.
Best bluegill jig I've used

I live in Ohio so I don't get to ice fish a lot. But when I do get to go I have caught a lot of gills with gill pills. I started use them five years ago two of the year not enough I've ti fish one year I got to fish five times caught plenty fish each time. Second year seven times did really well. This year only once caught around seventy or more. Now warm weather and rain is making it hard to get on lakes. But I'll tell you gill pills catch gills and crappie. I going to use them this spring and summer. Give them a try you won't regret using them one bit I love them

Love the gill pill

Orange Tiger Gill Pill with wax worm. 4 days, 205 1/4 to 1/2 lb Gills. OUTSTANDING !!!!!