A must for any ice jig box, the 'Gill Pill™ is a tiny—yet heavy—ice jig with a half-moon profile. It has a flat bottom for added fluttering action and an ultra-sharp 45-degree offset hook for solid hook sets. Repetitive jigging action will definitely attract the fish and then a slow bobbing motion will catch them!
WEBSITE PRICES ARE PER JIG, sold individually.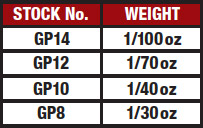 Ice Fishing
The 'Gill Pill™ is designed for bluegills and crappies and all panfish. Size 16 and 14 will catch fish from shallow water weed areas of clear water lakes. Up your size when fishing stained water or when the fish are aggressive. When sight fishing, use white or glow colors that can be easily seen. Add spikes, waxworms and/or plastic Wedgees for added attraction.
Open Water
Use the heavier size 12 and 10 'Gill Pills on 4-pound test for lights-out spring panfish action, no bobber required. You'd be surprised how far you can sling these baits on light line and longer, ultralight rods! Waxworms, tiny leeches, and 'crawler bits with Wedgee plastic work best for tipping. When fishing deeper, use a slip bobber and adjust your depth so your 'Gill Pill™ rests 1-2 feet above the weeds.
Enjoy some tricks to get the most out of your Gill Pill lures!

WARNING: Cancer and Reproductive Harm - www.P65Warnings.ca.gov.