H20 Precision Jigs feature premium quality Mustad® hooks … the sharpest hooks available, an integrated plastics "keeper" that holds the body of your bait tighter than any collar on the market and paint that just will NOT chip! All H20 Precision Jigs sport a high-gloss, epoxy-sealed finish that is nearly impervious to rock chips and cracking. Each jig has a unique stainless steel plastics "keeper" that holds plastics and 'crawlers better than any other barbed collar on the market today. The H20 Precision Jig Series is designed to function perfectly with live bait but these jigs but these jigs are THE jigs for fishing plastics like twister tails, grub bodies, ringworms, etc. No other jig combines the needed balance, premium quality oversized hook (not too big, just right), innovative plastics "keeper" and paint scheme found in the H20 Precision Jigs! The H20 Precision Jig Head design is a BFT exclusive and features a streamlined and perfectly- balanced head that cuts current and helps keep snags to a minimum. Available in 12 color and 9 weights.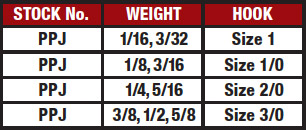 WARNING: Cancer and Reproductive Harm - www.P65Warnings.ca.gov.
The shape of the head is invaluable in any current. You can find one other manufacture with a similar head shape but the durability of these jig heads paint is clearly superior. Unique to the H2O is the size availability. Is 3/16 (almost) the same as 1/4? Apparently not to the fish I'm stacking while those around me are struggling. Great product - sizes, colors, paint, shape, hook and keeper!

They are awesome

Love the 1/16 ounce variations. Makes the difference a lot of times. Great jig head.