Product Description

H20 Precision Jigs feature premium quality Mustad® hooks … the sharpest hooks available, an integrated plastics "keeper" that holds the body of your bait tighter than any collar on the market and paint that just will NOT chip! All H20 Precision Jigs sport a high-gloss, epoxy-sealed finish that is nearly impervious to rock chips and cracking. Each jig has a unique stainless steel plastics "keeper" that holds plastics and 'crawlers better than any other barbed collar on the market today. The H20 Precision Jig Series is designed to function perfectly with live bait but these jigs but these jigs are THE jigs for fishing plastics like twister tails, grub bodies, ringworms, etc. No other jig combines the needed balance, premium quality oversized hook (not too big, just right), innovative plastics "keeper" and paint scheme found in the H20 Precision Jigs! The H20 Precision Jig Head design is a BFT exclusive and features a streamlined and perfectly- balanced head that cuts current and helps keep snags to a minimum. Available in 12 color and 9 weights.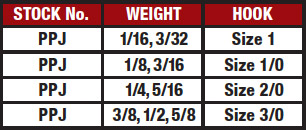 WARNING: Cancer and Reproductive Harm - www.P65Warnings.ca.gov.
Product Reviews
Write Review
Showing reviews 1-10 of 58 | Next
Best jig I've got in my arsenal

Posted by Jon on Jun 18th 2019

It's hard to find a good strong hook on a lighter weight jig ( till now ) the paint has yet to chip on any of these jigs that I have and I bounce off bottom constantly

H20 jigheads

Posted by Jason Smith on May 23rd 2019

Great jigs. Durable finish, superb baitholder!
Most important..... THEY WORK

Must have jig for spring eyes

Posted by Wade Watson "Kab Kid" on Apr 16th 2019

Great jigs for pitching plastics! Truly are a must have in my tackle. Runs true in the water, can be dragged, pitched, cast! Good color selection. Love the plastic keeper!

Worth the price

Posted by Nick on Dec 16th 2018

I'm not one to review products, but these jigs are simply the best available. The wire "keeper" on them makes the jig perfect for keeping plastics in place and they also work wonderful for using night crawler "half's" for walleye or any other bottom dweller... these are my go to jigs for walleye in Canada and small mouths in the rocky rivers of the southeast. I am a customer for life!!!

Plans ahead

Posted by Vern Haning on Jul 12th 2018

Everything looks good. Haven't used any items yet. Trip to Canada, fly in to remote lake and am fully, totally depending on your lures to prodece walleyes and Pike. Have replaced all, that's all of my jigs with your jigs. I'm sold on them, hope the fish are of the same mind. Will let you know in about four weeks!

H2o jigs

Posted by Unknown on Jun 19th 2018

The 1/4 oz jigs don't have the 1/4 oz. on the back as advertized. Hard to distinguished between it & the 3/8 oz I recieved. Otherwise the bait keeper looks like it will do the job

Excellent jig heads.

Posted by Shake-N-Bake on Jun 5th 2018

The jigs work very well for live bait and plastics. The keeper hook holds both minnows and plastics in place for a natural presentation. CJS should consider add a 'red' hook to this line of jig heads.

Excellent jig head

Posted by Jacqueline Black on Jun 1st 2018

These are some of the nicest jigs I have ever purchased. Will definitely be purchasing more in the future.

Best jigs available.

Posted by Jason Dowell on May 27th 2018

Buy the 3/16. It's the Goldilocks zone for jigging.
The bait keeper, weight stamp & profile are just icing on the cake.

High quality jigs

Posted by Don Neuens on May 24th 2018

Good sharp hooks, great baitholder for plastics, and paint that doesn't chip off.
Showing reviews 1-10 of 58 | Next
Find Similar Products by Category