Unpainted H2O Precision Jig
Unpainted H2O Precision Jig
Product Description
H20 Precision Jigs feature premium quality Mustad® hooks … the sharpest hooks available, an integrated plastics "keeper" that holds the body of your bait tighter than any collar on the market and paint that just will NOT chip! All H20 Precision Jigs sport a high-gloss, epoxy-sealed finish that is nearly impervious to rock chips and cracking. Each jig has a unique stainless steel plastics "keeper" that holds plastics and 'crawlers better than any other barbed collar on the market today. The H20 Precision Jig Series is designed to function perfectly with live bait but these jigs but these jigs are THE jigs for fishing plastics like twister tails, grub bodies, ringworms, etc. No other jig combines the needed balance, premium quality oversized hook (not too big, just right), innovative plastics "keeper" and paint scheme found in the H20 Precision Jigs! The H20 Precision Jig Head design is a BFT exclusive and features a streamlined and perfectly- balanced head that cuts current and helps keep snags to a minimum. Available in 9 weights.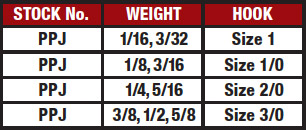 WARNING: Cancer and Reproductive Harm - www.P65Warnings.ca.gov.
Product Reviews
Write Review
Showing reviews 1-10 of 13 | Next
Great jigs

Posted by Matt Amundson on Mar 19th 2019

I bought the unpainted H20 Precision in 5/8 & 1/2 oz sizes. I painted them, used them, and they're awesome. I definitely recommend!

H2o Jigs

Posted by Ed Weiss on Jul 10th 2018

If you want to use the best jigs available, these are the best!

Awesome Jig heads...

Posted by Lunker Hunter 2017 on Nov 30th 2017

Awesome jig heads but my only wish is that they made heavier ones! Here on my home waters, we have heavy river current where you need at least 3/4 oz AND up to 1 oz size jig heads! PLEASE make heavier jig heads!

Keeps plastics on

Posted by Jay on Sep 21st 2017

These jig heads keeps your plastics on a lot better than the normal jig heads. Along with the unique designed shape, they stand up better than a gumball style jig head.

Awesome jigheads w/baitkeeper!

Posted by Unknown on Aug 29th 2017

Love how the wire baitkeeper doesn't ruin the plastic jig bodies when threading it on the hook (I love using it with flukes) just a bit pricey for the unpainted ones lol.

Awesome jig heads, no drag!

Posted by Unknown on Mar 26th 2017

These jig heads really do cut thru the water column! Almost no drag whatsoever. I only have 4 stars because they're a bit pricey lol. I had to go with the unpainted because they were a little bit more affordable. The painted heads do look awesome, just a lil' out of my price range for jig heads. I think they should be priced @$6.99 or $7.49/per 10 for the painted ones.

Leadhead jig

Posted by Jeff sather on Feb 9th 2017

Wire keeper holds twister tails on longer than other jigs. Very good jig. Easy to paint.

Properly designed Jig

Posted by Scott Brown on Jul 18th 2016

This jig is well designed for added plastic. With the little barb on the back of the head you don't have to worry about having your pants pulled down.

H2O Precision Jigs

Posted by Ed on Jun 29th 2016

Your "H2O Precision Jigs" are by far, superior to any other jigs I have found. I enjoy the fact that these jigs are available in weights not normally found in other jigs. The "worm keeper" and extremely solid hooks are my choice for jigs no matter what water I am fishing.

Perfect for me.

Posted by Buff on Jun 20th 2016

I purchase unpainted jigs so I can have fun painting, baking, and hardening the paint and have the colors in sizes that I need. The wire keeper is great since I cast a great deal of plastics for white bass and walleye.
Showing reviews 1-10 of 13 | Next
Find Similar Products by Category