Product Description
A vertical lead-head jig gives the Shrimpo's Finesse Plastic tail a tantalizing action that big panfish can't resist. Not horizontal and not vertical, it's the perfect blend of both jig styles! We call it "verti-zontal," and it catches fish when other baits fail!
Ice Fishing
Imagine catching world-class panfish without live bait! It's now possible with the Shrimpo. The secret is in its lifelike Finesse Plastic tail, which constantly moves, even when you aren't jigging. Use the Shrimpo in shallow water situations when fish are actively feeding—or not aggressive at all. A jig and pause cadence is recommended. Use the size 10 Shrimpo for 'gills and a size 6 for crappies and 'eyes.
Open Water
If you're looking for guaranteed panfish action every time you go fishing, then the Shrimpo is for you! They're best fished beneath a small fixed float and cast around piers, docks, deadfalls and vegetation. Slip bobbers are also effective when fish are suspended above weed edges, brush or cribs. Trout find the Shrimpo irresistible and steelhead will hang on to the soft plastic body longer than most baits. No matter the species you pursue, try rigging a Shrimpo to a dropper rig! Simply take a 4 to 6-inch piece of 2- to 6 pound fluorocarbon or monofilament and tie to the split ring of a Pro-Glow, Pro Series, Hammered or original Slender Spoon, terminating the other end to the paint-free eyelet of your favorite size and color Shrimpo! Presented vertically, it's often just the thing to tap difficult crappies, big 'gills … even finicky walleyes. And for trout? Short of a live grasshopper drifted past a lunker lodge in the August sun, there's nothing more deadly! Fished on a spinning combo (even a fly rod), the Shrimpo routinely outfishes fly guides' favorite flies!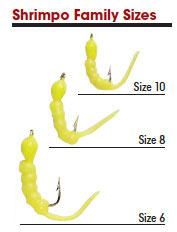 WARNING: Cancer and Reproductive Harm - www.P65Warnings.ca.gov.
Product Reviews
Write Review
Previous | Showing reviews 11-14 of 14
Consistently puts crappies on the table

Posted by Ryan on Feb 9th 2016

One of my go to ice fishing jigs. Many 11"-12" crappies have choosen a shrimps as their last meal

Under ice or under lily pads

Posted by Gary on Feb 5th 2016

Have caught gills and perch consistently under the ice with these in IL and WI, tipped with a single spike. In summer, have used without tipping (black & smoke glitter) for suspended crappie on hot days in thick lily pads. Under a tiny round float just 12" down, toss it into lily pads, let it settle, and BAM! crappie on... no jigging, gets hit on the fall as if it was a larval glass worm or mosquito nymph. I live in Florida now and will see how crappie and bluegill respond here. I miss sitting on the ice.

awesome

Posted by jeff on Feb 4th 2016

First use not even 5 minutes in the ice hole and caught a 9 1\2" bluegill. It came out of nowhere, showed up on the vexliar charged the lure (single maggot)

The shrimpo

Posted by Rupp on Feb 2nd 2016

It works well. I bought a few of these and the crappies really like them.
Previous | Showing reviews 11-14 of 14
Find Similar Products by Category