Posted by Walt & Poppee Matan on Aug 6th 2018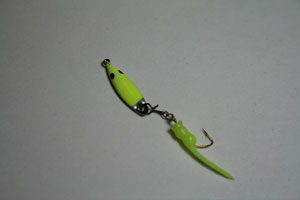 Ice fisherman are notorious tinkerers and we are not any different. We tinker with our tents, rods and especially with our jigs. Lets take a look at how jig tinkering makes a difference and adds to fish catching!
First and foremost, look at a typical ice jig. If you bend the hook slightly to the side and slightly up you will increase your hooking percentage tenfold! Next you'll want to check the hook for sharpness. You can sharpen the hook with a ladies hand fingernail file. Finally, you'll want to clean the eye of the hook free of paint, unless you are using a Custom Jigs & Spins ice jig, which have paint free eyes 99.9% of the time.
By adding plastic, you will increase a jigs fish-catch-ability. Custom Jigs & Spins makes several types of plastic called Finesse Plastic. Their Original Finesse Plastic started it all. It comes in three sizes; small (size 10), medium (size 8) and large (size 6). Original Finesse Plastic will fit on Custom's Shrimpos and Ratsos, which are ready to fish, with or without live bait.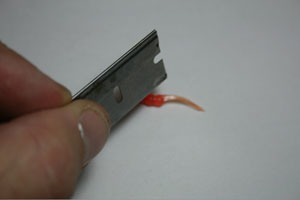 But you can also add Original Finesse Plastic to any of your favorite lures. Original Finesse Plastic consists of a segmented body and a wispy tail. You can cut down some of the segments to make the tails shorter or you can cut the segments off altogether too and just use the thin tail pieces.Custom Jigs has added eight colors of Original Finesse Plastic to their line-up. Many of these colors are two-toned making them doubly effective.
Besides Original Finesse Plastic, Custom Jigs & Spins developed Noodels, Micro Noodels and Wedgees. The Noodels and Micro Noodels are little hotdog shaped plastics. These can be threaded on your jigs or hooked "wacky style" right through the middle.
Perhaps our favorite Finesse Plastic is the Wedgee. The Wedgee can be used as is or shortened to size. We'll hook several Wedgees to are favorite jigs like Demons, 2-Spots and Rockers. The size of the jig dictates the size and how many pieces of plastic to add. It also depends on how aggressive the fish are, as too how much bulk will spook shy biting fish.
Some anglers' tie direct and others use quick clips. We go both ways, but lately our trend is to use clips. The FasSnap eyelets are the best we've found. They come in three sizes for tiny to large jigs. It is easiest to grab the eyelet with a hemostat and then tie on our line; the hemostat is then used each time we need to change lures. We also need to check our line frequently to prevent break offs, especially when we use two pound test.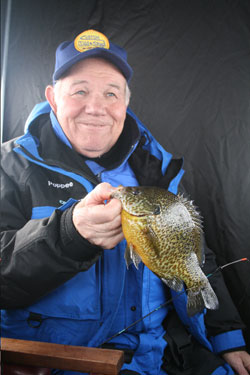 Custom Jigs & Spins Slender Spoons come equipped with quick change snaps. We'll use these snaps on all our jigging spoons. They give the spoons more action, plus allow us to change colors and styles quickly. We also add a snap to the split ring that holds the hook so that we can change different sizes of trebles or switch to a single hook.
Another option with jigging spoons is to replace the standard hooks with a Pro Finesse Drop chain hook. These are great for perch, but will also work on bluegill and crappie.
Tinkering is by far the best way to get the most out of and ice jig. The only other way to get more out that jig is to change up your jigging motions but that's a subject for another day. So next time before you go out, take a few moments to tinker with your ice jigs you'll be surprised by the results.
Walt & Poppee Matan have developed dozens of styles of jigs for Custom Jigs & Spins over the years. Custom Jigs & Spins is the largest manufacturer of ice jigs in the world; chances are you've got a few in your tackle box!
If you enjoyed this article, you may also enjoy: