Product Description
The Slender Spoon is a bent, ultra-light spoon that offers loads of flash and flutter on the fall, unlike any other bait on the market. It comes complete with a size 1 or 2 snap, which further promotes erratic action. Silver, gold, nickel, copper, and black nickel finishes with holographic prism and glow accents ensure a pattern to match any fishing scenario. It's still a fish-catching classic after all these years.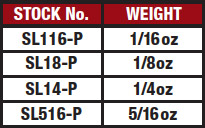 Ice Fishing
The Slender Spoon shines when searching for active fish. Its unique thin and beveled body provides more action and flutter on the fall than any other ice jigging spoon. It also increases fishable space, fluttering far off to the sides of your hole with a long cycling time to attract fish from afar. The small, 1/16-ounce Slender Spoon is ideal for panfish, especially tipped with a chandelier of three or four spikes. Or replace the treble hook with a single hook or a size 10 Shrimpo. As far as cadences go, both subtle shakes and rapid jig and pause methods can be top producers, as well as high rips and flutters on slack line.
Open Water
The larger 1/8-ounce, 1/4-ounce and super heavyweight 5/16-ounce (which is a heavier spoon with the same footprint as the 1/8-ounce) are ideal for open water walleye and larger gamefish species. Tipping the treble with a minnow head or perch eye (where legal) is a great way to add a bit of scent and really fire up schools of fish!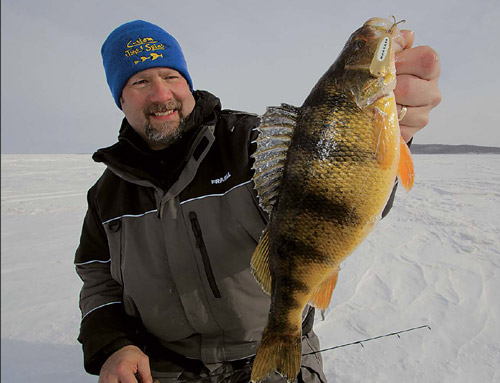 Jigging Slender Spoons For Big Winter Pike!
Trout Through The Ice: The Slender Spoon and Shrimpo Dropper Rig
Product Reviews
Write Review
Showing reviews 1-10 of 23 | Next
Magic spoons

Posted by Ben Guglielmino on Feb 3rd 2018

These spoons are incredible. They should be called " slaughter spoons " . Took them to a interior lake where the bite was slow for a lot of guys. 3 of us ended up limiting out both days. We couldn't keep them off. Biggest trout was 26" . Best time I've had on the ice. Can't wait to try them on my local river for steelhead. I'll be ordering more soon.

Best fludder spoon ever

Posted by Johnny on Jan 16th 2018

I use the small spoon for ice fishing gills tipped with a wax worm. It can't be beat. If you have never used these give it a try the outcome is nuts.

Great lures

Posted by Justin Abbott on Dec 27th 2017

Awesome lures... 1st day using them caught roughly 30+ brookies and rainbow.

My go to lure

Posted by Eugene Schwartz on Dec 20th 2017

Have used these lures on various species of fish and it seems they can't resist biting if they are anywhere close by.

Devils lake nd

Posted by Unknown on Apr 7th 2017

Caught alot of perch on the lake, Devils Lake gold

Happy

Posted by KT on Feb 13th 2017

Used the slender spoon for the first time this year. I couldn't be more pleased. It's the lure that I start the day with, and usually don't have to quit using. Wish I would have found them sooner!

Fish attractor

Posted by Unknown on Feb 2nd 2017

Started using slender spoons few weeks and go man do they ever attract the fish camera screen can be blank start digging a thing a man do they come rushing in catching small fish put a bigger one on the big ones will come flying in I did find however to use a snap swivel on top of it I would say it improves the action by 30% or more I was catching decent-sized perch then a 15-inch crappie hit it we have a lot of big Northern here they come through on the camera pretty regular that same day I had a 33 and a half inch Northern hit that quarter oz spoon 4 ld line on a jig Pole that day sold me

1/16 Slender for Panfish

Posted by Kenneth Turner on Jan 26th 2017

I have five boys. We have been out several times for bluegill and perch. Each trip we consistently caught more fish with the slender spoon tipped with a wax worm. Orange on brass in the murky water and silver on silver in the clear. I'm hooked on the slender spoon.

Always produces, never let's me down!

Posted by Preda Sourasinth on Jan 10th 2017

It's just a universal lure that always produces, doesn't matter what your fishing for. Out fishes my buddies everytime. I'm a 100% believer, and got my buddies hooked also.

Never Shut Out

Posted by keith Smith on Jan 4th 2017

This Slender Spoon has always produced for me and I have to reorder when I loose a few spoons. My only complaint is the treble hooks bend easily and also break. When I use the spoon with a single hook they don't produce the same. Please sell this spoon with a single hook with the same results as the treble hook set-up.
Showing reviews 1-10 of 23 | Next
Find Similar Products by Category
Customers also viewed