Posted by Walt Matan, Chief Lure Designer, Custom Jigs & Spins and B-Fish-N Tackle on Jan 19th 2020
I was headed to Fulton County in Illinois to fish the Herman Brothers strip pit lakes and I was chasing after my favorite fish through the ice...the bluegill. But not just any bluegill, these were stocked hybrids..these were trophies and like fishing for any trophy, it was a catch, photo, and release deal. In this part of the state, you get one month of fishable ice, then it's over.
The water was shallow, under 8 ft. and clear, you could see the bottom or watch the action on the underwater camera. The presentation needed to be precise. Small jigs, light line, no noise and being able to detect the light bites.
Old school spoons and jigs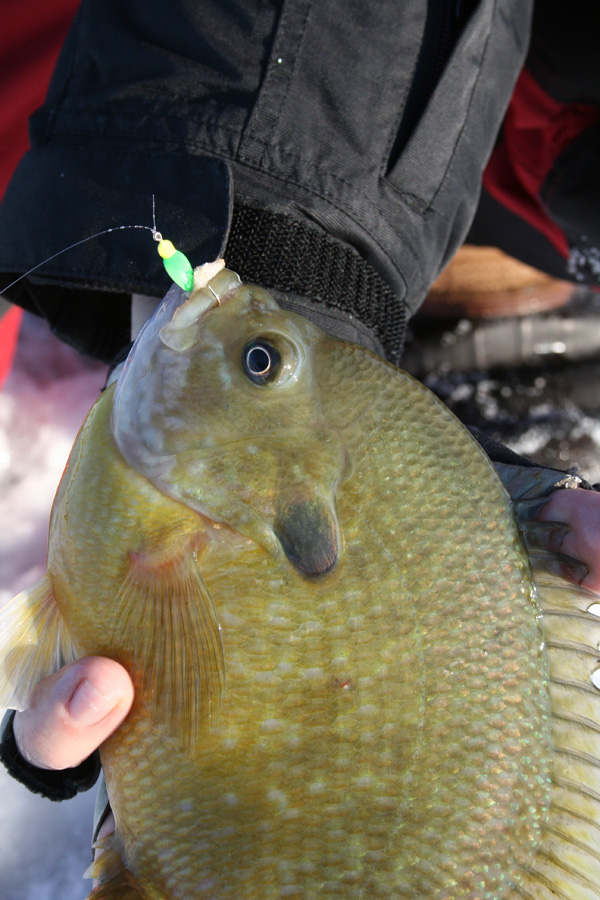 There were two hot tickets that day...old school spoons and tiny tungsten jigs. By old school, I mean hand soldered and painted spoons like Demons, 2-Spots, and Rockers. These tiny offerings when tipped with a waxworm or a few red spikes, would flutter-fall to bottom and wiggle-jiggle with the slightest movement of the rod tip. If you set the hook on the initial strike, you'd miss the fish!
On that day, giant bluegill were caught and friendships were made at the Herman's Giant Goose Ranch...you should check it out...many unique fishing opportunities all year long!
A white bass and crappie day
A few weeks later I was sitting on a bucket next to my buddy Jesse Quale of Green Water Walleye Guide Service on Petenwell Flowage in Wisconsin fishing for my two favorite species; white bass and crappie.
Petenwell fish relate to submerged trees. Whether these trees are a submerged forest or simply fallen trees that have drifted with the current, when you find the trees, you find the fish. That's why you hire a guide...to learn the subtleties of a new body of water!
These fish are aggressive and will attack erratically jigged spoons and lures when they are hot and schooled up. Bigger is usually better, and I'll fish with RPM (rotating power minnow) size 3 balance baits and 1/8th ounce Pro Glow Slender Spoons, sometimes even going up to the jumbo 1/4 ounce Custom Jigs & Spins Slender Spoon.
Having a locator/GPS is key on this body of water because you'll want to look for spots on the GPS map, mark them and then be able to return to them. You'll also want to be able to spot your jig on the locator to watch the fish react to it, so you'll know how to adjust your presentation.
Now, these crappie and white bass aren't active all the time...sometimes you'll find them and they just come up to the lure, give it a sniff and then back away. That's when you pull out the tiny artillery. Grab a lighter rod with a 4.5mm Chekai jig and a few smooshed waxworms, gear down to a 1/16 ounce Slender Spoon or a size 8 Demon spoon globbed up with bait and you'll be back in business!
The whitefish technique
As the season wore I I headed over to Green Bay to fish with guide Bret Alexander of Alexanders Guide Service to fish for my favorite fish through the ice, whitefish. Whitefish are great because they school up and can be readily caught once you find them. They put up a good tussle on a light rod and are fantastic when smoked...when the white bass are running...so am I...up to Green Bay!
The whitefish technique is pretty simple. You'll need:
a 3/8 to 3/4 ounce weight or B-Fish-N H20 jig on the bottom, and
a dropper or dropshot number 6 hook or two on up the line (12 to 24 inches).
Then, add a red Wedgee to the hook and a glob of red spikes.
There is a current on the Bay so that's why the weight on bottom varies. The jigging motion is a pumping action to get the jig to pound bottom and attract the whitefish. Bret has a bunch of hard shacks that he keeps on prime areas as the whitefish migrate throughout the ice season!
That day, around 4 pm the bite slowed and Bret suggested that we set for his favorite fish, the walleye. Unbelievably, the walleye was also my favorite fish, who would have thought! We set up shallower, rigged up with RPM size 5's and hooked into a few lunkers! Green Bay has some very large walleye!
Time for Lake Trout in Wisconsin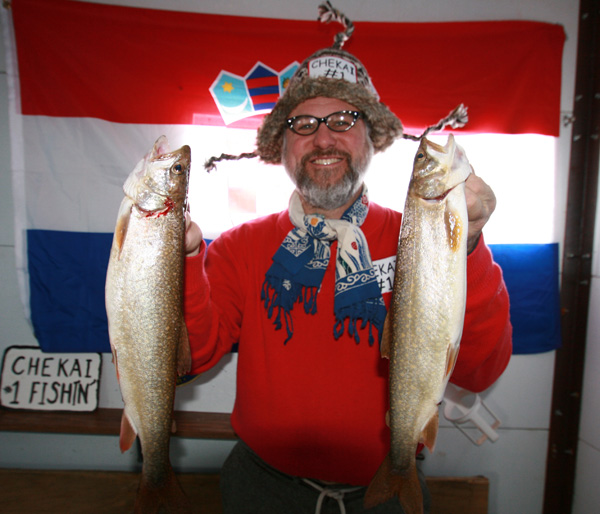 Once the doldrums of winter set in, it was time to head to Green Lake Wisconsin to team up with my pal Justin Kohn of All Seasons Adventures Guide Service to fish for my favorite fish through the ice; lake trout! With a depth of 237 feet on Green Lake, you want to make sure it is solid! On this day we fished in water deeper than 100 feet and tore into some lakers that averaged 8 lbs.
Hot lures were 3/8 ounce B-Fish-N Tackle H20 jigs with a white Pulse-R plastic tail, 3/8 ounce Vertiglo Lightnin' Spoons and doubled up 1/4 ounce Slender Spoons to make a 1/2 ouncer. Take the hook and split ring off one spoon and attach the bottoms together with a split ring and the tops with a snap and you get a heavy enough weight to slide to the bottom quickly!
On that day we let Chekai out of the box so he could catch a few, too. You don't have to head Canada to find lake trout...you just need to head to Green Lake with Justin Kohn!
So let's review my favorite fish...bluegill, crappie, white bass, whitefish, walleye, and lake trout. But you know I love catching perch, largemouth, smallmouth, rainbow trout, brown trout, catfish, burbot, and pike through the ice, too! So I guess when it comes to picking my favorite fish through the ice, my favorite really is the next one tugging on my line!
The lures and baits mentioned in this article include:
Waxworms
balance baits
Dropshot
red Wedgee
Red Spikes
If you enjoyed this article, you may also like: