Posted by Walt Matan, Chief Lure Designer, Custom Jigs & Spins and B-Fish-N Tackle on Mar 30th 2020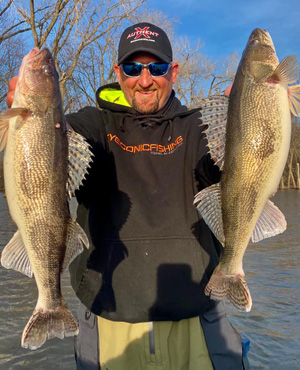 Walleye anglers now have more lure choices than ever before! While live bait still produces, more and more anglers are choosing walleye lures like Rapala Shad Raps, Berkley Flicker Shads, Storm Hot-N-Tots, Rapala Husky Jerks, and Cotton Cordell Wally Divers. These are great when fish are more spread out later in the fishing season, but early on, say on opening day...a walleye angler's favorite lure is still the jig!
Jigs are the most versatile lures in an anglers tackle box and arguably the best lure choice for walleye anglers right now in the spring. You can fish them with live bait or plastic for tremendous catches. While there are literally hundreds of possible jig retrieves here are two of my favorites ways of how to fish a jig.
Vertical Jigging-Mastering the Lift/Drop
First is the simple lift/drop. My late father, Poppee had perfected the lift/drop to a science. At close inspection it didn't look like he was doing much. But in reality, he was lifting the jig to get it off bottom to keep from snagging while still attracting fish.
The distance the jig rises off bottom is the fish zone. The key to success is constant movement and to use the lightest jig possible that still lets you keep some contact with the bottom, once in a while. Contact doesn't mean dragging but rather just a tick here and there to let you know you are close to contact.
You would think it would be easy from a boat and it is if the boat is anchored. But if you are anchored, you are not moving and moving covers water and covering water puts you over the fish zone. So when in a boat you need to be moving, watching your locator for depth changes and adjusting jig depth accordingly to catch walleye.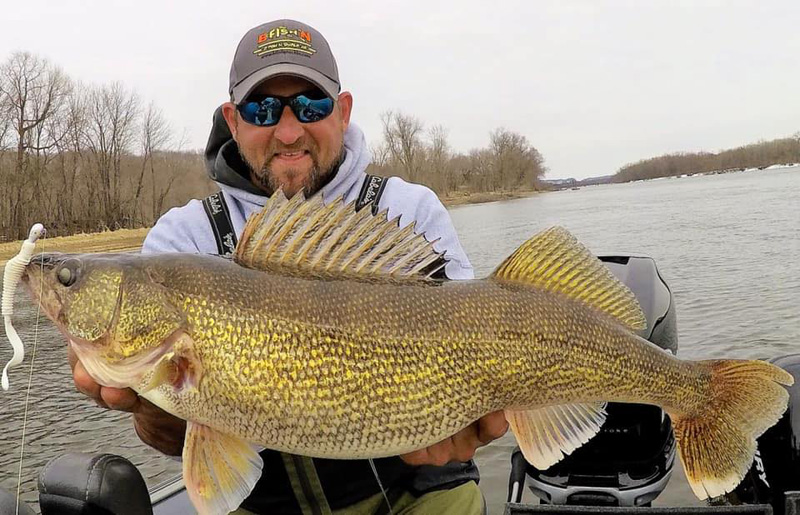 Jig Weight is Vitally Important
The difference between a 1/16th ounce jig and a 1/8th is huge to a seasoned jig fisherman. The difference between a #4 and #1 hook is monstrous! Fish feel that difference too, especially walleye. Unless they are aggressive fish, they will drop a heavy jig! On bodies of water that contain walleye, sauger, smallmouth and white bass, the difference between a one inch raise and a six inch raise determines which species you catch.
My favorite styles of walleye jigs are made by B-Fish-N Tackle. The H20 precision jigs come in nine different weights between 1/16th and 5/8th of an ounce and a wide range of colors. That's a lot of choices, but once the right weight is found, the fish party is on!
Let's say you normally like a 1/4 ounce jig, well you should also try 5/16th and 3/16th ounce sizes...you'd be surprised at the difference 1/16th of an ounce makes between fishing and catching!
The B-Fish-N Tackle Draggin' Jig is a weedless, woodless, rockless, snag-free jig that is as versatile pitching into heavy cover as it is dragging over a rockpile! The head of this jig is very thin so it falls quick and in rivers will cut through the current, meaning that you can use a lighter jig than you would normally use.
Having trouble keeping soft plastic or half crawlers on your jig? Both of these jigs have a wire "keeper" that holds the plastic or crawler tight to the head. It also works for minnows, too.
Instead of hooking through the lips, slide the hook in the mouth, out the gill and lightly through the dorsal. This is a great cold water method for short biters where you would normally have to use a stinger hook.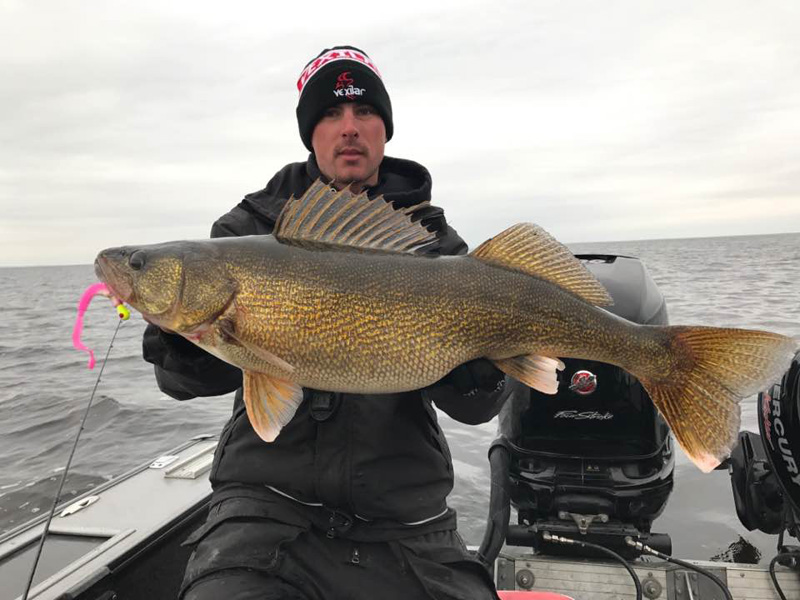 Add AuthentX Plastic to Your Jig
The addition of AuthentX Plastic to your jig is killer for early season walleye and other species! AuthentX Moxi's, Pulse-R's, Ribb-Finn's and Ringworm's each have their own actions that really produce. They are available in a wide range of colors and specific color patterns that are specifically designed to attract big fish.
The design of all AuthentX plastic starts with the Ringworm. The AuthentX Ringworm has a ringed body and a large twister tail which attracts, makes noise and calls fish in.
If a Ringworm body is good, then a supersized Ringworm has got to be better, so the folks at B-Fish-N Tackle created the Moxi. The Moxi has a much beefier body and a larger tail which moves more water, makes more noise and attracts more aggressive fish.
The Pulse-R has that same Moxi body, but with a paddle style tail that makes a different sound and action under the water. The Ribb-Finn has that large Moxi body but with a forked tail, much like a minnow. It is for less aggressive fish.
Slide any AuthentX plastic up the hook of your H20 or Draggin' Jig and keep it riding straight after it is attached. Straight is key. I repeat, straight is key!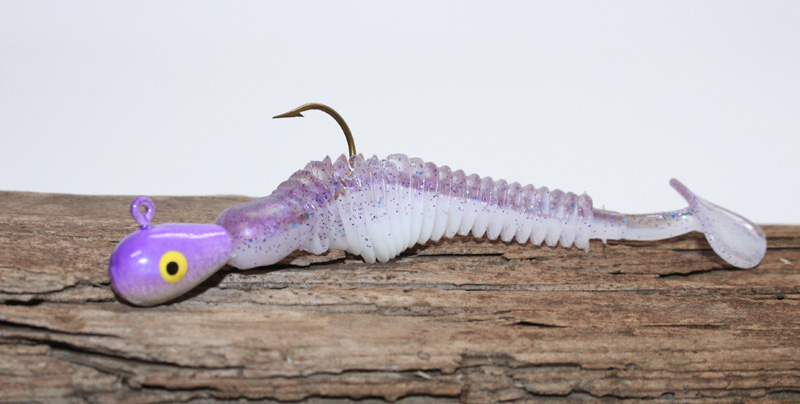 Snap Jigging
Another effective jigging technique is snap jigging. Snap jigging has been around a long time, it has been practiced by walleye pros for years and has accounted for some limit catches, often when most other methods fail. If you want to catch fish this year, whether it be bass or walleye, give snap jiggin' a try...it might just work for you too!
A 1/4 ounce jig is a good starting point for an average depth of ten feet. Add an AuthentX Pule-R plastic tail and you're in the snapin' business..a good quality fast tip rod like the St. Croix Snap Jig Eyecon 68MXF and medium sized spinning reel spooled with 8 pound mono allows you to really make that jig SNAP!
It is best to "practice" snap jigging in a weed free bottom to start. Make a cast, let the jig settle and reel up the slack. Hold your rod at a 45 degree angle and snap your wrist. This will pop the jig off of bottom. Let it settle to the bottom once again, reel in the slack and snap again.
Keep it going until the jig is directly under the boat and then make a few more snaps before reeling it in completely.
Fishing in the weeds
Fishing the weeds is even more effective once you master the technique. Here you don't want the jig to fully sink to bottom but merely to the weed tops. What this does is allow you to work your jig like some crazy, fleeing creature that weed walleye and bass won't be able to resist.
When Snappin' in the weeds, the B-Fish-N Draggin' Jig is the way to go. The 1/16, 1/8 and 1/4 ounce sizes all feature a 1/0 hook which is great for all species. They also have the plastics keeper and the best weed guard in the industry. It is a jig that you need in your arsenal.
Add their new Authentix 3" Moxi Ringworm or 3.25" Pulse-R Paddletail to this deadly jig and you will sneak some walleye, bass and pike from the weeds when other methods fail!
Give vertical jigging and snap jigging a try. You will be rewarded with some nice walleye, sauger..even pike and bass if you learn to master these simple techniques!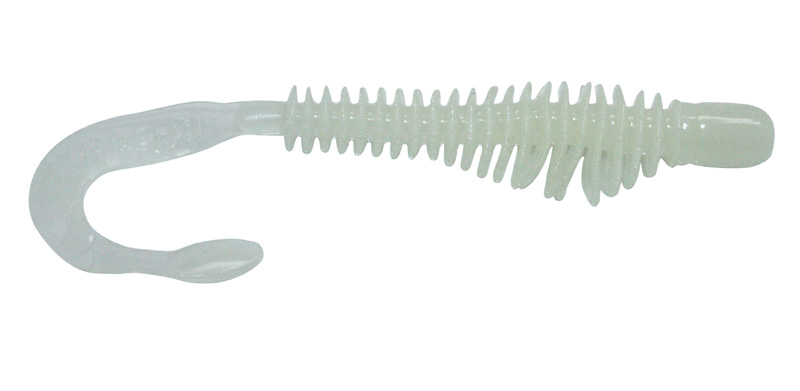 If you've enjoyed this article, you may also like: