Posted by Walt Matan on Apr 15th 2019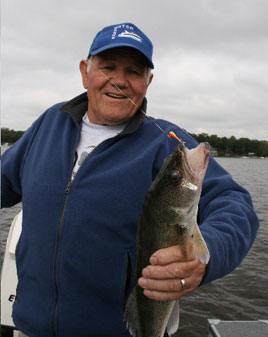 If I had the choice of one lure and only one lure to use in Canada, it would be the jig'n twister. Many anglers might choose a Daredevlil, Doctor Spoon or a Rapala Minnow but give me a jig'n twister every time!
Why is it so effective, because it is so versatile. A jig'n twister can be used shallow, deep and everywhere in between! It can be used on all species from walleye to muskie. It can be crawled along bottom, swimmed at a brisk pace or even bulged just under the surface.
My favorite jig'n twister combo is a little bigger than most anglers use. I like to use the 5" K-Grub made by B-Fish-N Tackle rigged on their H20 jig. The H20 Jig comes in five sizes, but my favorites for Canada are 1/4 and 1/2 ounce. The lighter weight is used in shallow snaggy water, while the heavier jig is used for casting distance and for fishing a little deeper. The H20 Jig has a plastic "keeper" that holds the plastic tight to the jig head and as an added bonus has the weight of the jig stamped right on the head!
As an attractor the 5" K-Grub can't be beat. The 5" K-Grub has a big body and an oversized thumper tail that adds a ton of vibration. It comes in a myriad of colors like Firetiger, Cotton Candy and Firecracker. These are not your average color combinations and Canadian fish really, really like them.
Tossing these jig'n twisters shallow will catch any fish in their path. Use a lighter jig like the 1⁄4 ounce and toss it shallow and crawl or hop it back to the boat. If you don't get a hit, jig it up and down under the boat and you might just catch a following pike, muskie or small mouth.
You can toss it out and reel it back steady if the bottom is snaggy or there is a lot of weeds. Every once and a while, give it a pause and maybe a twitch too! If the weeds are really thick you can reel it in as soon as it hits water, bulging it just under the surface.
In clearer lakes when fishing off the first drop off (whether it 's a rock or weed edge), I will position the boat a cast off of the edge, and toss to the ledge.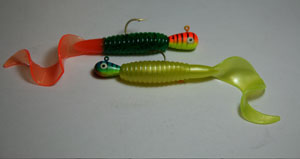 Snap jigging is another technique where you violently snap your rod and reel in the slack. This imitates a dying minnow and elicits aggressive strikes.
The H20 jig teamed with the 5" K-Grub from B-Fish –N Tackle really shines in Canada. When smallmouth and walleye are aggressively feeding they will pounce. Conversely when bigger predators like pike and muskie are tentative, they will pick up this jig and twister combo every time.
If you enjoyed this article, you may also like: