Posted by Walt Matan, Chief Lure Designer, Custom Jigs & Spins and B-Fish-N Tackle on Feb 16th 2020
Tungsten jigs are the NEW Hottest Baits Below the Ice! But, they won't improve your fish catching unless you know how, when and where to use them. Plus, don't put them away when ice fishing season is done. Tungsten jigs are a great addition to your jig box all year long!
The need for speed
One time Poppee and I were fishing bluegill in twenty feet of water over a weed edge. We were sitting next to each other in the same tent with three holes drilled in front of us. The center hole held the flasher and we could see both of our presentations on the flasher at the same time. Poppee was using a red glow Diamond jig (made from lead) with a waxworm and I had on a Chekai (tungsten jig) also in red glow with a waxworm.
The jigs had a similar profile, color and size, but the big difference was that the tungsten jig fell nearly twice as fast. This meant I could get down to the fish quicker and catch fish faster than Poppee...which I did. We'd be fishing and my jig would be falling quicker and I was catching twice as many fish as he was.
After about four hours he figured it out. "Why is your jig going down faster?" "I dunno...you must be doing something wrong! "Gimme your rod!"
He caught up real quick after we switched rods!
I was busted and didn't hear the end of it the whole ride home. "I can't believe you used the fast jig and gave me that slow one, just wait 'till I tell your mother!" I was 54 years old at the time...what was my mother going to do?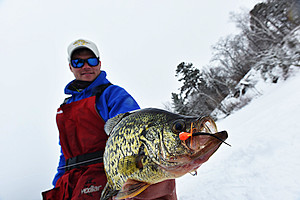 Where should you use a tungsten jig?
Tungsten jigs aren't just for fast fishing in deep water, tungsten jigs also shine in shallow water when used correctly. When a cold front hits and panfish become lethargic, they huddle up in the weeds. This is when you need a jig that is heavy enough to pound down to the bottom of the weeds where these fish are lying.
A great jig choice is the size 12 Custom Jigs & Spins JaJe Tungsten Jig, tipped with a smooshed waxworm. When you drill a hole and the weeds pop up through the hole, that's the hole to fish. By using this heavier jig you can drop it down the weed filled hole and jiggle it to the bottom of the weed stalk...where the big ones lurk.
When the water is clear and you can see the fish, they will be extremely spooky. I use a dark tent that blocks out the light. In this case, the teeniest tungsten jigs are going to be the most effective in shallow water, whether it is clear or dingy. I like to use a size 16 glow Majmun tungsten jig with a slice of glow Wedgee tail. This tiny offering is easy to see when sight fishing and is just what the doctor ordered for stealthy shallow water fish!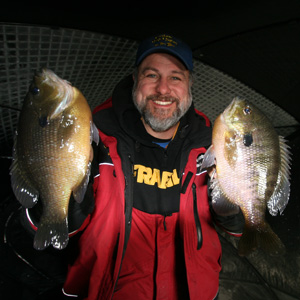 Why choose tungsten?
The reason an ice jig is constructed out of tungsten as opposed to lead is because a tungsten jig in the same weight is smaller, more compact and nearly twice as heavy as lead. Panfish are susceptible to small jigs, tiny hooks and smallish bait, but until tungsten came along, you couldn't get a teeny jig down in twenty or more feet of water. Now you can.
Now your tiniest jigs can go deep
Custom Jigs & Spins tungsten Chekai, Majmun, Glazba and JaJe jigs are all great choices for deep water action. I like them because their hooks ride at a 30 degree angle, giving you excellent hook setting power at all depths, but especially in deep water. These jigs also are unique designs that are proven to catch fish.
The Chekai has a heavy head and a great design for both bugs and plastic. The Majmun is my favorite bait to use with a Wedgee, the Glazba has a diamond nose to call in the fish and the JaJe has a feathered body that panfish really love.
Rig these jigs the same way you rig your jigs shallow. Add a little Finesse Plastic or a Wedgee, a wax worm or a few spikes. You fish them the same way, too. Sharp repetitive rod motions followed by a pause.
You can spot deep water panfish easily with a flasher. You'll need a flasher to fish these fish especially when they become suspended. Then, it's a simple matter of lowering your jig to just above the fish zone and jiggling.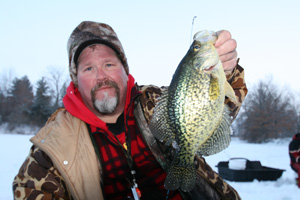 New this season from Custom Jigs & Spins
New this season from Custom Jigs & Spins is the Wolfinkee. The Wolfinkee is a tungsten Ratfinkee with an attitude. It comes in eight great colors and has a plastic body and a gold hook. The bait rides horizontally making it great for jigging or dead sticking with a small minnow or bug.
The Ratfinkee has caught tons of panfish for millions of ice fishermen. It's been around for almost 40 years! The Wolfinkee will bridge the gap to deep water fishing with this style of jig as well as allow us anglers to tightline as opposed to using a spring bobber on the tip of the rod. When you jiggle the rod while tightlining it gives the jig a sharper motion then when you use a spring bobber.
Catch more panfish
Panfish will school deep around the weed edges of clear water lakes. They will also move deeper as winter progresses and the weeds die off in the shallows. Just because the fish are deep, doesn't mean they are tough to catch. With the right presentation, deep water panfish are just as aggressive as their shallow water cousins.
If you are a game-fisherman, the larger size 6 Wolfinkee jigs and 7mm Chekai jigs work for walleye, bass, trout, etc. Their secret is their heavy head and compact size.
Spring fishing
When spring arrives, don't put away your tungsten jigs! A Wolfinkee under a small bobber tipped with a tiny minnow is a crappie killer! The beauty of a tungsten jig for year round use is that you don't have to add unnecessary weights to get it down to the desired depth.
Tungsten jigs are great tossed out and slow retrieved over gravel or weedy areas. Perch, crappie, bluegill and rock bass just love them. Larger tungsten like the Chekai Magnum is great on walleye, white bass and crappie.
Tungsten jigs are not going away so don't put them away...keep them in your tackle box for year round action!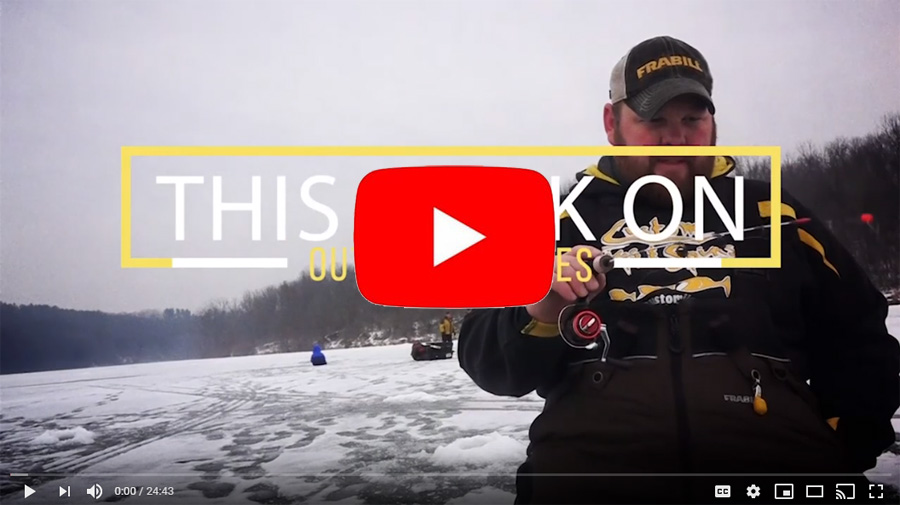 If you liked this article, you may also like: