Posted by Walt Matan on Jan 12th 2018
There was a time when a bucket, a few jigs, and a tiny rod were enough. I didn't even have an auger. I'd look for the biggest crowd on the ice and head to the heart of the activity. I'd look around for an empty hole, break open the ice with my boot and drop a line in. the goal was to fill the bucket all the way to the top. After a few trips, I modified my arsenal to include my daughter's plastic sled, a discount-priced six-inch auger, and a plastic scoop.
Building up my tackle for the coming ice fishing season
The next season I started early in October to build up the arsenal. I built a makeshift windbreak shelter and attached it to the sled, and built my own rods from the tips of broken jigging rods and I waited for ice. I figure this is the initial phase that most ice fishermen go through, the cheap, built-it-yourself phase.
Never mind that I could buy a shelter for $50, never mind that I could buy a rod for under $10, I was rebuilding the wheel, I was wasting hours of my life drinking beer and inventing rotten equipment in the garage. This was time that I would never get back, important time that should have been used to chase fall walleye on Lake Erie or other prime bodies of water.
My introduction to Custom Jigs and Spins
Then I hit the jackpot. A friend introduced my parents and myself to a guy who had taken a little idea and perfected it. His name was William Klingbeil and he had created the most perfectly balanced ice jigs ever seen. He called his company Custom Jig & Spins and after seven years in the business, decided to sell out to us.
We ran it for another seven years, but decided it wasn't for us. While it was great to have your own business in the fishing industry, we found that we never had time to fish. This is the case with most small business owners, you pour every waking hour into your business, and there is time for little else
But during this time, I hit the fast track to success and fished with all the right people. I learned from the best: Bob Copeland, Chuck Thompson, Dave Genz, Ivan Burandt, Doug Stange, Ray Hansen, and Mick Thill. These were guys who were out there fishing and developing the framework for the current technological advances in the sport of ice fishing. I quickly found my forte also, to listen to the experts and continue to develop new ice jigs and presentations.
Designing innovative jigs and plastics
We came up with the Poppee Jig, a thin, wide spoon with a slow, flutter fall; The Slimjig, a larger erratic action spoon for walleye; the Toadie, a small swimming jig that works better on aggressive fish; The Slip Dropper, an adjustable dropper spoon that can be used in deeper water in a variety of ways; Finesse Plastic, tiny pieces of plastic used in place of live bait and The Ratso and The Shrimpo, two tiny jigs rigged with Finesse Plastic.
Some of the later products were developed after we sold Custom Jigs & Spins to the Bob Gillespie family out of Coralville, Iowa. Bob's focus is to continue the quality and keep the products made in the U.S. and we can focus on developing new products and techniques. Interestingly enough, as we looked to develop new ice jigs, we perfected our presentation with products that we learned we simply can't fish without.
The flasher/ locator was pioneered as the ultimate tool for catching fish through the ice. You can use it to locate fish and then watch their reaction to your presentation and thus catch fish that you wouldn't even know were there. The underwater camera can be lowered down the hole once a school is located. I focus the camera right on my jig and study what makes it work.
Forget homemade shelters, several companies have everything you need for portable one-, two-, and three-man shacks up to larger base camp-style tents. Their fabric will withstand the elements and, best of all, they are black so that when you fish in shallow water you can see down the hole and watch the fish grab your jig on clear-water lakes.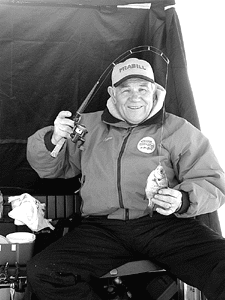 For augers, nothing beats Lithium battery powered electrics..unless you have REALLY thick ice, then use a Propane model.
Rods need to be rigged with different jigs for precise presentations. I'll rig a rod with Custom Jig's Wedgee plastic on a Demon head for dynamite crappie action. Fishing depth varies from right under the top of the ice to halfway to bottom.
So, you see, over the years I have learned my lesson. I learned that buying quality equipment the first time will let you enjoy your sport more for years to come. See you on the ice.