Product Description
The super soft ultra-slim Finesse Plastic body on a precision lead-head jig catches slab-sized panfish when conventional methods fail. Catch trophy-sized panfish without live bait with this unique finesse lure.
Ice Fishing
The Ratso's horizontal orientation resembles a small minnow. The lifelike Finesse Plastic tail is constantly on the move and is all that is needed, since the Ratso
should be used as-is, without live bait. In shallow water situations, darken your portable fishhouse by closing all windows and peer down the hole. A bright-headed Ratso jig that can be easily seen is best used in this situation. When the head disappears… set the hook! The larger size 6 Ratso can be used for walleye with excellent results. The Ratso's head shows up well on electronics, making them ideal choices in deep water.
Open Water
The size 10 Ratso is pure dynamite when 'gills aren't feeding; a small Ratso dangled in front of their nose is hard to resist! A size 6 Ratso is an excellent choice with
an ultra-light rod rigged with 2- to 4-pound line. Keep a rod rigged in your car at all times … The size 6 Ratso will catch crappies, 'gills, bass, catfish, perch and especially
trout. Its size is the perfect mimic of a shiner minnow, which all fish love. Speaking of shiners … When crappies, walleyes, trout and big 'gills are on a minnow feed, almost nothing outshines a Precious Metal Series Ratso. Choose a Nickel Head and Hook in Glow Brite, Glow Brite Blue or Smoke Glitter to match emerald shiners and fatheads… Pick a Gold Head and Hook and match golden shiners or mayflies. There are definitely times when metal rocks! Choose the right color body, head and hook and the Ratso can mimic just about any forage that swims!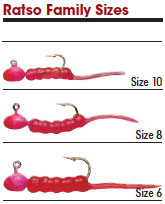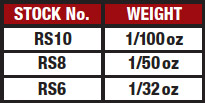 WARNING: Cancer and Reproductive Harm - www.P65Warnings.ca.gov.
Product Reviews
Write Review
Showing reviews 1-10 of 33 | Next
skess8054

Posted by Stan Kessler on Mar 13th 2019

This was a great find. The price was the best I've found.
It does exactly what I was looking for it to do.


Great for Crappies and Bluegill

Posted by joe on Jan 2nd 2019

Awesome action on these. My go too for finesse crappie through the ice.

pan fish killers

Posted by DONNIE on Dec 7th 2018

these are the best gill and perch and crappie lures made I have never been skunked with these. some of the best lures made

Ratso jigs

Posted by william on Apr 12th 2018

I was introduced to Ratso jigs by a friend that used them for ice fishing. We have found the to work well for spring crappie fishing here in the South. Custom Jigs and Spins is great to do business with, good communication, fast delivery.

Ratso helps win local tournament

Posted by mark westcott on Feb 17th 2018

I have ordered jigs in the past usually Purest jigs which always work but I ordered Ratso this time. They helped my son and i to win the local ice fishing tournament. Perfect for crappie and bluegill

It Just Catches Fish

Posted by Unknown on Feb 13th 2018

Of all the artificial baits I own, this is by far the most effective for Bluegills, Perch, and Crappie

Great for trout through the ice.

Posted by Francis Ackley on Feb 11th 2018

Just landed a 3 lb. Cutbow with the motor oil color. Good for open water crappie too.

Panfish Magic!

Posted by Chuck H on Jan 25th 2018

Chartreuse Ratso and Shrimpo are bucket fillers for bluegill and crappie. Just ordered plenty to share with my grumpy old fish friend. Also had a 20" largemouth inhale this jig.

Farm pond crappie magnet

Posted by Matt V on Jan 23rd 2018

Great jig on panfish and in my area the crappie really seem to respond well.

Purple Ratso

Posted by Unknown on Jan 15th 2018

Awesome jig! It is candy to the crappie and blugill! Haven't found anything better!
Showing reviews 1-10 of 33 | Next
Find Similar Products by Category