Posted by Walt Matan on Apr 12th 2019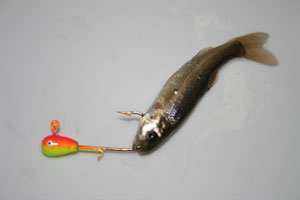 There are so many ways to use a jig that the average angler could be overwhelmed. But, let's take a look at the basics, here is a great way to use a jig that will help you catch more walleye... it's time to get NAKED!
The NAKED jig is by far our favorite jig. By NAKED, we mean there is no plastic added, but we will add a minnow, leech or nightcrawler. In spring, leeches are not an option, since they are not available. Fathead minnows are the norm, but in many regions nightcrawlers are moving up fast.
There are a lot of ways to hook a minnow but are two favorites are through the lips and "Canadian Style". Most anglers will hook a minnow through the lips when jig fishing. You want to be careful not to harm the minnow, and ram the hook through the head; killing it, kills the action.
Canadian style

Sometimes a better option is Canadian Style. Here we bring the tip of the hook through the mouth of the minnow and out the gill and then bring the tip thinly through the dorsal (see photos 1 and 2) this method keeps the minnow alive while giving you a better hooking percentage.
B-Fish-N-Tackle makes a jig called the H20 Jig. The advantage of an H20 jig is it's "keeper". The keeper will hold plastic or live bait better in position than any jig we've ever seen! It will also hold the bait or plastic tight to the head of the jig... making it tough on fish NOT to get hooked!
When fishing a minnow Canadian Style, this keeper really works well. But the H20's keeper works even better on a crawler. Slide the crawler up the hook shank, nose first until the keeper catches it and then pinch off the tail. (See photos 3 and 4) Too much crawler actually deters fish plus, we seem to miss a lot of fish that just gobble up the tail portion.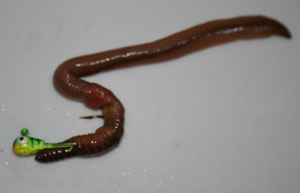 The keeper not only keeps the crawler tight to the head but it increases hooking potential. You'll notice this right away when you start catching smaller fish. These fish are usually the short strikers that you commonly miss with a conventional jig.

Properly rig your jig

A properly rigged jig can be fished a variety of ways. In spring, when fishing lakes, you'll want to toss a jig shallow. In dirty water you can catch walleye in as little as a foot of water, so you can never cast too shallow...unless your cast ends up on the bank! Remember, the lighter the jig, the less you will snag.
Another productive spring technique is drifting. You can allow the wind to push your boat along and make subtle corrections with the trolling motor. We like to use our bow mount trolling motor pointed into the wind. We'll go as fast as need be, to keep our line vertical. In heavier wind you might need jigs that weigh 1/4, 1/2 or even 5/8 of an ounce. In less current you might need 1/16 or 1/8 ounce. Jig weight is key, key, key! You can hold a rod in each hand (where legal) or just fish one at a time. Never set a jig rod in a holder or you'll snag up. Plus, you want to be able to set the hook as soon as you feel a strike!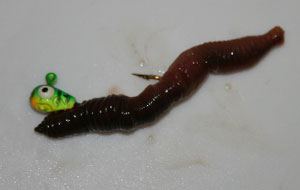 H20 Jigs have hot colors that are effective for walleye plus a non-chip finish. Best of all, H20 Jigs have their weight stamped right on the bottom of the head, so you'll pick the right weight every time, because jig weight is key, key, key!
Color selection is important too. You'll need a variety of brightly colored jigs like sour apple, chartreuse sunburst and orange tiger, well as purple pearl and hi-gloss black. Plus you'll need a variety of sizes too.
Line makes a difference too. We prefer a no-stretch braid like flame green 14 pound test Fireline (6 pound dia.). It's bright color allows us to see that our line is running vertical, and because it is no stretch you can feel every pebble on the bottom. we use a small size 7 barrel swivel tied to a few feet of eight pound fluorocarbon for a leader.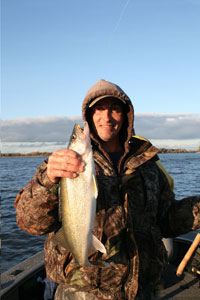 If you enjoyed this article, you may also like: