Posted by Walt Matan, Chief Lure Designer, Custom Jigs & Spins and B-Fish-N Tackle on Jul 2nd 2021
Many lakes and rivers in the Midwest are loaded with walleye and white bass. While a lot of anglers target walleye and consider white bass a trash fish, I think that white bass fishing offers great sport and a great opportunity since they are such fun to catch, plus they are good in the frying pan, too!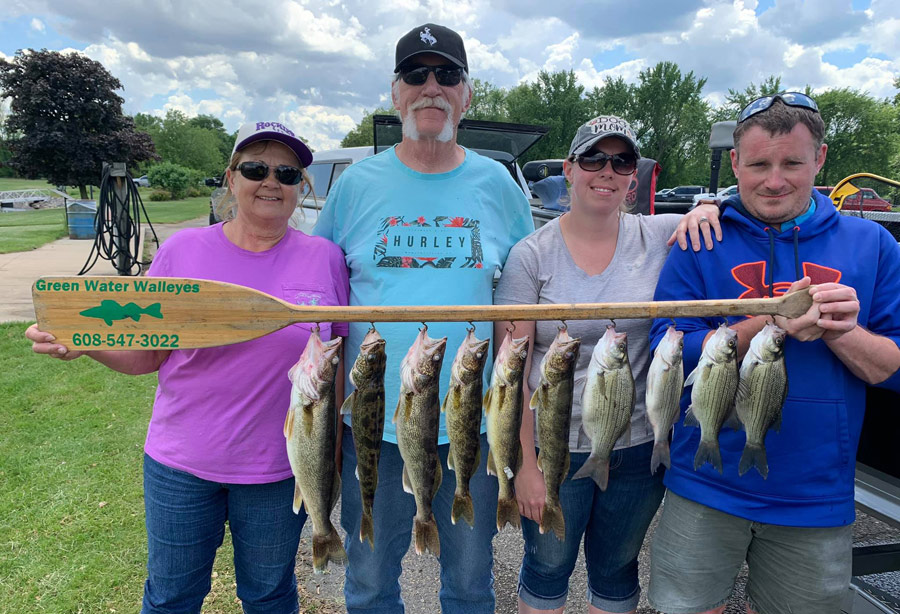 Happy anglers with a stringer of walleye and white bass
Anglers like a variety of challenges!
Don't get me wrong, I love walleye fishing. I've fished dozens of lakes and rivers all across the Midwest in search of trophies. I love targeting true trophy walleye, but I also love catching fish. Fishing for white bass means I'm catching more fish. Lot's of fish every time so the addition of those pesky white bass can turn a four fish day into a twenty fish day which is fine by me!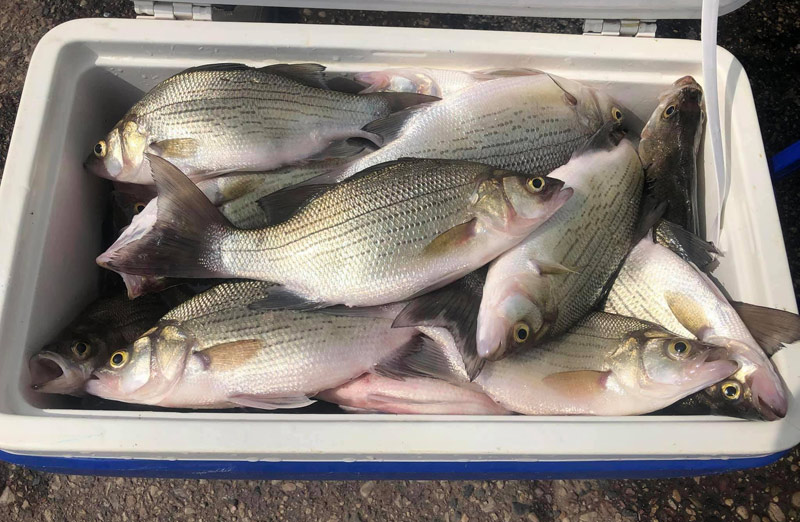 Gotta Love them white bass
Early summer is perfect for catching white bass & walleye!
June is a prime month for walleye and white bass. The water temperature is warming up. Both walleye and whitefish are either spawning or in post spawn, and putting on the feed bag, depending on how far North you travel.
They can literally be anywhere from two to forty feet and they will bite nearly anything. Vertical jigging, trolling, casting and set lines will produce...you just have to figure out where they are and what is the right presentation for the day.
Use electronics to find more fish
Not all lakes contain walleye and white bass, but rivers and the flowages that spill out from them will usually hold good amounts of both species. Rivers like the Illinois, Wolf, Mississippi, Wisconsin, Rock and the Fox are ares to target.
Lakes like the Winnebago Chain, the Fox Chain, Koshkoning and Lake Pepin as well as the Castle Rock and Petenwell Flowages are favorites.
Mississippi River Springtime Action
The best rigging and white bass lures
When I'm fishing open water from shore, I like to have three rods rigged and ready with different presentations and I will refine them, once I start catching. On one rod, I'll have a jig with plastic, this is my active search pole. I'll pitch it everywhere, shallow, deep along the shore and around obstructions.
My second rod is a set line. Here I'll use a weight, hook and live bait like a minnow, leech or half crawler. My last rod holds a crankbait like a Flicker Shad, Wally Diver or Salmo Hornet.
Caught me a nice walleye from shore last spring
My favorite jigs
B Fish N Tackle's H20 jigs and Draggin' Jigs are my jigs of choice. Whether I'm fishing live bait or AuthentX Plastic Ringworm's, Moxi's or Ribb-Finns', these jigs come in a variety of weights. The H20 jigs have the weight stamped on the bottom of the jig head for easy identification.
You need to use the right weight at all times or you will snag up. I also like to have at least one deadstick rod set in a holder with an H20 jig and live bait set a few inches up to a foot off bottom. These jigs have a wire keeper which holds both the live bait and plastic tight to the head, which stops short strikes.
Check out B Fish N Tackle jigs and AuthentX Plastic for great white bass lures.
When in my boat, I have trolling rods rigged with Flicker Shads, Wally Divers, or Salmos, a few jigging rods with plastic and another jig rod with a weedless jig and live bait and rods set for deadsticking.
I'll fan-cast likely areas with live bait and plastic and then move on to the next spot by trolling. If the casting produces, I'll stick to that. Conversely if trolling is hot, then I'll troll for a while. You gotta catch while the catching is good, otherwise you're just out enjoying the scenery!
Using Sidescan
Trolling is a great way to search for fish and spot/mark structure that you can come back to after you have trolled an area. A lot of anglers will spend hours driving around, looking for that big pod of fish with their Garmin Panoptix Livescope or Humminbird Sidescan and then go back and pound those areas hard.
I'd rather be trolling around searching, trying to get a tug on the line as I look for those hot spots. By trolling I'm searching for the real active fish. Plus, by watching my Sidescan, I can mark structure as I pass near it and then come back to it with my jigging arsenal.
Here James Linder shows you how to find fish quickly with sidescan
Fishing tips for shallow water
When trolling, if I'm searching shallow and there are a lot of fallen trees or depth changes that cause problems, I will only fish one rod, held in my right hand as I drive along, steering with my left hand.
A slow pumping action, pulling the rod forward, enticing the fish, followed by a slow drop back will often trigger strikes. By holding the rod in my hand, I can feel bottom ticks, weeds and fallen trees and I can raise the rod quickly so I don't snag. This works great!
Changing the rigging for open water
In more open, deeper water, I'll use three rods. One straight off the back and two on the sides. My side rods are 11 foot long with soft, fast tips and my drop back rod is a 7-1/2 footer that is a little stiffer.
With this set up I can cover nearly a 30 foot span from one end of a rod to the other. If I have more anglers in the boat with me with a little skill, I'll add two or four Offshore Tackle boards to spread the presentation out even further.
Remember, while I am trying to catch fish while trolling, I am also searching for a structure that will hold fish as well as the fish themselves. A lot of anglers use boards. Boards are great if you've got two good fishermen in the boat. One angler runs rods and boards, the other drives.
The problem with boards on the lakes and river I fish is that you get a lot of action from small walleye and white bass that will hang on the lures and you never see the board move. You can be trolling along for a half hour and then when you reel in, you've got dinks on all your rods that you never knew were there.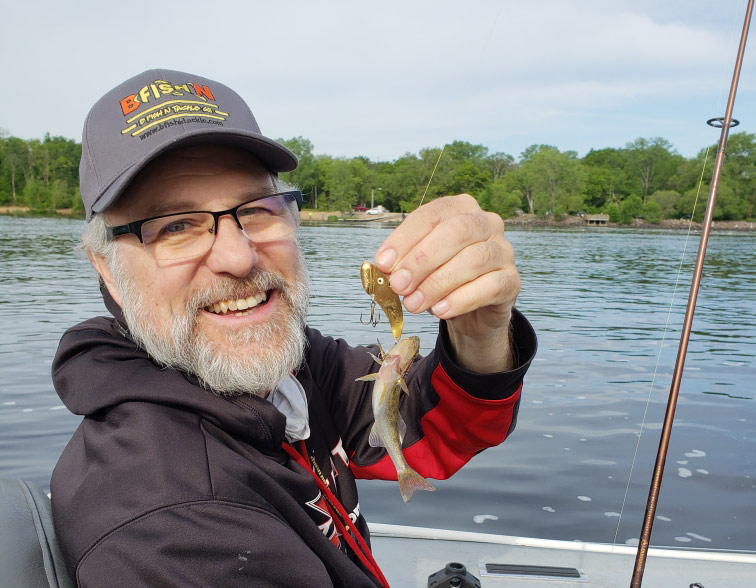 Dinks Stink!
Getting serious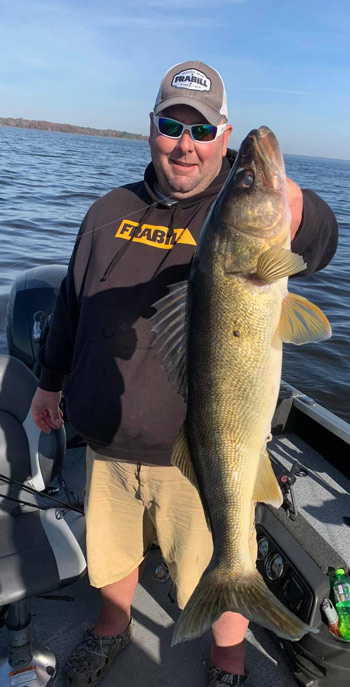 Once some good structure is found it's time to get serious. I've got one of those Minnkota Terrova trolling motors with spotlock, which is the greatest thing since sliced bread. You can troll slowly forward, hit the spotlock, which anchors the boat steady so you can work an area over thoroughly or net a nice fish.
You can really sift through an area thoroughly by repositioning, drifting, running deeper or shallower and then spotlocking. A lot of anglers don't understand that you have to approach a good piece of structure from several angles and depths before you find the magical retrieve that triggers strikes.
Spotlock helped Wisconsin guide Jesse Quale land this lunker
So next time you are out walleye fishing, be happy for the white bass too! Try some of these tips and techniques I've outlined and you might just bring home a fine mixed bag of fish for dinner!
If you enjoyed this article, you may also like: