Price is for a 2 Pack of jigs.
The Draggin' Jig is the perfect jig for pulling walleyes, bass and panfish from the HEAVIEST COVER! Fish it with live bait or plastics to extract fish from places that used to be off-limits… Features a 1/0 hook, perfect for fishing 'crawlers, leeches, minnows or plastics. The innovative plastics "keeper" holds 'crawlers and plastics securely. Available in three sizes: 1/16, 1/8 & 1/4 ounce and seven unique colors!
NOW AVAILABLE: Comprehensive Draggin Jig Kit: Click here for more info!!
Presented by In Depth Outdoors. This DVD will provide you the step-by-step instructions you'll need to put Jig Dragging to use on your favorite body of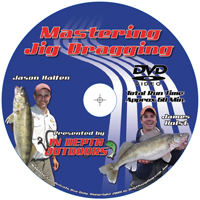 water!
This DVD covers every aspect of Jig Dragging starting with intro to the basic principals, recommended equipment, tips on selecting the proper baits and how to perfect boat and speed control.
After you watch the instructional portion of this DVD be sure to check out the BONUS episode where James Hoist & Jason Halfen put the pieces fo the Jig Dragging technique together and Drag Jigs for Big Mississippi River Walleyes! More info...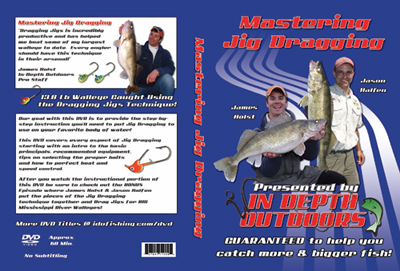 WARNING: Cancer and Reproductive Harm - www.P65Warnings.ca.gov.