The Draggin' Jig is the perfect jig for pulling walleyes, bass and panfish from the HEAVIEST COVER! Fish it with live bait or plastics to extract fish from places that used to be off-limits… Features a 1/0 hook, perfect for fishing 'crawlers, leeches, minnows or plastics. The innovative plastics "keeper" holds 'crawlers and plastics securely. Available in three sizes: 1/16, 1/8 & 1/4 ounce and seven unique colors!
2 Per Pack.
NOW AVAILABLE: Comprehensive Draggin Jig Kit: Click here for more info!!
Presented by In Depth Outdoors. This DVD will provide you the step-by-step instructions you'll need to put Jig Dragging to use on your favorite body of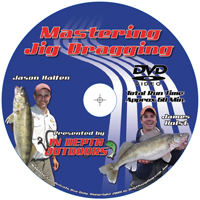 water!
This DVD covers every aspect of Jig Dragging starting with intro to the basic principals, recommended equipment, tips on selecting the proper baits and how to perfect boat and speed control.
After you watch the instructional portion of this DVD be sure to check out the BONUS episode where James Hoist & Jason Halfen put the pieces fo the Jig Dragging technique together and Drag Jigs for Big Mississippi River Walleyes! More info...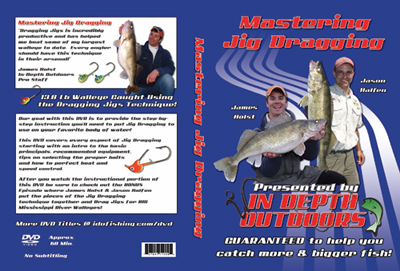 WARNING: Cancer and Reproductive Harm - www.P65Warnings.ca.gov.
Great weedless jigheads. I fish them on a river that most other jigheads get snagged up pretty easy but not these. Only thing is I wish they were a little less pricey.

First cast out I got a hit! I bought all 3 sizes and used various tails with jigs, between the 5 crappies and 6 bass I caught that first day and a couple snags I got I got out bodies stayed in place. Honestly my "best day" fishing ever, Great product Thanks! :)

To be fair have to say I have only used them for one day so far. Did not catch anything on them. Dragged one around for most the day until it hung up and I broke it off. Totally my fault, had drag too tight ! I liked how well the jighead holds bait on. Never had to reset the grub back on head.