Product Description

The Draggin' Jig is the perfect jig for pulling walleyes, bass and panfish from the HEAVIEST COVER! Fish it with live bait or plastics to extract fish from places that used to be off-limits… Features a 1/0 hook, perfect for fishing 'crawlers, leeches, minnows or plastics. The innovative plastics "keeper" holds 'crawlers and plastics securely. Available in three sizes: 1/16, 1/8 & 1/4 ounce and seven unique colors!
2 Per Pack.
NOW AVAILABLE: Comprehensive Draggin Jig Kit: Click here for more info!!
Presented by In Depth Outdoors. This DVD will provide you the step-by-step instructions you'll need to put Jig Dragging to use on your favorite body of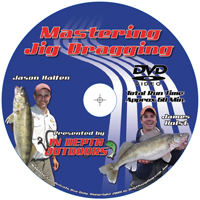 water!
This DVD covers every aspect of Jig Dragging starting with intro to the basic principals, recommended equipment, tips on selecting the proper baits and how to perfect boat and speed control.
After you watch the instructional portion of this DVD be sure to check out the BONUS episode where James Hoist & Jason Halfen put the pieces fo the Jig Dragging technique together and Drag Jigs for Big Mississippi River Walleyes! More info...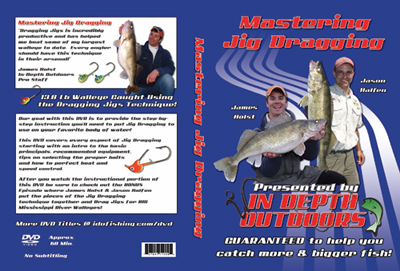 WARNING: Cancer and Reproductive Harm - www.P65Warnings.ca.gov.
Product Reviews
Write Review
As Advertised

Posted by Dale on Apr 11th 2019

To be fair have to say I have only used them for one day so far. Did not catch anything on them. Dragged one around for most the day until it hung up and I broke it off. Totally my fault, had drag too tight ! I liked how well the jighead holds bait on. Never had to reset the grub back on head.

Best Timber Jigs I can find

Posted by Jonas Ostmeyer on Jun 11th 2018

Caught many walleye on these and by far the best I have found. I don't miss many fish on these jigs like all other types of weedless jigs I have used. I lose a few in the timber but thats typical for timber fishing. I might 1 to every 10 of my standard jigheads. I LOVE these Jigs.

Dragging jig

Posted by JJ.Martin on Mar 18th 2018

Excelent for snagging areas. Works great.

Dragging Jigs

Posted by Mark Steinbauer on Sep 18th 2017

Have tried almost every dragging jig on the market. Length of hook and extra bait holding wire make these standout as the best. However the bait wire hook is to fragile and in cases of tough hook removal can break easily.....

Best jigs I've ever used

Posted by Scott on Sep 11th 2017

Draggin Jigs are the best I've found for being weedless. They pull right through the weeds and rarely do I ever lose the bait. We like to cast and jig with a 2" twister tail tipped with a small perch minnow or fat head minnow. Slow retrieve just popping it off the bottom. Good in weeds and even rocks. I would break off 3-4 times as many round jig heads snagged in the rocks to one Draggin jig. They rarely hang up. The longer the bait stays on, the more fish we catch.

Great Jig

Posted by Henry on Jul 14th 2017

Bought to try. works very well as they don't get hung up very much

Awesome jig

Posted by James on Mar 26th 2017

Bought some to try. They work great and rarely get snagged up . I drag alot of rip tap and rocky shorelines.

Great in the wood

Posted by Jeff on Sep 22nd 2016

Best weedless jigs I have used. In the the Rivers I fish there is lots of wood. Great to loose 2 in a day instead of 12 or more conventional jigs in a day. Excellent hook up rate also.

Great in timber

Posted by Unknown on Jun 13th 2016

Using on lake petenwell in Wisconsin, great in the timber, beats loosing regular jigs and re-tying all the time.
Find Similar Products by Category
Customers also viewed