Product Description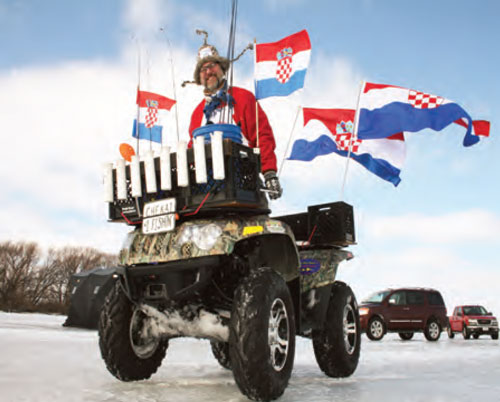 Chekai - CJS Tungsten jig designer, Croatian Sensation, snappy dresser and Brother of the 4X4!

The Chekai (Pron. "check-eye") Jig sports a popular tungsten head design, a superior non-chip epoxy paint scheme, an ultra-sharp Owner hook and a paint free eye.
• Tournament-proven performance
• Giant action from a small jig
• Tip with microplastics or live bait
• Perfect for all panfish species
• Optimized hook gap for solid hooksets
• Ultra-sharp hook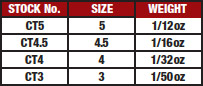 NAFC pros Kevin Fassbind and Nick Smyers have a proven tournament track record with Custom Jigs & Spins baits.

With countless top finishes under their belts, NAIFC pros Kevin Fassbind and Nick Smyers have proven year after year that they are two of the best ice sticks on the planet. They can do it all: long rod, palm rod, straight line, tight line, and every technique between. Not only that, they're great guys … so we're proud that they continue to choose Custom Jigs & Spins products to get the job done.
"Historically, my confidence bait is a 3- or 4 mm Custom Jigs & Spins Tungsten Chekai. A lot times, a 3 mm with a pink Ratso body cut in half and fished on 2-pound fluoro is just the thing, especially during cold weather or on pressured waters," says Wisconsin-based Kevin Fassbind. But for most situations a size 12 4.5mm Pink Glow Chekai with pink Ratso body is Fassbind's go-to crappie weapon.

Partner Nick Smyers is a big fan of the 4.5mm firetiger Chekai, especially for extracting tournament perch. "The Chekai has the drop speed I need to fish fast and the hook quality is super good. My hookup percentage is definitely higher than other jigs. Add a Custom Jigs Finesse Plastic and I'm never touching the combo to re-bait. It's all about keeping your line in the water and pulling fish," says Smyers.
The deadly duo has also discovered a consistent way to crack big bluegills, 'seeds and hybrids on the trail: size #10 and #12 Majmün tungsten jigs, typically in purple, and tipped with a CJS Finesse Plastic, Wedgee. "On our custom long rods nothing beats the Majmüm for fishing fast, getting bit and making solid hooksets. The hookgap is exactly what it should be. And 'gills just love it," says Smyers.
Panfish Tips From NAIFC Pro Kevin Fassbind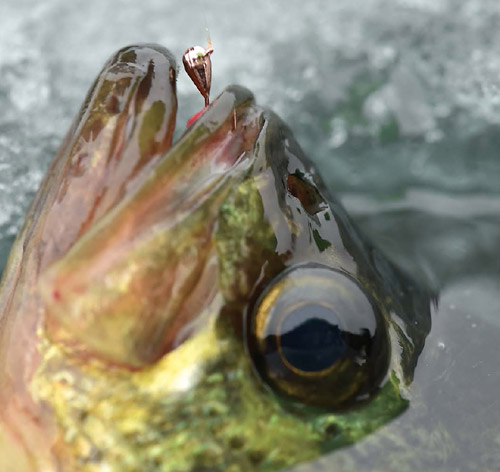 Product Reviews
Write Review
Showing reviews 1-10 of 46 | Next
Crappie killer

Posted by Unknown on Nov 16th 2018

Used the chekai tungsten jigs for the first time on fall crappie. They sink faster than lead jigs which saves time when they're in tight schools and biting. They worked great. My buddy and I caught about 40 crappie and 30 bluegills with them today. Looking forward to trying them for trout under the ice.

Fishhog

Posted by Unknown on Oct 23rd 2018

Very happy with these jigs,fished them last winter and outfished the folks I was fishing with 3 to 1.

Works Great

Posted by Bo on Apr 9th 2018

we found that these fishes changes in what they take. Earlier in the season they were biting with the gold one and now it seem they like the firetiger one or ones that are more pink in color

Good JIG

Posted by BoThao on Mar 14th 2018

Good Jig, one of the options that white fish seems to like or attractive them to the bait.

fish for supper

Posted by william diringer on Mar 9th 2018

great product

Awesome

Posted by Brent Holmes on Mar 8th 2018

Wondeebred and pink eyes are my new go too for bluegills and crappie

My go to jig

Posted by beckster on Mar 6th 2018

The chekai jigs are my favorite and continue to amaze me in Nebraska and the Dakotas.

Great Colors

Posted by Richard E Schuette on Feb 25th 2018

Your colors seem to attract more fish!

The Chekai

Posted by John Tipler on Feb 13th 2018

The Chekai jig sports a popular tungsten head design, a superior non-chip epoxy paint scheme, an ultra-sharp Owner hook and a paint free eye and this has been my go to jig this entire season. I hooked a 26" northern and was more concerned about losing my jig than losing the fish. Happily I didn't lose either!

Awesome ice jigs!!

Posted by Jeff Signor on Feb 13th 2018

Great ice jigs, reasonably priced. Long lasting glow. Strong sharp hooks for a solid hookset. These jigs catch fish! Must have!!
Showing reviews 1-10 of 46 | Next
Find Similar Products by Category