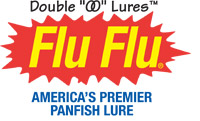 All of our famous Flu Flu Jigs the finest quality, hand-tied feathered jigs available. Flu Flu's are available in 42 fish-catching colors with an open, paint-free eye for hassle-free rigging. Flu Flu's are proudly made with gold-plated Aberdeen razor-sharp hooks! Their thin-wire construction won't damage live bait, keeping wax-worms wiggly and minnows kicking!
Pitch a Flu Flu under a pier, fallen tree or drop it down to crappie depths. You can use it with a slip bobber or float for some fantastic catches. Anglers throughout the United States have had success with our original Flu Flu for decades. You can add minnows, worms or bugs to make the Flu Flu even more appealing!
So if you want to eat fish tonight...use a Flu Flu today!
NOTE: PRICE IS PER JIG as jigs sold off website are UNPACKAGED.


WARNING: Cancer and Reproductive Harm - www.P65Warnings.ca.gov.