Product Description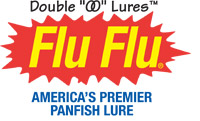 All of our famous Flu Flu Jigs are the finest quality hand-tied feathered lures available. Flu Flus come in 14 fish-catching colors with an open, paint-free eye for hassle-free rigging. Flu Flus are proudly made with gold-plated Aberdeen razor-sharp hooks! And their thin-wire construction won't damage live bait, keeping minnows kicking!


WARNING: Cancer and Reproductive Harm - www.P65Warnings.ca.gov.
Product Reviews
Write Review
Panfish are king

Posted by Roy Van Keuren on Apr 16th 2019

Have used Flu-Flu's for years. Colors 102 and 103 in 1/64 oz are virtually non-existent in local bait stores. I buy them several dozen at a time. Only drawback is no sealant on the threads. Cure that by applying nail polish.

Almost lifelike movements

Posted by Mark P Plumley on May 4th 2018

The key is the head design, allowing it to flit and flutter about.

The maribou is soft and smooth.

Only drawback are bluegill that bite some of the maribou off.

Flu Flu

Posted by Dan on Apr 16th 2018

Very good jig , tip it with your choice cant go wrong.

Good For Lots of Species

Posted by Greg Schmidt on Aug 21st 2017

These work great all year for panfish and bass. Gotta tip them with a little snack (crawler piece, leach, etc.)

Panfish. Better buy Flu Flu

Posted by Glenn Dorfman on May 8th 2017

I have fished jigs for walleyes, northern, smallmouth, crappies and sunfish for 49 years in Kentucky, Minnesota and Canada. There is simply no better jig for crappies and sunfish than the flu flu. They work well in winter too, but I am hooked on tungsten. Flu flu in tungsten?

Great jig

Posted by Unknown on Feb 24th 2017

The "Flu Flu" chartreuse/lime and/or white/pink #8 or #6 hook dressed with a "Gulp Live" minnow (color is your choice) is an excellent crappie lure. The chartreuse/lime with #8 hook dressed with the mentioned minnow or other small "Gulp Live" products is a great bluegill lure. This lure plus "Ratso" and "Ratfinkee" are my go-to panfish lures.
Find Similar Products by Category
Customers also viewed