Product Description
The Slender Spoon is a bent, ultra-light spoon that offers loads of flash and flutter on the fall, unlike any other bait on the market. It comes complete with a size 1 or 2 snap, which further promotes erratic action. Silver, gold, nickel, copper, and black nickel finishes with holographic prism and glow accents ensure a pattern to match any fishing scenario. It's still a fish-catching classic after all these years.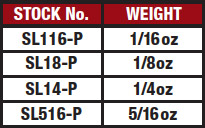 Ice Fishing
The Slender Spoon shines when searching for active fish. Its unique thin and beveled body provides more action and flutter on the fall than any other ice jigging spoon. It also increases fishable space, fluttering far off to the sides of your hole with a long cycling time to attract fish from afar. The small, 1/16-ounce Slender Spoon is ideal for panfish, especially tipped with a chandelier of three or four spikes. Or replace the treble hook with a single hook or a size 10 Shrimpo. As far as cadences go, both subtle shakes and rapid jig and pause methods can be top producers, as well as high rips and flutters on slack line.
Open Water
The larger 1/8-ounce, 1/4-ounce and super heavyweight 5/16-ounce (which is a heavier spoon with the same footprint as the 1/8-ounce) are ideal for open water walleye and larger gamefish species. Tipping the treble with a minnow head or perch eye (where legal) is a great way to add a bit of scent and really fire up schools of fish!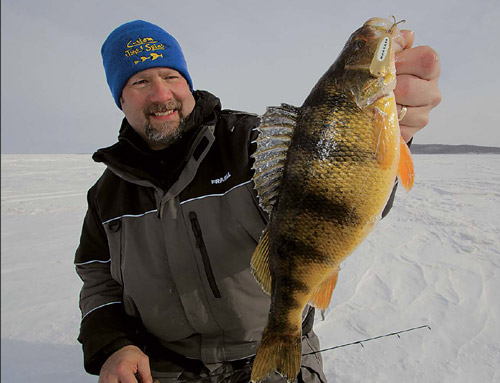 Jigging Slender Spoons For Big Winter Pike!
Trout Through The Ice: The Slender Spoon and Shrimpo Dropper Rig
Product Reviews
Write Review
Previous | Showing reviews 11-20 of 23 | Next
will not ice fish without it

Posted by gregg johnson on Dec 29th 2016

complete confidence

Game Changing

Posted by Tyler on Dec 17th 2016

Added a few slender spoons to my tackle the last few years. They hAve been absolute game changers when targeting reluctant or pressured fish. Lifetime customer here.

Perch Love Slender Spoons

Posted by Bob P. on Dec 5th 2016

These spoons are awesome for perch. Tipped with worm or spikes they get the perch to bite! The ice fishing go to lure.

Haven't used yet

Posted by Unknown on Nov 22nd 2016

I haven't gone fishing yet. I just wanted everyone to know how get the service was! Fast on a small order. Plus the catalog they enclosed was great. I discovered I need a lot more tackle haha!

Excellent All Around Lure

Posted by Unknown on Apr 11th 2016

I have used the larger slender spoons for Walleye and Perch with good success. I began using the micro slender spoons for finicky Perch and followed that up with huge success on slab crappies and frying pan sized gills, tipped with spikes, all through the ice. I will be figuring out if the open water proves to be as successful on these micro slenders.

Great jigging spoon

Posted by Unknown on Mar 5th 2016

I had very good luck using this lure on Lake Of The Woods last February.

If you're after huge gills, You NEED THESE!!!!

Posted by MichiganMatt on Feb 22nd 2016

These micro spoons are phenomenal for those finicky huge bull gills on high pressure lakes. gives them a presentation they're not used to seeing compared to the typical tungsten jigs and teardrops. they also work great for specks and perch too!

Good lure

Posted by Heath on Feb 8th 2016

I hammered to crappie last weekend with this product. Tipped the treble with spikes and could not keep the fish off.

JUST ORDEREDTHREE OF THESE!!

Posted by dan jackman on Feb 3rd 2016

After watching many videos and reading many reviews I decided I no longer wished to miss out on the action these spoons brought about to other ice anglers..
What also attracted me to these spoons were their versatility to attract and catch all the fresh water fish I sought to catch here in ontario..
They're marked at a great price point and its for this reason and for the fact I couldn't just choose one (PRETEND THEY'RE LIKE SHOES HONEY!) I got the gold/chartreuse, silver/chartreuse, and the gold/glow..all in the 1/8. The snap lock provided is a perfect size for this spoons action.. I've been told that the small end is to face up but I've seen it on many vids with the large side up so..a little confused there.. Maybe they could come attached
Overall a fantastic spoon. Can't wait to head out to Bay of Quinte to nail some eyes!

Good for a wide variety of species.

Posted by Preston Jorgensen on Jan 28th 2016

I have been using these for years now and have caught northern pike, rainbow trout, walleye and even panfish on the smaller spoons. I have a seperate jig case just for these I can't seem to get enough. Whether I tip the hooks with larva, waxies, or a minnow head they always perform when I need them too.
Find Similar Products by Category
Customers also viewed