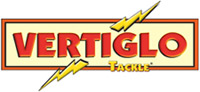 Our Vertiglo Demon is a solid lead Demon in some very sweeeet color patterns!
This little devil of a jig is great for all panfish species, walleyes and other gamefish. A must have for every angler's arsenal. All colors are available in sizes 10, 8, 6, 4, and 2. All Vertiglo Tackle lures feature a super-hard paint finish, quality red hooks and a jig body that glows on one or both sides!
The size 2 is our up-sized version that is tops for large crappie all year long! The Mega Glow Red is a Red Lake staple and also performs its magic on those huge crappie in Lake of the Woods! It is also hot for walleye, when they want a little finesse. Jig it, dead stick it or run it on a rattle reel with a lively dorsal hooked minnow.
WEBSITE PRICES ARE PER JIG, sold individually.


WARNING: Cancer and Reproductive Harm - www.P65Warnings.ca.gov.
I've been using "ice fishing" jigs for open water fishing for 40 yrs. and have been a big fan of the original Demon for I don't know how long. The Demon is one of my top, go to, jigs.

A few years ago I seriously got back into night fishing and didn't even have to think about giving the VertiGlow Demon a try.

In 2014 I caught more than half of my 30+ Catfish, which averaged about 8-10 lbs., on VertiGlow Demons. The rest were caught on VertiGlow Frisbee's, which I consider about equally effective so, for my uses, the Frizbee's are pretty much "interchangeable" with the VG Demon.

For Catfish I generally use a No.2, 4 or 6 in either Black with Silver Foil or Frog with Silver Foil with the No.4 my primary size choice. Last fall I caught a 38" Northern (at night) on a No.2 Black & Silver Foil VG Demon tipped with a 2-3" shiner.

In 2014 I caught a 27.5" Walleye on the same color only in the smaller No.8 size tipped with a fathead minnow.

Last August I really got into some heavy night time Bluegill action with the No.10 Frog with Silver Foil giving me some of the best Bluegill fishing I ever experienced.

I have every color, and almost every size of every color, of the VertiGlow Demon but generally stick with the two colors mentioned because they are so effective.

When it comes to Demons, you can't go wrong with either the "original" or the VertiGlows. They produce fish.