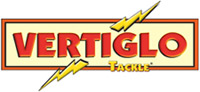 All Vertiglo Tackle lures feature a super-hard paint finish, quality hooks and a jig body that glows on one or both sides!
The Frizbee is a vertical-hanging jig that flashes on the fall – just the thing for deeper perch and other panfish. Jigged or dead-sticked...pure dynamite. All colors are available in sizes 8, 6 and 4.


WARNING: Cancer and Reproductive Harm - www.P65Warnings.ca.gov.
I've been using "ice fishing" jigs for open water fishing since the mid-70's and have used a lot of different jigs over the years. I first started using the VertiGlow Frisbee two years ago and it's become one of my top producers for night time Catfish & Crappie. I've also caught a fair number of Walleye on them.

I gave some to my oldest son, who has been fishing for over 30 yrs. now and something he said one day back in 2014 pretty much sums up this jig.

We were shore fishing our favorite lake and his "zone" was producing some big Crappie. He was really into them using a #6 "Froggie" Frisbee tipped with a fathead minnow when he said, "I don't know what it is about this shape, but they really like it!"

While I have every color of Frisbee, and almost every size, my top producers are No.4's in Froggie & Red with Silver Foil.