Posted by Dan Galusha on Mar 5th 2019
Color selection is always a hot topic when it comes to any sort of fishing. In ice fishing there are basics that seem to work for many species, but one that is very different, and extremely productive is a selection of "glowing" lures. My first choice for panfish is Custom Jigs & Spins glowing colors of Glow Brite/lime, Glow Brite/pink, Glow Brite/blue and plain Glow Brite. While there are several models in which these colors are available, a good selection would consist of the Ratfinkee, Demon, Ratso, Shrimpo and Nuclear Ant, in sizes 12 through 4. The sizes that I use most are 10 and 8, which has weights of 1/100 and 1/50 ounce respectively.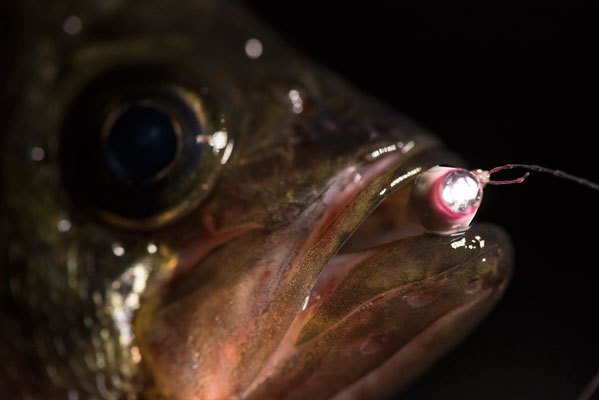 When should you use a jig that glows?
Glowing jigs are used throughout the ice season, but they come to the peak when the fishing is tougher. A good time for "glowing under the ice" is when there is a heavier snow cover, or milky ice, which blocks the sunlight penetration.
On this same line of thought, using these jigs in heavy brush piles, deeper water, and stained water (not found a great deal when ice fishing) have also had success.
These jigs hold there charge for a good length of time. Although it is not necessary, I like giving them a charge about every other time they are pulled from the water, or whenever the bites stop coming.
Recharging your lure
Many times a bite will be produced immediately after the jig is recharged. Recharging can be done in two ways. The first is to hold it in the sunlight. If fishing in a shelter this requires putting it up to the window, or on the ice outside of the door. A very small, and convenient device, which will take care of this quickly is called a Nuclear Flash.
This battery operated LED light is another one of Custom Jigs & Spins products. The light has a lifetime warranty on the bulb. Its battery normally works for 120 hours before having to be replaced, and with using it for only a short period "flash" a jig, that means it could last for a few seasons. There are three bulb colors available - white, blue and ultra violet. Custom Jigs is the only company with the high charging ultra violet bulb.
What else should I know?
Other than keeping the jigs charged there isn't anything special on techniques to learn, which means whatever is successful can only be enhanced by the glowing properties of the lure. The jigs can still be tipped with whatever baits are normal used, such as a wax worm, spike, Crappie Nibble, Gulp bait, or other prepared or live bait.
Why do glowing jigs work?
It is uncertain as to why the glowing jigs are so successful. Earlier the lower visibility situations were mentioned, and it is true that the jig can be seen better in these instances. However, I've had great success with them during times when the ice and water were extremely clear, and the fish were holding outside of cover, or over other types of structure. At these times I think it still goes back to the fact that the jig can be seen better, and as with any time of the year, a fish is going to investigate the first thing he can see. If nothing else, the "glowing beacon" peaks the fish's curiosity to investigate, and once there, it is up to the angler to use the correct technique to tempt him into striking.
The next time you head to the ice, try some "glowing" jigs, and it is most certain you will be hooked. For more information on Glow Brite and Nuclear products visit the Custom Jigs & Spins web site at www.customjigsandspins.com. You can also get information, and ask questions by going to the Dan's Fish 'N' Tales site at www.customjigsandspins.com. which links to Midwest Outdoors, and the Custom Jigs sites.
Until next time, get out on the water, and enjoy a great day of fishing.
If you like this article, you may also like: