Posted by Walt Matan on Dec 29th 2019
A lot of fishermen will identify themselves by the species of fish they target, this is especially true in the open water season. There are bass fishermen, walleye fishermen, crappie fishermen muskie fishermen, and even cat fishermen!
While ice fishermen usually aren't as species-specific, we do tend to get pigeonholed into fishing a specific species until the bite wears out and then we're lost. By becoming a better multi-species ice angler you can avoid the "dead bite" and the doldrums of winter!
The benefits of multi-species fishing
I've had many a trip where the walleye bite was supposed to be "on" only to find out that there wasn't much action at all. After searching for hours for active walleye, I had to scramble to switch techniques and go after crappie instead.
There have even been times where I caught a bunch of bluegills that day, and then on the very next day...with no changes in the weather what-so-ever, I couldn't buy a bluegill!
Once we were on Lake of the Woods in Ontario and went specifically after walleye and lake trout. The weather was beautiful so the bite was tough, we did manage a few lake trout...but then the most active species turned out to be crappie! Luckily we had packed a few light walleye rods and had enough size 3 RPM's and smaller ice jigs tipped with plastic to save the trip.
Now some of you might say; "well that why they call it fishin' and not catchin'". Or; "you just needed to keep searching then eventually you'd find them". The option to search harder, move locations, or maybe even switch lakes when the fish aren't biting. Advanced anglers are more inclined to make an easier change.
When my original species stops biting, I will often switch game fish species altogether, because if I'm on a known spot and not catching my intended target, it doesn't take much to grab a different rod, with a different jig, and fish for a different fish.
How are they biting?
So do a little homework before heading out. Check Facebook and Twitter for recent catches. Stop in at one or two local bait shops and buy a few things. Use this as an opening to ask your questions.
Finally, check with fishermen pulling off the ice and try to find out what species are biting, how deep they are fishing and what they are using. You'd be surprised at the information you can collect with a few vague questions!
Sometimes though, ice fisherman can be tight-lipped, like the guy who told me the perch weren't biting as he loaded his gear into his truck only to spill a nice bucket of fat perch on the ground. "How deep were you fishing?" I asked. "Twenty feet", he replied. "Minnows or waxworms". "Waxworms". So on that day instead of heading shallow for crappie, I headed out to the twenty-foot break and sacked up the perch.
As I was loading up my gear after a day on the ice, a guy asked me; "How are they biting?" "Pretty slow," I said...and made sure I didn't spill my bucket of perch!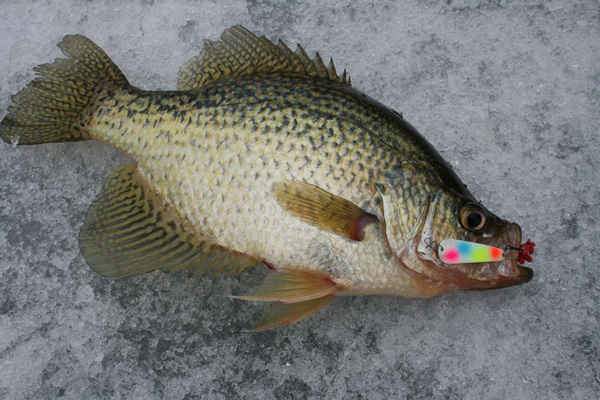 The perfect plan
Nowadays I take along several poles, with different actions for different weights of lures, as well as a variety of jigs and spoons in a wide range of sizes and weights. My tackle will vary depending on the lake I'm heading to, I plan my gear accordingly.
For instance, if I'm heading to my bluegill/crappie lake I bring my go-to box of jigs with Custom Jigs & Spins Demons, Ratfinkees, Chekai's, Majmun's and Glazba's. The bluegill bite is early and the fish are focusing on six to ten-foot depths.
Once I get a few holes drilled and get the fish going, it's usually a bluegill party. A few years ago, I had six holes that I was moving between when the action stopped. I dropped down an underwater camera only to discover a few bass were chasing the bluegill out.
Rather than move, I grabbed a heavier rod with a Slender Spoon on and started jigging it wildly to attract them in. I took a few minutes and I hopped around a few different holes and then scored three nice sized largemouth.
Another time while going for crappie near dark, I stumbled/ onto a school of channel cats. Luckily, I had heavier 7 mm Chekai tungsten jig which I bulked up with several waxworms and began pounding on the channel cats for the next few hours.
Introducing Wolfinkee
One hot jig new this year is the Wolfinkee. While testing it last season, we were able to catch everything under the ice! You can tip it with a few spikes, waxworms or a small minnow. It's great because it's tungsten head gets you down to the fish zone quickly. It's available in three sizes and eight wacky over-the-top colors!

I've got white bass/crappie/walleye/catfish lakes, bluegill/crappie/bass lakes, whitefish/walleye lakes and lake trout/walleye lakes in Wisconsin, Illinois, and Iowa that I fish regularly. I try to stay on top of the hot bite...whatever the species.
Now some of you might say that's way too much work, I'll just stick to my bluegill hole and if they bite that's great if not...there is always the next time. That's all fine and good, but I like to catch fish, everywhere and anywhere I can no matter what the species!
Walt Matan is the chief lure designer for Custom Jigs & Spins and B-Fish-N Tackle.
If you enjoyed this article, you may also like: