Posted by Walt Matan, Chief Product Designer for Custom Jigs and Spins on Oct 3rd 2023
One thing I learned about fishing is that if you want to catch fish, you have to go where the fish are...unfortunately it took me forty years to figure that out!
First off, you need to fish a lake with a good population of fish. If a lake hosts a lot of bass tournaments, chances are it's a good bass lake. On the other hand, if it holds a lot of walleye tournaments, then it's a better walleye lake.
Some lakes support bass, walleye and catfish tournaments...those are the good ones. Same with lakes with a lot of resorts on them, it usually suggests better fishing. Next, check out the guides in the area. What do they fish for? How busy are they?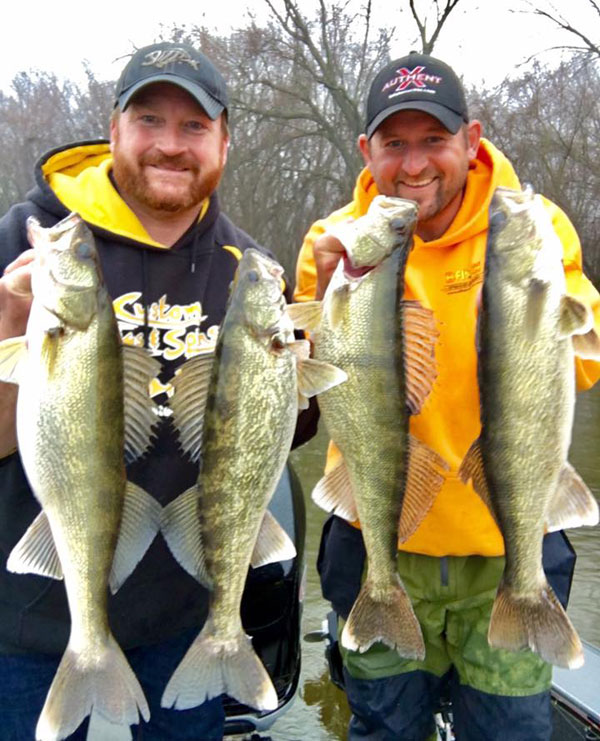 Lake of the Woods, my learning ground
September on Lake of the Woods is supposed to be easy fishing, but forty years ago for my father and me it was a learning experience. A slow and painful experience that set us on the path of becoming pretty good anglers.
We had some jigs. We had some minnows. We had a marked map. We lost a lot of jigs and minnows, the map blew out of the boat and we had to ask directions to get back to our resort and get another map!
If you are going to fish rock reefs, points and rock piles, you need to use the lightest jig possible, so as not to snag up. But you still need to be in contact with the bottom once in a while. Rod, reel, line and jig needs to work in harmony.
My favorite snap jigging rod
Back then we had fiberglass rods and mono line, lots of stretch and no feel for the bottom. We needed 3/8 ounce jigs to feel bottom in ten feet of water. We backtrolled with a 25 hp. Johnson outboard, if we weren't perfectly vertical, we snagged. Obviously we snagged a lot.
Eventually, after a lot of time on the water and better equipment, I've got jigging figured out. I prefer a St. Croix Eyecon ECS68MXF SNAPJIG rod. It is 6' 8" long, has an extra fast tip and is rated for 3/16 to 5/8 ounce jigs.
I teamed it up with a Okuma Ceymar C30 Series spinning reel spooled with 10 lb test Flame Green Fireline (it has the diameter of 2 lb. Mono and 5X the strength), add a two foot section of 10 lb fluorocarbon and I have the perfect jigging tool.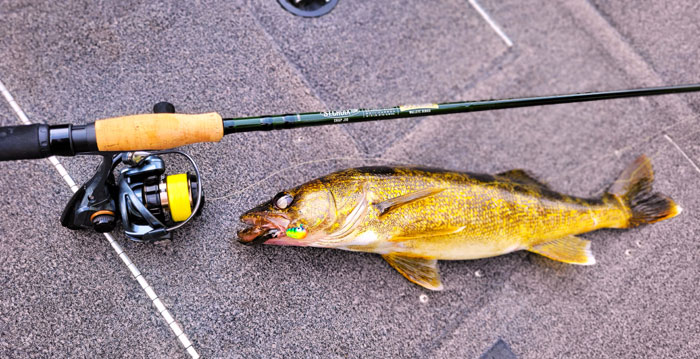 Getting the jig right
A jig is still the most versatile way to present live bait and more recently, plastic. You can cast and reel in a jig with a swim bait, vertical jig with live bait or a Ringworm and Rip it with a Bucktail, just to mention a few presentations. The B-Fish-N H20 Jig has been my go-to jig for years now. Reason being is that the head is streamlined so it cuts water and holds horizontally when fishing vertically and banging rocks on a reef or in current, the H20 comes in 9 weights and 21 colors, it has the weight stamped on the bottom of the head for easy identification.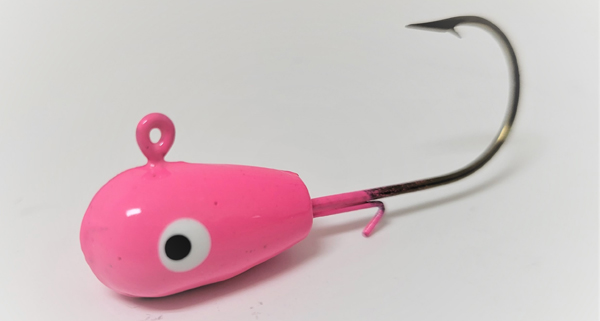 No matter how you fish a jig, the weight you choose is very important. Walleye and sauger are sensitive to weight unless they are in competition with another fish or on a feeding spree.
Once you become an experienced jig fisherman, you will learn to use lighter weights and catch more fish. The key is to use just enough weight to stay within a few inches off bottom. When vertical jigging, bottom contact once in a while is most important especially when river fishing.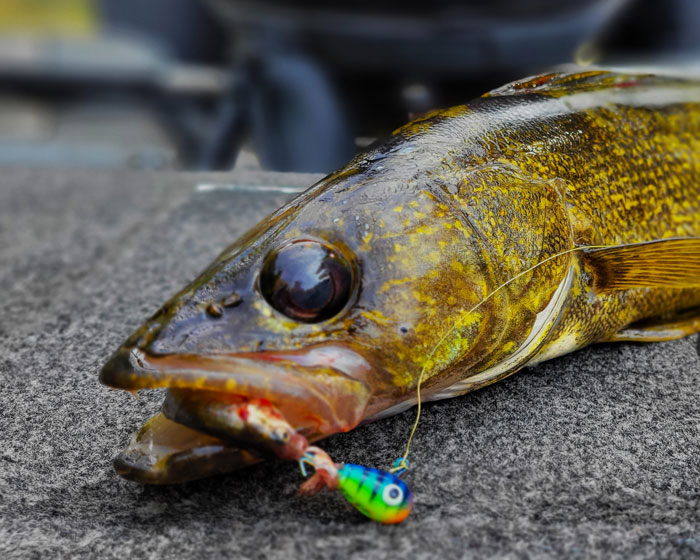 If the water is clear, bottom contact is not the most important. In clear water, walleye and smallmouth bass can be jigged a few feet off bottom or even higher up in the water column.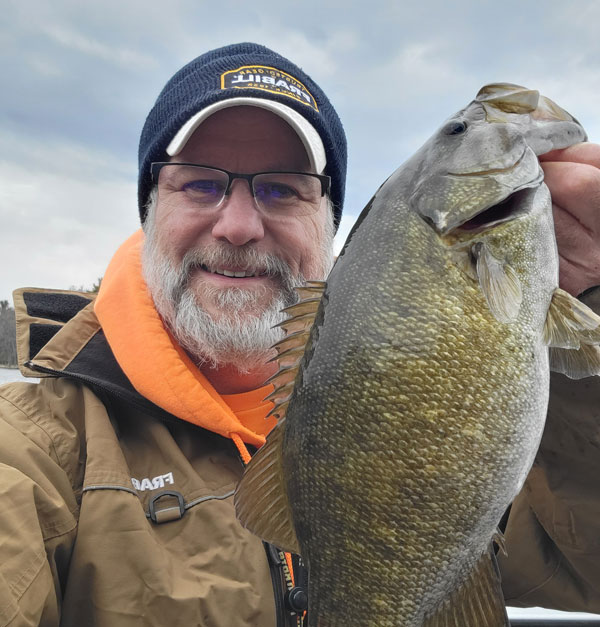 Rip Jiggin'
Rip jigging is a triggering motion that really fires the walleye up. Bucktail jigs are commonly used in this rip technique that entices walleye to strike. This is a great Fall presentation.
There are several styles of Bucktail and synthetic hair jigs out there but my favorite is made by B-Fish-N Tackle. It uses the same head as the H20 Jig and I like to add a twist to mine by adding an AuthentX Paddletail swim bait on the hook. The Paddletail is streamlined and has a small high speed tail that reacts to the slightest motion. Couple it with a fast moving bucktail and it's got a great rip jigging motion.
Ripping is quite the opposite of vertical jigging in that heavier weights are good because you get a reaction strike from the fish. The ripping technique is a two to three foot rip and then reel in the slack. Often a double rip followed by a single in the key...you'll want to imitate a fleeing or dying fish that a walleye won't resist!
Avoiding line snags
As we anglers know, walleye like to hide in weeds, brush, rocks and generally snaggy areas. Throwing a standard jig into this hornet nest will usually result in a break-off, so some sort of snagless jig is the way to go.
B-Fish-N Tackle's Draggin' Jig isTHE most snagless jig I know of and it really digs those temperamental walleye out of cover. Whether you use plastic like an AuthentX Ringworm or live bait, you'll appreciate the wire keeper that holds your plastic or bait tight to the head. It creates a better action and you will catch more fish.
Try a Chatterbait
I've caught my share of walleye while bass and pike fishing with a Chatterbait. The tight wobble and vibration that a Chatterbait produces is an absolute trigger to walleye if they are around. While the Chatterbait is not the best selection for every fall walleye scenario, there are certain areas that the Chatterbait really shines.
When the walleye are shallow on a windblown shore, a little extra action the Chatterbait provides really attracts those fish in. While I have tried all types of trailers, my absolute favorite is an AuthentX Ribb-Finn. The Ribb-Finn has a ribbed body and a little tail that wiggles and swims as giving while not messing up the vibration and attraction of the Chatterbait. This is a big walleye killer.
Fall weather can be unpredictable. You have to dress for the elements. Being a four season angler, I'm prepared for everything and I can stay out a little longer because I stay warm and dry. My preferred rain gear is made by Graff-USA. Their gear is lightweight and incredibly well made. The zippers are flush and pockets are roomy and best of all, you will stay dry when ripping across the lake in a downpour. In October and November, I'm still at it with a Graff-USA Flote suit. Super light, waterproof sealed and it floats, so no need for a life jacket. For more information check out graff-usa.com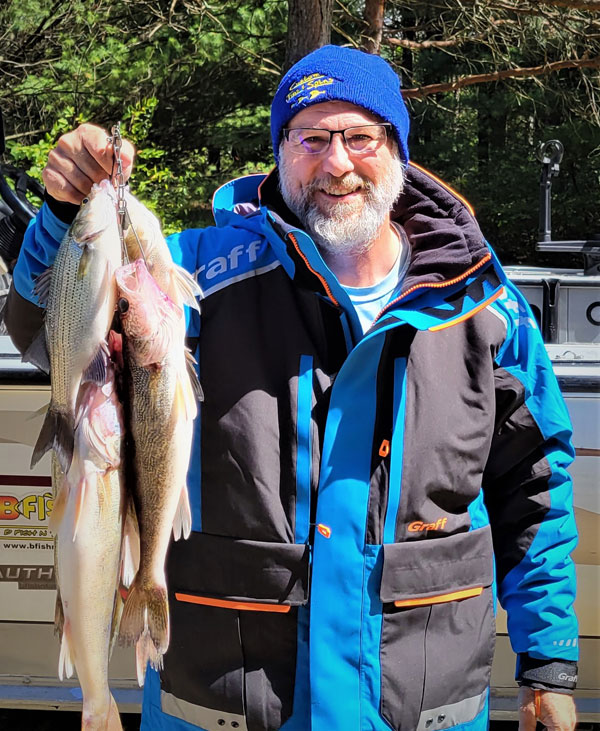 For more information about jigging and fishing plastic and to check out our hot walleye products contact B-Fish-N Tackle at 800-831-5535 for a FREE 2023 Tips and Tricks catalog or log on to www.bfishntackle.com