Product Description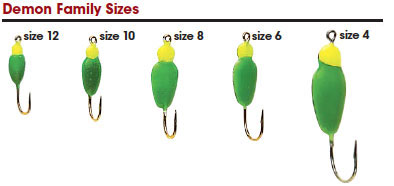 The Demon is like an institution among ice fishermen. In fact, some anglers never use another jig style… instead, they keep a variety of sizes and colors on hand to catch any species at any time of year, anywhere. Yep, the Demon offers versatility in spades. The Demon's design is deceptively simple, but don't let that fool you. It's built like a Sherman Tank, only smaller. Lots smaller. Beetle-shaped body… two-toned high gloss finish… Fluorescent-colored Demons feature a nickel back and Glow Brite finishes are painted on both sides.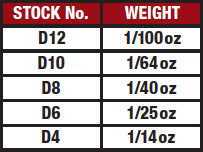 Ice Fishing
The Demon size 10 is the most popular panfish pick – and the size 12 is a premier ultra-light lure for finicky fish. Tipped with a single spike, the Demon 12 is a tremendous shallow water bluegill producer. The Demon size 8 is great for perch and crappies or any fish species keying in on larger profile forage. Demon size 6 has the same size body as the size 8, but the size 6 hook will accept a larger minnow or other supersized bait options. When fishing "eater" walleyes, the Demon size 6 will outproduce heavier, bulkier jigs on highly-pressured lakes. The largest size 4 is an excellent choice for chasing the bigger 'eyes, but make sure to balance your tackle! A Demon size 4 used with a whole minnow or minnow head on a medium-action rod and 6 pound test line, while a Demon size 12 used on a light rod with 2 pound test line. Size 4 is nearly unbeatable on a dead stick or jingle reel; size 12 is deadly on a long rod in shallow water.
Open Water
Don't overlook the Demon for open water. Size 4 Demons in Glow Brite colors like GB7 are super effective for walleyes in dirty, high-water river situations or the tannic waters of the North. Tip it with a large fathead minnow or shiner and cast on light spinning tackle. Strikes can range from subtle taps to full-on reaction bites that nearly yank the rod from your hand! And don't forget size 6 and 8 Demons for panfish! Worms, small leeches, minnows, waxworms and maggots make ideal partners to any Demon.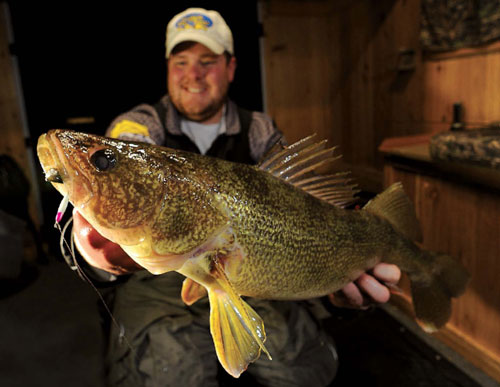 WARNING: Cancer and Reproductive Harm - www.P65Warnings.ca.gov.
Product Reviews
Write Review
Previous | Showing reviews 11-20 of 30 | Next
Best crappie fishing lure

Posted by Russell on Feb 8th 2017

I've used this jig for 20 plus years. out fish's other jigs, great for deep fishing crappie

Good hook for whitefish

Posted by Dan on Jan 30th 2017

Use this hook for lake whitefish during the winter works excellent

Great panfish jig

Posted by Ron on Jan 5th 2017

When I'm ice fishing at dawn or dusk I light them up with an LED flashlight. During daylight hours I hold them next to the window of my shelter ro light them up. They are my go to jigs.

Great all-around jig

Posted by Dave on Dec 28th 2016

I've caught all manner of fish on these in various colors. I always have a good supply of these in different colors and sizes whenever I go on the ice.

Pretty much the only thing I use ice fishing

Posted by Jon Dittbenner on Dec 28th 2016

My grandpa used something similar to this back in the day, and the demon was as close as I could find to what used. I used the demon when ice fishing for everything. panfish to northerns. Just wish you guys would make the solid ice blue a paint option. That color is a money maker where I'm from, and it's hard find. You do that and I'll order some more.

best ever bluegill jig

Posted by Unknown on Dec 27th 2016

Day in, and day out, it is just hard to beat the Demon for big 'gills. The color schemes have all proven themselves at one time or another.

Hands down the best crappie, bluegill, and perch jigs

Posted by Unknown on Dec 13th 2016

The black and orange size 12 tipped with a spike on 2 lb test out fishes anything out there. Yellow chartreuse and green catch a lot also. My two mains for panfish and perch and can pull fish when nobody around me is getting hits.

Great on ice and open water

Posted by BigGillsMakeMeHard on Dec 6th 2016

Demon is one of my go to baits year round,

Demon Jigs in Demand

Posted by Kenny Weekes on Sep 17th 2016

The Demon Jig is my go to when nothing else seems to work. I started using these when living in Minnesota and doing a lot of ice fishing. While fishing for gills one August dog day, I could not get them to chase or bite anything. In frustration, I swapped out my worm rig and tied on a Demon pink glow brite. I could see on the gills hugging the bottom in about 16 foot of water on the humminbird. I suspended the demon jig about a foot off the bottom and in ten minutes I had a nice batch of bluegills for the frying pan. Now the demon jigs, in various colors are my go to lure when the gills are fussy.

The Demon

Posted by chuck on Jul 18th 2016

I like it very much, I caught my limit every time out.
Find Similar Products by Category