Old timers have made the 2-Spot one of the most productive ice jig styles of all time, a must-have for every ice angler's arsenal. What can we say? Time tested fish catchers thanks to the traditional tear drop spoon design with gold-plated hook. 2-Spots are ultra-thin yet offer a nice profile that panfish love, plus a slow rate of fall that's deadly on neutral to negative fish or panfish in shallow water and weeds.
WEBSITE PRICES ARE PER JIG, sold individually.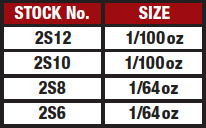 Ice Fishing
2-Spots excel in shallow-water. They are a Mississippi River backwater killer! Tip a 2-Spot with a single maggot or waxworm when fishing is tough, or chandelier multiple spikes when fish are aggressive. 2-Spot sizes 8 and 6 work deeper and can be tipped with multiple spikes (try five or six all the way up the hook shank). Or dress a 2-Spot size 6 with a small shiner minnow for crappies on a dead stick rod. Just remember to play with your depth; crappies often feed higher in the water column than you'd expect, sometimes right below the ice!
Open Water
The 2-Spot size 6 is a top open-water producer. The light-wire hook prevents tearing so minnows stay lively. Try drifting 2-Spots 18- to 24 inches behind a BB split shot; it's a great way to catch 'gills, perch and crappies just about anywhere there's water.
WARNING: Cancer and Reproductive Harm - www.P65Warnings.ca.gov.