Product Description
When pursuing deeper panfish, look no further than the proven Diamond Jig. Although small and compact, it fishes "heavy" to reach full-fathom bluegills and crappies. Sniffers become biters and biters become dinner, thanks to excellent hooking potential via an ultra-sharp hook offset at 45-degrees. Each jig includes a bead attractor for added slab appeal ( EXCEPT PLATED lures, Gold, Nickel & Copper, they DO NOT Have beads)! Also Bead Color will vary.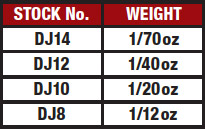 Ice Fishing
The Diamond Jig is an excellent choice for MONSTER 'gills and crappies that move a little deeper as the winter season progresses. How to work it? A fast, repetitive jigging motion is key and works best tipped with spikes or waxies. You can also thread half a CJS Noodel or Wedgee up the hook and catch fish without live bait! Su-weet!
Open Water
Larger-sized Diamond Jigs are excellent choices for open water scenarios, and work great under fixed or slip floats. Tip 'em with spikes, waxies or small leeches and get ready for lots of action!

WARNING: Cancer and Reproductive Harm - www.P65Warnings.ca.gov.
Product Reviews
Write Review
Showing reviews 1-10 of 11 | Next
Must have for finicky Gills

Posted by Jonathan Martinez on Feb 10th 2019

One of the best jigs for finicky Pressured Blue gills. Definitely a go to Black, Red, and Chartreuse are my most productive colors.

awesome

Posted by Unknown on Jan 31st 2018

awesome

Must have

Posted by Unknown on Jan 2nd 2018

Great all around jig! Blue gill, crappie, perch you name it! Strong enough to handle big bass, catfish, Muskey and Northerns. Always have a bunch in the box!

Disapointed

Posted by Peter ludyjan on Jun 25th 2017

Half the jigs are bright red and half are a little darker. I used to buy a hundred at a time.Half red and half green. But they will not make any in green any more. Even when I said I will take a hundred. This has forced me to seek other jigs from other sources. Make the damm things in green and let them sit on the shelf. Some one will find out they work well and buy them. It does not have to be a dealer item in the day of the internet.

Best jig for brook trout

Posted by scott on Jun 21st 2017

I fish brook trout in small creeks in northern Ontario. These jigs have consistently put specks on the board year after year. Tough, durable and made to last.

my favorite jig ever

Posted by ben merkley on Dec 30th 2016

the diamond jigs are great. I use them on the ice and in open water. Great weight and sizes, they work with or without live bait.

Diamond jig.

Posted by Ryan on Nov 23rd 2016

These jigs are amazing, great colors and a nice size verify, to add a little flare i glue a fake dimond on the front. Highly recommended

best jigs for ice fishing

Posted by Ted Beers on Nov 10th 2016

always use these jigs when I'm ice fishing

Diamond jig

Posted by Kenny Weekes on May 9th 2016

I feel this is a must fir ice fishing tackle. I like size6, 19 and 12 best in the glow brute and clown color patterns. If the demon pink/white doesn't get the job done, I switch to the diamond jig. I prefer the lead over the tungsten simply because it is slower in getting to the bottom and fish generally hit on the fall. I also works well in late summer in conjunction with a bottom bounce setup. I attach it to the line about six inches above my bottom bounce weight and then jig it like I do when on the ice. I always fish from a small boat so the jigging works great. I like them with gulp alive fry, waxes or bits of gulp red wiggler.

Highly recommended

Posted by William D Villont on May 6th 2016

Love the jigs albeit I haven't had much time to REALLY work them but what I was able to do was great.
Showing reviews 1-10 of 11 | Next
Find Similar Products by Category