The Striper Special is a versatile, slim-tapered spoon that fishes heavy—an excellent deep-water choice for panfish and predators alike.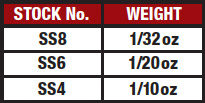 Ice Fishing
If you want to get down deep to the big fish with a small, compact bait, the Striper Special is for you! Plus, they'll catch just about anything that swims, including perch, walleyes, white or yellow bass and panfish. Ideally suited for depths 8 feet and deeper, the Striper Special has gained a loyal fanbase not only for its fish-catching abilities but excellent sonar returns. Striper Specials show up extremely well on locators, which make them effective for suspended fish. Striper Special sizes 6 and 4 are top walleye choices, which is why colors (02) Chartreuse and (GB) Glow Brite are very hot sellers. One secret to catching more walleyes is to have duplicate colors of the same lure style in different sizes. When the fish are aggressive, be sure to use a big lure. As soon as the action tapers off, switch to a smaller size in the same color. Often this switch will trigger more fish into striking.
Open Water
Striper Specials are great choice for year 'round use and are particularly effective for deep-water perch. Always check with local bait shots for the correct live bait selection because often the difference between catching a limit of fish and going home empty-handed is as simple as using soft-shell crawfish instead of shiner minnows, or vice versa.
Note: Due to smaller size of blade the Size 8 only has one eye on it, not 2 like the sizes 4 & 6, as pictured.

WARNING: Cancer and Reproductive Harm - www.P65Warnings.ca.gov.
These things are awesome for bobbering walleyes. I've been ice fishing with these for years and years. Strong hooks that don't bend open and the finish on them is excellent. The best part is walleyes love them. And large perch don't mind them either.

We call it big orange awesome in northern Wisconsin

Striper Special Jigs- My Go To Panfish Lure

If I could choose only one panfish lure, winter or summer, it would be a # 6 Striper Special in Yellow Chartreuse, tipped with four or five spikes (maggots). Fished under a slip float or pegged bobber in open water or without a bobber through the ice, it will catch every panfish, trout or bass that swims.