The Striper Special is a versatile, slim-tapered spoon that fishes heavy—an excellent deep-water choice for all species of fish! That being said, the Striper Special is an absolute killer for white bass, yellow bass and wipers...fish better known to old timers as stripers. These fish like speedy, quickly jigged lures which best describes how you should fish this spoon!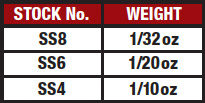 WEBSITE PRICES ARE PER JIG, sold individually.
Lures are painted 1 color on the front side and have Nickel plated spoon on the backside.
Ice Fishing
If you want to get down deep to the big fish with a small, compact bait, the Striper Special is for you! Plus, they'll catch just about anything that swims, including perch, walleyes, white or yellow bass and panfish. Ideally suited for depths 8 feet and deeper, the Striper Special has gained a loyal fan base not only for its fish-catching abilities but excellent sonar returns. Striper Specials show up extremely well on locators, which make them effective for suspended fish.
Striper Special sizes 6 and 4 are top walleye choices, which is why colors (02) Chartreuse and (GB) Glow Brite are very hot sellers. One secret to catching more walleyes is to have duplicate colors of the same lure style in different sizes. When the fish are aggressive, be sure to use a big lure. As soon as the action tapers off, switch to a smaller size in the same color. Often this switch will trigger more fish into striking.
Open Water
Striper Specials are great choice for year 'round use and are particularly effective for white bass. Always check with local bait shots for the correct live bait selection because often the difference between catching a limit of fish and going home empty-handed is as simple as using minnows, leeches or nightcrawlers.
Note: Due to smaller size of blade the Size 8 only has one eye on it, not two like the sizes 4 & 6, as pictured.

WARNING: Cancer and Reproductive Harm - www.P65Warnings.ca.gov.