Posted by Walt Matan, Chief Lure Designer, Custom Jigs & Spins and B-Fish-N Tackle on Jan 24th 2022
I icefish for two reasons; to catch fish to eat and to catch fish to release!
I don't go for the camaraderie, to cook a pot of chili or to drink beer and shoot schnapps, I can do that at home or in the garage. I've been ice fishing for more than 30 years now and I might be more excited about it than ever before. I've got my areas I like to fish, some secret spots and all the tackle and gear to make me successful.
I like to go ice fishing to get away from the crowds, LOL!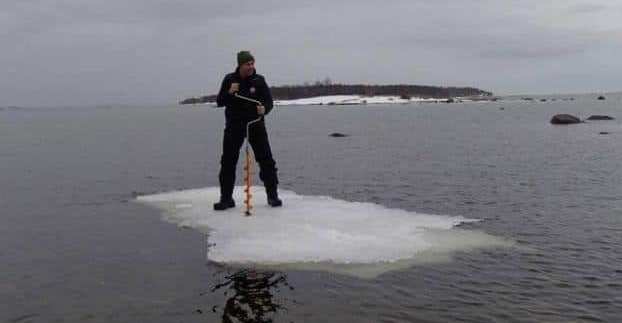 Some spots I fish are shallow, no need for a flasher, drill a dozen holes real quick and hop around until I start catching, then maybe a few more holes. Some spots require a lot more effort to get to, grab the ATV, pull the trailer full of gear, get set up and wait them out.
Some ice fishing spots require a long walk and a minimal amount of gear!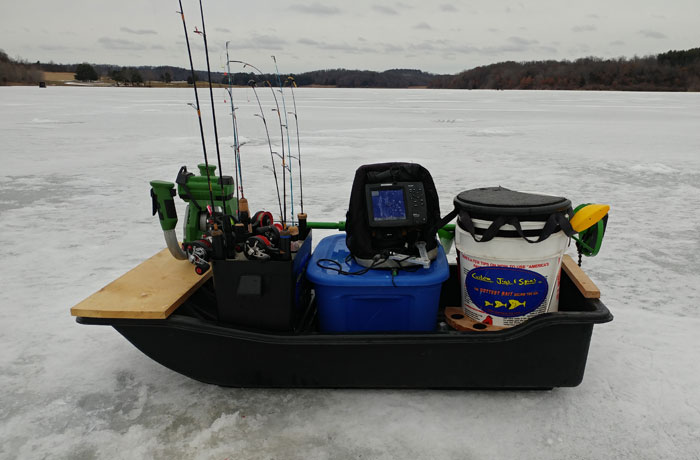 White bass-A-Palooza!
This may sound crazy, but white bass might be my favorite fish to catch through the ice. They fight hard, school up and once you locate some, it's party time! White bass can get pretty aggressive for their size, they have no problem hitting a 1/4 ounce, 2-1/4" Slender Spoon jigged aggressively when the bite is on.
White Bass just might be my favorite fish to catch under the ice!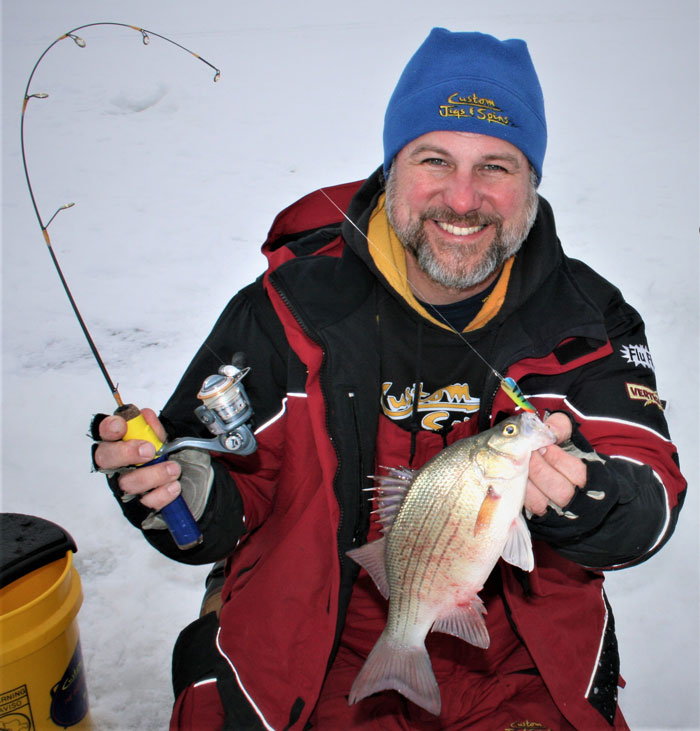 Unfortunately, the bite isn't on all the time so I like to take a variety of options fishing lures with me when out bass fishing. The jigs I bring vary from a 4.5mm Chekai with a few red maggots, to a size 8 Demon with a couple of waxworms, to a 1/8th ounce Slender Spoon to an RPM3, then finally that 1/4 ounce aforementioned Slender Spoon.
I'll have a half dozen rods rigged with fishing jigs and spoons that match the action and weight of the bait lure that I'm fishing, just like I do in the open water.
My favorite lakes to fish for white bass are Petenwell and Castle Rock Flowages and the Winnebago Chain of Lakes. These are big water systems that get a lot of activity during the ice season. Crowds of anglers don't always mean crowds of fish, I like to find my own fish away from the masses.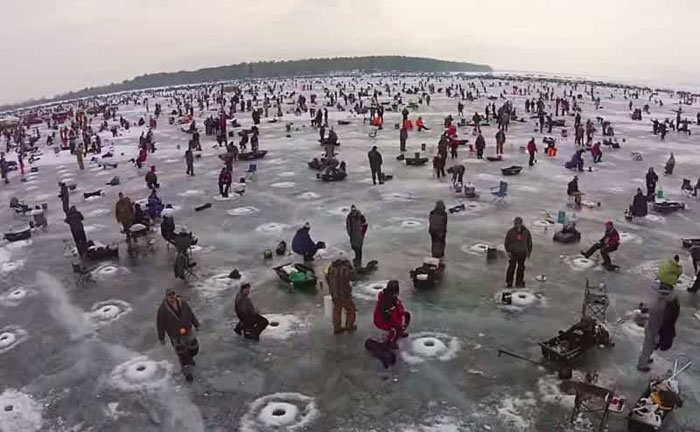 Walleye on the Prowl
Walleye require a lot more effort. I'm either getting up early or staying out late, since low light conditions are prime time for walleye catching. Most of the areas I like to fish are shallow, so drilling holes comes hours before the bite happens, followed by setting up and waiting.
I like to set up in an area with a few tip-ups or dead sticks. You can't beat a dorsal hooked live minnow on a Wonderglow Demon. I'll match the Demon size to the minnow size. With the larger minnows, I'll use a size 4 Mega Glow Demon and on the smaller minnows a size 6.
My ideal set-up is to put a few tip-ups shallow on a gravel shoreline or reef and then actively jig in a little deeper area. If the area is receiving a lot of pressure, I'll set up my hub shelter and set dead sticks up inside.
Jigging spoons like Slender Spoons, Demon Jigging Spoons and Vertiglow Lightnin' Spoons tipped with minnow heads are my go-to jigging spoons. I like red glow or chartreuse colors best. I also like RPM5's because with a little motion, a lot of commotion is created.
Slender Spoons are Walleye Magnets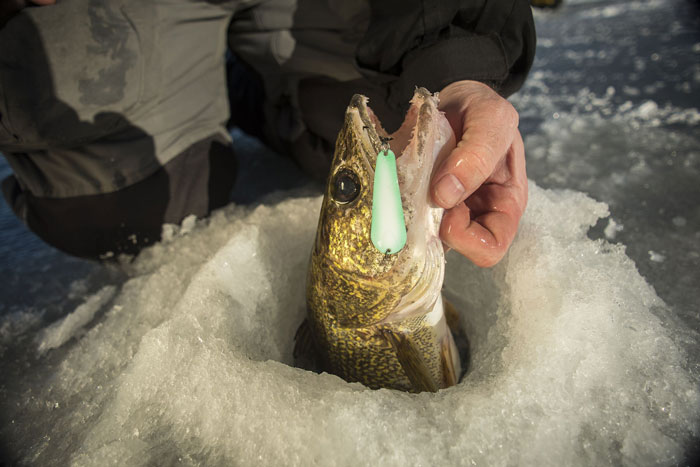 Fishing Crappie Suspenders
Crappie are a great fish to target when ice fishing because they love to suspend up and down the water column. If you want to be successful when crappie fishing, get yourself a good flasher.
When the bite is on, you can't get the jig down fast enough. It's almost like they are lined up and waiting under the ice with their mouths open, looking for an easy meal! My easy meal for crappie has always been a Glow Demon. Glow Demons come in five sizes and a vast variety of glow choices.
My new favorite is the Wonderglow. It probably doesn't work any better than some of the other glow choices, but it looks so darn cool that I've got to keep one tied on my crappie rod at all times!
Sometimes, though, when I'm fishing deep for crappie, I like a tungsten Glazba. It's got a diamond nose and a good sized hook gap...perfect for crappie hooking! Tungsten falls quicker than lead so it is a great choice when fishing out in the open in windy conditions or when you gotta get back to the fish zone quickly.
I'm an even bigger fan of the tungsten Chekai jig. I like to bulk them up with plastic...especially for crappie. I'll slide a Nuclear Ant Leg up the hook shank and then a Wedgee. It works so well that to make things simple, Custom Jigs & Spins offers it in a Chekai Tungsten Bug Kit.
Usually crappie will suspend halfway in the water column. Say ten feet down in 20 feet of water. Once I find the depth they are at, I'll rig up some noodle rods with a Demon size 6 and a lively minnow. Be precise with the depth you set your deadsticks at. Use your flasher to lock the Demon right in the fish zone.
Bluegill Shallow, Bluegill Deep
Bluegill are a ton of fun under the ice. I think more grown men fish for bluegill through the ice than would ever admit to fishing for in open water. Bluegill fishing can be as simple as can be or you can go all out with a $50,000 wheelhouse, a $3,500 Livescope viewing system and a $400 rod and reel combo!
Shallow water 'gills are great. I like to mix things up with three rods. A flutter spoon like the Demon, a Ratso with the Finesse Plastic body which undulates and attracts and a tiny Tungsten Majmun for when the going gets tough. Mix things up until a hot presentation, size and color is determined.
All this talk about ice fishing has got me fired up to go, luckily there should be just enough ice to hit my bluegill spots for at least another month so that I can pick up a few more for a tasty meal! Or maybe head back up North to Hayward Wisconsin, there is a lot to do up there, LOL!
What's in your ice fishing tackle? Enjoy looking at lures? Grab a copy of our 2022 catalog. It's full of tips and tricks too!
Grab some more great fishing ideas here: