Posted by Walt Matan, Chief Lure Designer, Custom Jigs & Spins and B-Fish-N Tackle on Nov 15th 2021
I've probably never been more excited to go ice fishing! After having missed the entire ice and open water season last year due to health reasons...I'm ready to go! First stop will be to follow first ice in Wisconsin and then move down to Iowa and Illinois. I've got a lot of different lakes and backwaters that I fish each year and I'm an all species ice fisherman...read on to see what I'm excited about! I'm pretty excited to be using glow jigs again too.
Glowing jigs deliver on small lakes
As soon as the ice is safe, I'll grab the trusty sled, spud bar, and lightweight electric drill and pop some holes in the shallow weedy channels, backwater sloughs and the North end on some of the smaller lakes I fish.
The target species are bluegill and crappie and I've got a new lure to try. Actually, this lure has been around for over 40 years, but with a new, flashy, glow-in-the-dark paint finish, I'll call it new.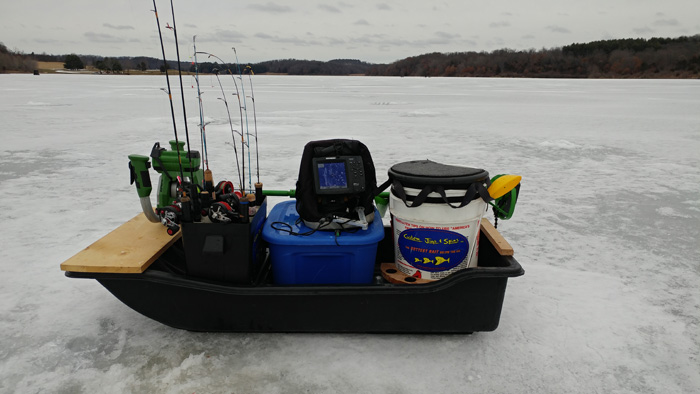 It's the Custom Jigs & Spins Demon and the new paint is Wonderglow! Wonderglow or wonderbread (as some companies call it) has fast become one of the hottest patterns on fishing lures in the past ten years and we've now got it on the Demon in sizes 12 thru 4 for all species of fish.
My size of choice for early ice action is the tiny size 12. At 1/100th of an ounce, it's a S.L.O.W. faller that fish will race up to attack!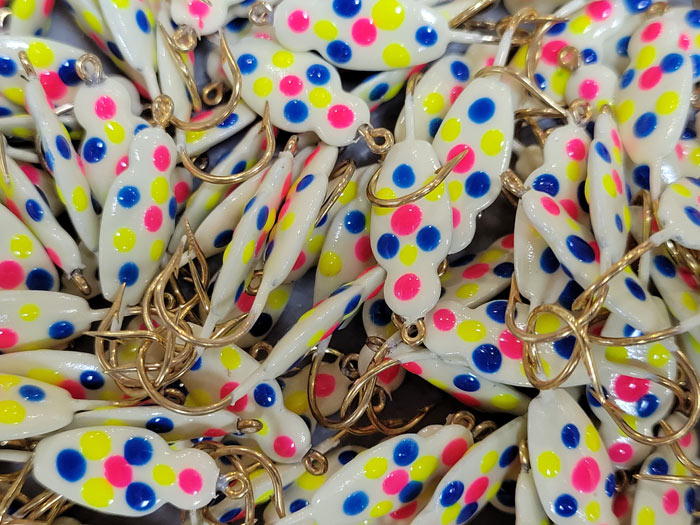 If you've watched panfish chase baits on a flasher, underwater camera, or Garmin livescope, then you know what I'm talking about. Fish love glow colors. It's like when it's dinner time for the dog and he races to the feed bowl, slipping and sliding on the wood floor trying to get traction and then putting on the brakes at the bowl and wolfing the food down without ever breathing!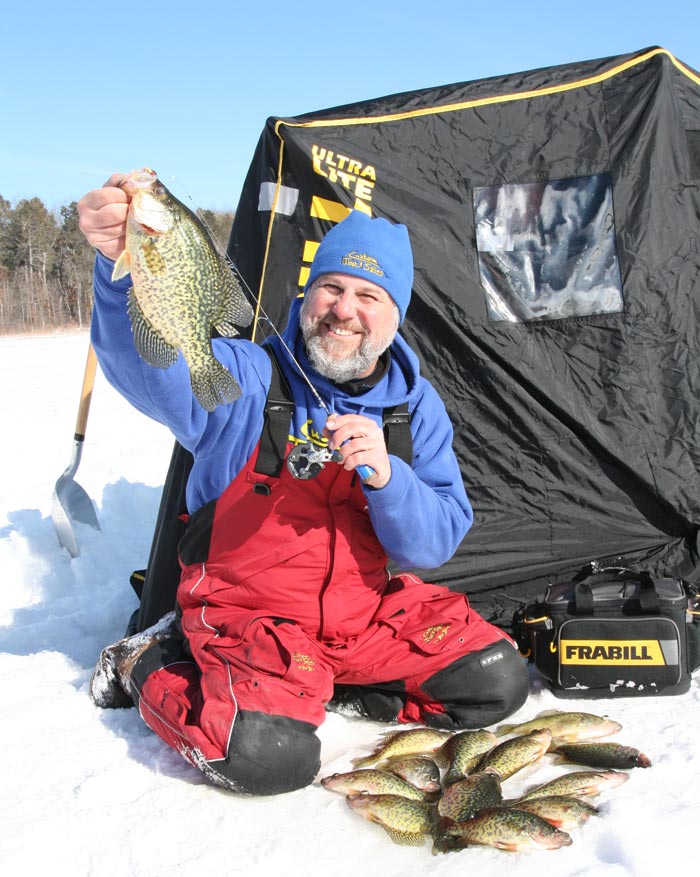 How I use the Demon jig
Bait of choice to this little Wonderglow Demon is several spikes, a waxworm or a half slice of glow Wedgee. Whichever way you choose, the addition of one of these attractions will make that Wonderglow Demon fall even slower...which is key to catching larger fish.
Now the tiny 12 Demon isn't the only way to go, the larger sizes like 10 and 8 are great when the fish are aggressive and the sizes 6 and 4 work well on dead sticks with minnows. I like to hook the minnows behind the dorsal fin. This allows the minnow to really struggle a lot more than simply hooking it through the lips.
Time to snag some Wisconsin walleye
As the season progresses, I'll still be chasing panfish, but also try for walleye up around the central Wisconsin area as well as Green Bay. Here is where I like to employ multiple techniques to up my odds.
Drilling groups of holes away from the crowd before starting fishing and hunkering down when it's prime time so as not to disturb the hopeful migration of walleye into my ambush area is my method of catching more fish.
This is when the livescope comes into play, you can scan an area and see where the walleye are moving to and then walk over to a previously drilled hole in that area and sneak up on one.
Here is when a hot action lure like a Custom Jigs & Spins RPM, size 5 or a 1/4 oz. Slender Spoon really attracts those aggressive fish. Both of these lures will shimmy and vibrate on the lift and will fall AWAY from the hole on the drop, thereby covering more area...perfect attracting motion.
We've got Wonderglow as well as dozens of other hot colors in these lures which I like to jig (without bait attached) for these hungry fish!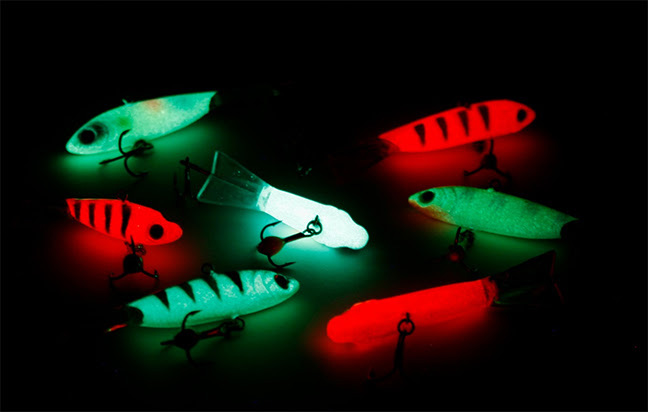 Dead sticking with the Wonderglow Demon
I also like to keep a dead stick or two nearby on strategic holes. I can't wait to try the new size 4 Wonderglow Demon in this situation. I will dorsal hook a minnow and set it three to six inches off the bottom in stained water and 12 to 24 inches off the bottom in clear water.
Plus, when the bite is slow and a finesse approach is the ticket, a nose-hooked minnow on that Demon is a killer. Here you'll want to use slight lifts of your rod and let the Demon fall all the way to the bottom and then wait while it sits on the bottom.
If you watch it, this larger Demon will sit perfectly flat with the hook riding up, while the minnow is struggling to get away...a perfect attraction. Plus, stubborn walleyes will hit it while it is sitting on the bottom.
Time for whitefish!
Whitefish are another target fish on my hit list. They fight great and can be readily caught when schooled up and best of all taste great smoked and carefully arranged on a bagel with a smear of cream cheese, a slice of tomato, a little pickled onion, and some capers! Yum!
When targeting whitefish in Green Bay, there is a current under the ice so a guide like Bret Alexander is recommended. When fishing Green Bay, a heavyweight jig on a bottom and dropper hook or two above is the ticket. I've used half to one-ounce weights on the bottom and a number 8 hook above with some Wedgee plastic and spikes hanging off that hook in heavy current.
I've also had good luck with thin flat lures like Demons, Rockers, and 2-Spots to pull in those whitefish from a distance.
Jigging for open water walleye
In recent years, a lot of anglers have been using open water walleye jigs tipped with plastic for those more aggressive whitefish that feed on bottom-hugging gobies. We're talking about 3/8 to 3/4 oz. walleye jigs here folks!
I want to give this a try using a B-Fish-N H20 jig on the bottom in place of the weight with a 2.45" AuthentX Pulse-R in goby/chartreuse color. With a size 8 spiked-up Wonderglow Demon on the dropper, this combo is sure to be LETHAL! I can already taste that tricked-out smoked whitefish BAGEL!
Last but not least, it's time to snag some lake trout
Finally, there is Lake Trout. Whether I hit the harbors around Lake Michigan or the deepwater of Green Lake and Lake of the Woods in Ontario, I've got a few tricks up my sleeve and favorite trout fishing baits I recommend.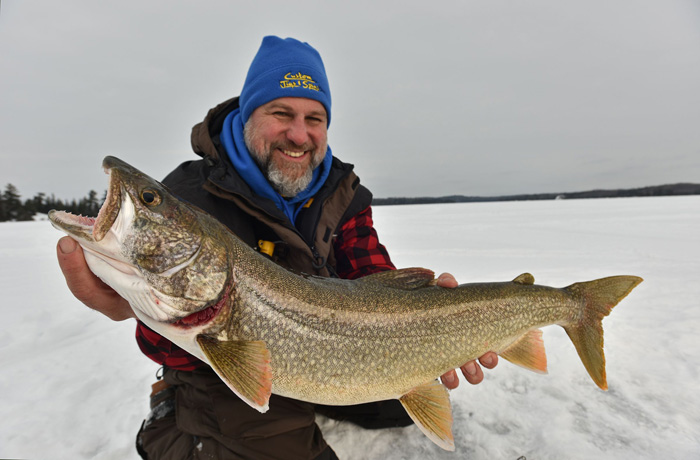 Number one is the Slender Spoon. Depending on the depth I'm fishing, the ultimate size Slender Spoon is the 1/4 oz. size. But to get deeper like 70 to 120 feet on Green Lake, I will combine two or three Slender Spoons sandwiched together to get the additional weight I need to get down quick...plus, this will also add a clacking attraction sound.
The other option for lakers in deep water is a 5/8th oz. B-Fish-N Tackle H20 Bucktail with a white AuthentX 3" Moxi plastic tail and a stinger hook! This is my go-to speed bait that I can raise or lower to get to the fish zone quickly when I spot those Lakers on the locator!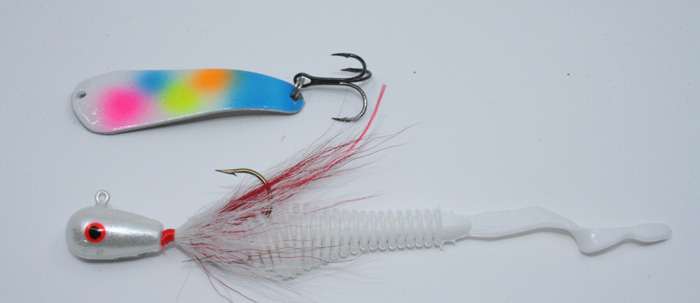 Grab your gear!
So if you are as excited to ice fish this winter as I am, it's time to gather your gear, rig rods, check lure supply, and test out all your electronics before that first ice comes. We've got glow colors for our most popular ice fishing baits and even an entire kit of Slender Spoons.
Also here are some top guides that I recommend and will use this year: Jesse Quale from Green Water Walleyes for multiple species; Bret Alexander from Alexander Sport Fishing for Green Bay walleye and whitefish; Justin Kohn for Green Lake lake trout and Brian Zubke of Big B's Guide Service for big 'gills on the Madison Chain.
So which lakes are you going to hit this winter?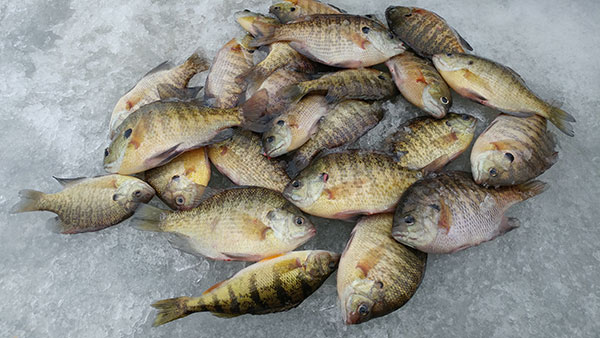 If you enjoyed this article, you may also like: