Posted by Walt Mattan, Chief lure designer for Custom Jigs & Spins and B-Fish-N Tackle on Dec 15th 2022
Without a doubt, when it comes to ice fishing, I have put forth more effort panfishing than other larger species. Looking back on thousands of hours I have spent ice fishing and ice jig making, two things are certain, a fish is a fish as long as it is the same species. It doesn't matter if its bluegill, crappie, perch, or white bass, each species reacts, eats and attacks prey differently. If you build the right jig...they will come!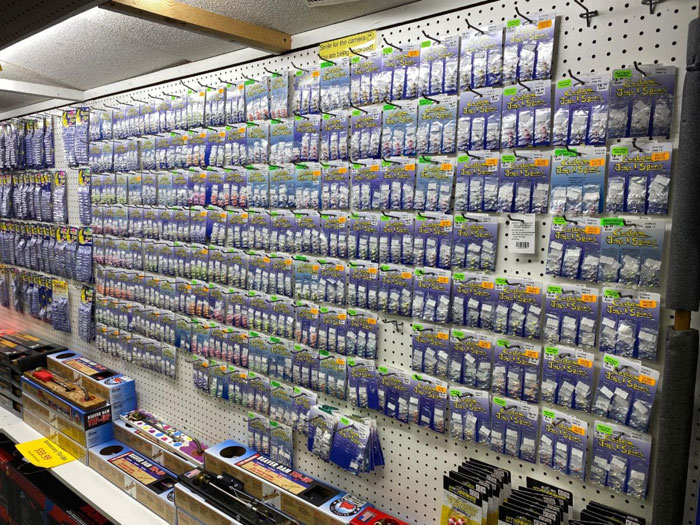 I love my Livescope
I have spent a lot of time staring at a spring bobber, wondering what was going on down below the ice. I spent more time watching a flasher wondering what was going on down below the ice. But perhaps the time I spent watching bluegill react to my baits with an underwater camera was the biggest eye opener of all, until Livescope came around, that is.
The difference with Livesope is that you can view and search a much larger area than with the use of any other electronics. And you realize that there are a whole lot of fish down there...I mean a whole lot of fish! Nobody needs electronics to catch fish, but it sure helps you dial in the location and presentation quickly!
Early ice fishing gear basics
Two things that you do need when fishing early ice however, are a spud bar and a means of flotation.
A spud bar is a long rod with a heavy chisel end that you slam into the ice ahead of where you step. If the bar runs through, start backing away. You also need to spud your way back off the ice, because winds and a midday warm up can weaken the ice. This can help prevent a icy swim.
The cheapest means of flotation is a lifejacket. Get one big enough to put over your heavy jacket. It doesn't do any good if you are not wearing it. The downside to the lifejacket is it's bulky and uncomfortable. Flotation suits have been around for a long time. They are usually expensive, bulky and uncomfortable.
The modern float suit has evolved! Graff-USA makes the FLOATGUARD PRO ICE SUIT. The Floatguard is extremely comfortable and flexible. It's padded in all the right places and is ridiculously light, plus it's priced about the same as any other winter jacket and bibs.
The zippers are flush and leakproof. Numerous large pockets to hold boxes of jigs and bait, and it's as light as a rain jacket. The best part is that If you do happen to fall through, you will remain dry and alive!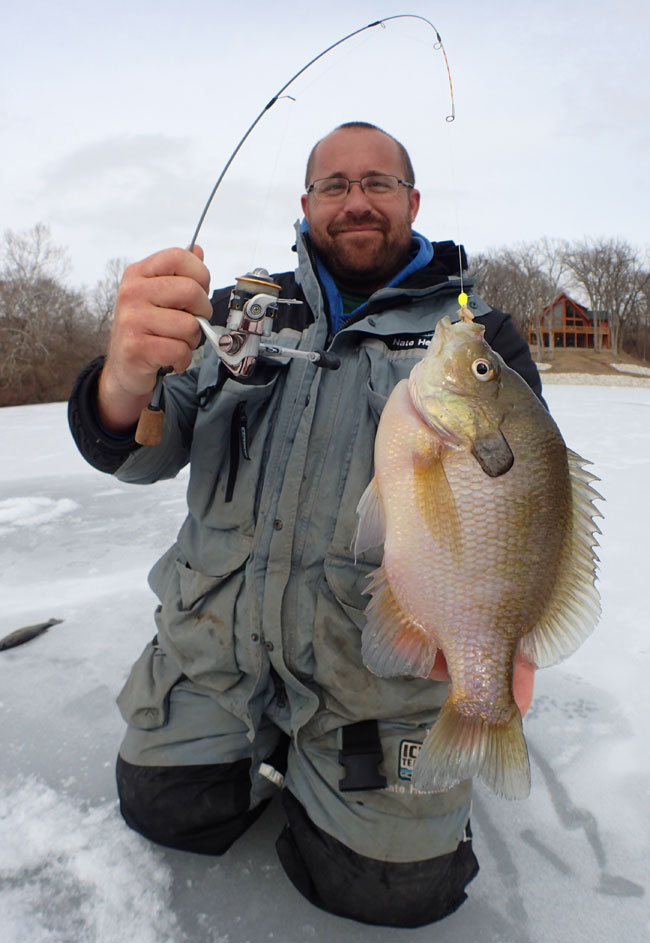 Bluegill are an ice fisherman's best friend
They are readily available, school up into large schools, hide in relatively shallow water near weeds and can be easy to catch. They feed like piranha when there is competition from other bluegills.
Small fish are peckers, they peck, pull and jerk your rod tip. But those bigger, loner pie plates are slow movers...sniffers. These toads will move within inches of your dancing jig, until in one motion, inhale and suck in your bait. If your bait is too heavy, rod is too stiff or you are not paying attention, you will never notice.
In shallow water light jig situations, I prefer an UL ultra light action pole like a St. Croix Legend Spring Rod;a light spring bobber tip is the only way to detect strikes.
Ice jigs for bluegill need to be tiny micro jigs. I like a size 12 or 10 Custom Jigs & Spins Demon in shallow water. It is lightweight and easy for a bluegill to inhale and the flutter-on-the-fall action really entices the fish. Add a juicy wax worm or a few red spikes and you are good to go! The new Wonderglow Demons come in six UV Wonderglow finishes and five different sizes. Sizes 12, 10 and 8 will do some damage.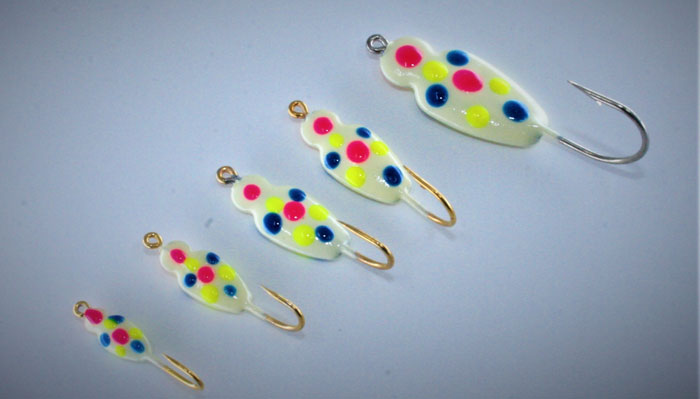 Ice fishing Bluegill with the right early ice fishing jigs
Another top jig choice is a size 10 Ratso. The Ratso will hop and dart about kind of like an underwater bug or small minnow. Jiggle and pause, jiggle and pause...do it long enough and bluegill can't resist it!
When those fish get a little deeper it's time for tungsten. The Tütso is a newer tungsten creation that has a tungsten ball head and a finesse plastic body...the same tempting body as the Ratso. You can buy spare soft plastics such as the Finesse Plastic tails and mix and match colors for additional options.
The difference between the Tütso and Ratso is the weight. Being nearly twice as heavy as lead, a tungsten Tütso jig will get down quick plus it will hop differently when you jiggle your rod tip. Got to get the right jiggle motion down. (Always a good idea to drop a jig down the hole a little ways and give it some jiggles, lifts, falls and see what it does before letting it plummet down into the fish zone.)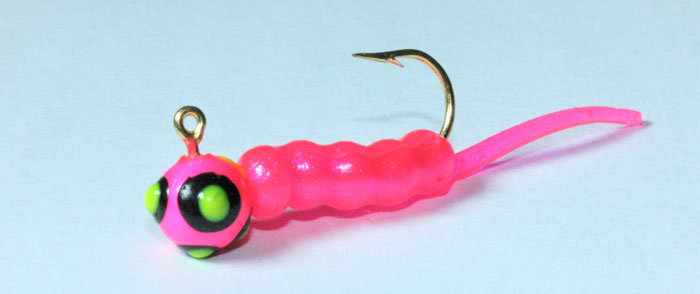 Catch your limit of crappie
Crappie inhabit the same areas as bluegill, but also will suspend over deeper water, usually at the same depth as the top of the weed edge (but) over open water. Crappie also feed at night, so dawn and dusk are prime times.
Crappie approach a jig differently than bluegill. They usually move right in and gulp the bait right up. Up is how they feed, their hinged mouths are like vacuum cleaners! Sometimes you can see or feel the bite, other times your line will go slack...in either case, SET THE HOOK! Because of the lift bite, I like to use a fluorescent yellow line.
Crappie can be anywhere in the water column, a flasher or Livescope is the quickest way to locate and catch them. An underwater camera will only work in a certain depth range, so finding crappie with a camera is hit or miss and a lot harder. The flasher/Livescope lets you watch your jig sink and watch the crappie move up upon it. Get 'em to move, shake 'em up!
A Jigging spoon is a premier crappie locator. You want a lightweight action spoon with a bend or a distinct shape opposed to a heavy slab spoon. Slender Spoons and Demon Jigging Spoons are my top choices. Glow variations (like Wonderglow) are the go-to colors; waxies, spikes and minnows are the baits. I have also had tremendous success with the RPM3 balance minnow bait with no bait on larger crappie that are suspended.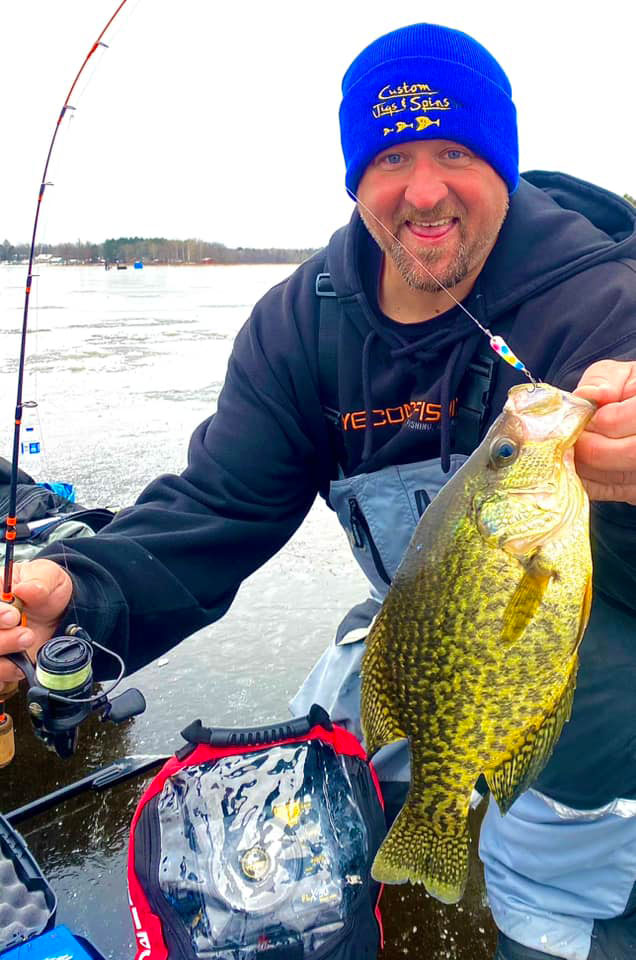 My favorite rod and reel for catching crappie
My go-to rod in this situation is an Eyeconic 32" Medium Fast with a Frabill Straight Line 261 reel spooled with 3lb fluorescent line. This rod gives me the action needed to bounce and jiggle these baits the right way! This is a great combo for larger panfish.
If you are fishing in shallow weedy areas and catching bluegill, try raising your jig up a few feet to attract the crappie. Sometimes they are even right under the top of the ice. When fishing deeper water, move your locator from hole to hole until you spot suspended fish before you start fishing. Put the odds in your favor, instead of fishing empty water.
Perch are opportunistic feeders, they scurry around the bottom, noses down, stirring up the muck and munching on anything and everything within sight. If pigs could swim, they would be perch. They swim up and down the water column, happy to eat whatever is in their path.
Perch like bugs and shiny things. They will eat a jig like a gold head Ratso, the tungsten gold and glow Tütso or a flashy Slender Spoon fluttering about! (Try the firetiger pattern)Perch are attracted to action, catch one and the commotion will bring in more.
Catching white bass
Last but not least are the white bass. White bass are schoolers. They hang together and compete for a meal, any meal. I've caught them on everything from a tiny 3 mm Tungsten Chekai jig to a 1/4 ounce Slender Spoon and size 5 RPM Minnow...bigger baits meant for walleye! When times are good, go big...white bass are aggressive fish, when times are tough (like a barometric pressure swing) you have to go tiny.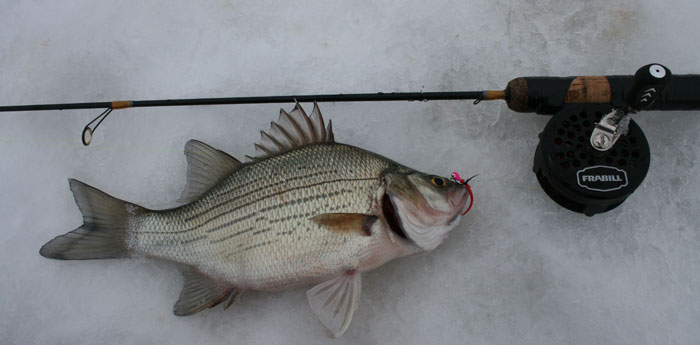 When it comes to ice fishing, panfishing is as good as it gets! Whether you target bluegill, crappie, perch or whites...they all fight well and taste great fried up...what more could you ask for as an ice fisherman?
Walt Matan is the chief lure designer for Custom Jigs & Spins and B Fish N Tackle. To get a FREE copy of their NEW 2023Tips & Tricks catalog call 1-800-831-5535 or log on or click here.

If you enjoyed this article, you may also like: