Posted by Walt Mattan, Chief lure designer for Custom Jigs & Spins and B-Fish-N Tackle on Mar 14th 2022
I've enjoyed some great fishing on different rivers in March in the Midwest. Ice fishing is done and every year the fishing seems to get better! While the rest of the anglers are waiting until April, May or even June for the weather to get nice and the lakes to start producing, river rat's are catching walleyes, sauger, and other fish right now!
Spring fishing for walleye
When I think of river fishing in March, I think of walleye and sauger. These fish push up to the dams to prepare for spawning or are beginning to spawn. Saugers preferred spawning temperature is between 39 and 45 degrees, while walleye will spawn from 40 to 55 degrees. But that being said, sometimes water gets warm in Spring real quick and both of these species will still keep spawning in higher temperatures. Time to pull out your rods, reels, and sauger and walleye lures!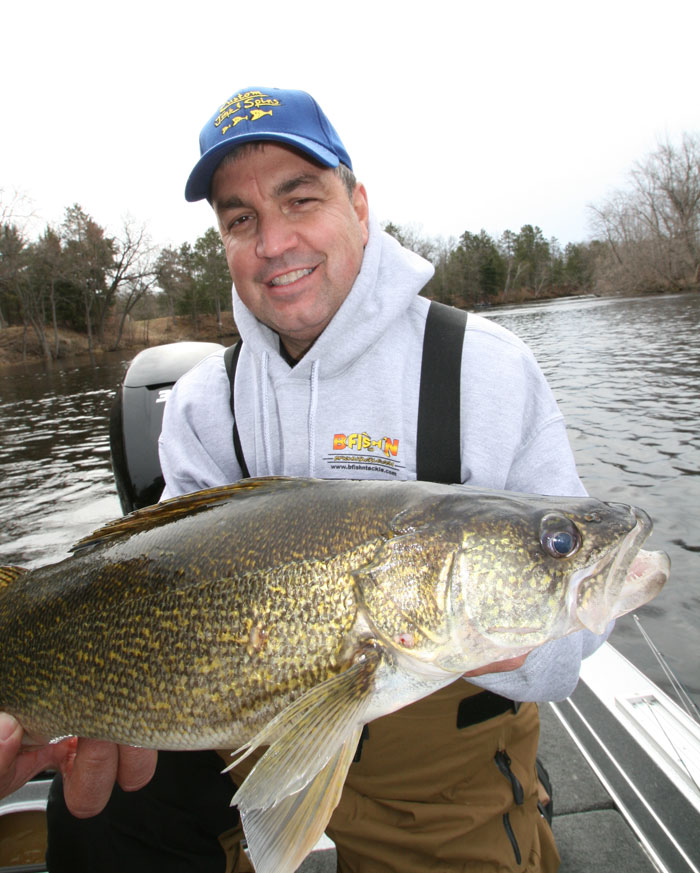 Where I find spring walleye
The main rivers that I fish are the Illinois, the Fox, Rock, Wisconsin and the Mississippi. But, the techniques I'm about to describe will work in EVERY river that walleye and sauger inhabit, all the way up into Canada and even as far South in the rivers in Kentucky, Tennessee and Arkansas.
The best areas to fish in March and April either from shore or boat are within two miles of a dam. Depending on the temperature, time of day and amount of bait present the fish can be in deep water holes in the bends and turns, in the flats (areas between deep and shallow) or up in the shallows gravel shores.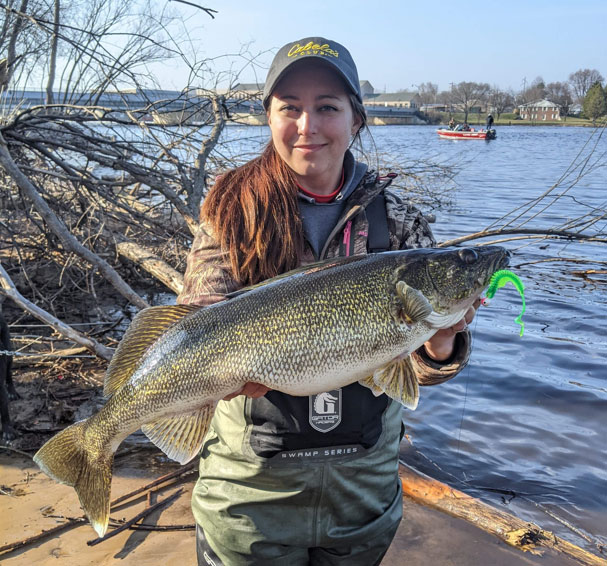 Savvy anglers will put on long johns and insulated waders and get right in on the action. You really need to be careful of the current because being swept down river in 40 degree water is a prescription for disaster. When fishing from your boat this time of year, it's also a good idea to wear a life jacket, instead of having it hanging over your boat seat!
Walleye fishing thirty to forty years ago wasn't really very good at all. With the river cleanup programs and stocking that has consistently occurred, walleye and sauger fishing has markedly improved.
It took a lot of work to find the walleye river hotspots in the old days. Have you ever tried reading a paper map while driving? Have you ever tried to un-stick your boat from a sand or rock bar with a paddle?
Today you can google any fishing question you can think of, look at maps on your phone to find bait shops, boat launches and shore fishing spots, watch YouTube to view videos on river fishing and use Facebook to join fishing groups on rivers that you intend to fish. With all this top notch information available, I'm wondering if anyone even reads my articles anymore?
The right gear for river fishing is key
The thing about river fishing is that you don't need a lot of equipment to be successful. One rod, a few jigs and two legs and you're shore fishing. Add a Jon boat and a motor and you're doing it with the big boys! Me, I've got an old 1997 Lund with a dependable outboard and more electronics on it then the boat is worth because the new technology makes fishing a blast!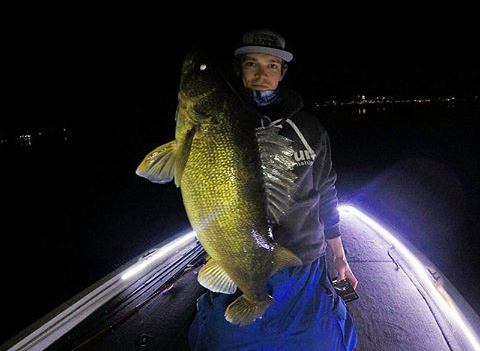 If you want to keep things simple on the end of your rod, you have two choices, jig and minnow and jig and plastic...that's it. I like to pick up a few dozen minnows because everyone knows that walleye and sauger love minnows. Sometimes, though those minnows aren't the ticket, that's when AuthentX Ringworms, Moxis and Pulse-Rs get the nod.
A favored walleye lure, the Ringworm does the trick!
A Ringworm is basically exactly that, it's a plastic worm with a twister tail and a ringed, ribbed body. For some reason walleye and sauger really like them. That is probably why they are one of my favorite walleye lures.
My favorite Ringworms are made by B-Fish-N Tackle. Their AuthentX series of Ringworms come in a variety of colors and have a soft, subtle body that fish hang on to. My go-to colors in our stained rivers are bubblegum, chartreuse/white and chartreuse/orange; bright colors that get noticed.
Jigs & plastic for spring fishing
If I'm casting from shore, I like to use the lightest jig I can find that will still keep in contact with the bottom. I'll cast slightly upstream and let the current carry it down where it ticks the bottom once in a while. If you cast downstream and pull back with a heavy jig you will snag up. From the boat, I'll drift slowly downstream and vertical jig. If I anchor up, I use the same method as shore fishing.
For some reason and I don't know why, when walleye and sauger will barely tick your jig, or just bite at the tail and come off, but they slam a Ringworm! If you are just starting out and don't have confidence in plastic, then try some live bait. Add a minnow and see what happens. Once you start to catch with this combo, you'll get the confidence you need to keep casting a jig and Ringworm!
I use jig-n-plastic for shallow water walleye, although I cast up to water that is only inches deep, I make sure the boat is floating. Flipping shallow cover for walleye is some of the most fun you can have on a body of water.
You may have to fish up to a dam on a river to find them, you may have to go at night to find the active ones on a lake, but if you get after it and put in some time and figure it out, you will learn some patterns that will get you plenty of tasty fillets for the rest of your days left.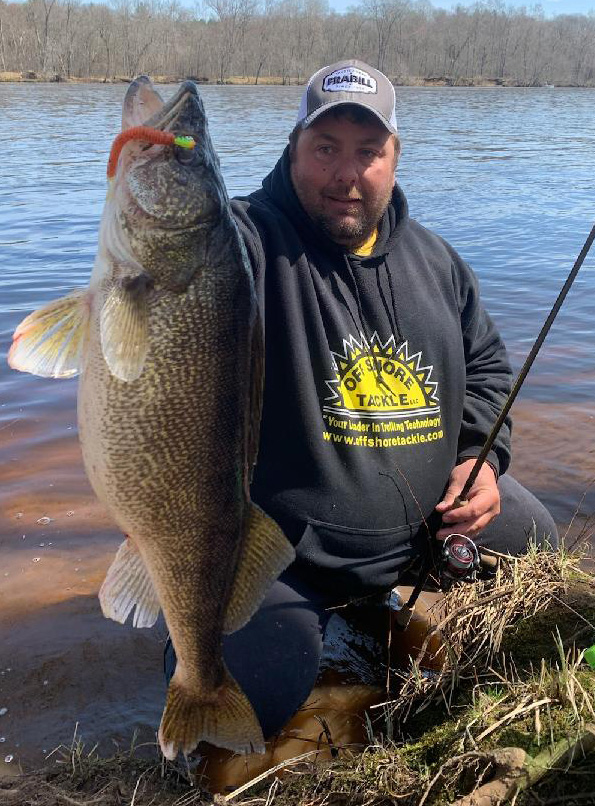 There are only two styles of jigs that I ever use anymore, made by B-Fish-N Tackle, the H20 Jig is an elongated ball head that has a wire keeper to hold plastic and bait tight to the head, it has the weight of the jig stamped on the head for easy selection. The Draggin' Jig has a wedge shaped head, wire keeper and fiber weed guard that keeps it from snagging rocks, brush or weeds. When it comes to weight selection on these jigs, lighter is best!
I'll flip cast AuthentX Plastic Ribb-Finn's, Moxi's and Pulse-R's up shallow and let them tumble downstream. These baits are all beefed up ringworms that are available in a bunch of colors that drive walleye crazy!
They each have a different action, however. The Ribb-Finn has a thin forked tail for finesse fishing, the Moxi has an elongated twister tail for aggressive fish and the Pulse-R is "just right" with a paddle tail for every walleye and sauger that swims.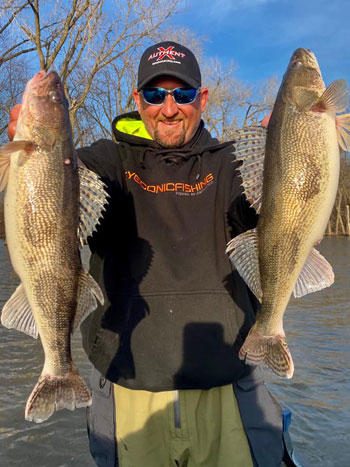 If you liked this article, you'll also like: