Posted by Walt Matan, Chief Lure Designer, Custom Jigs & Spins and B-Fish-N Tackle on May 11th 2021
We love spring fishing and May is one of the best times of year to go fishing. Fishing each May is exciting to me because there are so many different species to fish for and so many different techniques to use, the possibilities are endless! In May all species start getting active, so whether you are looking to catch fish for fun or for the frying pan, this May's for you!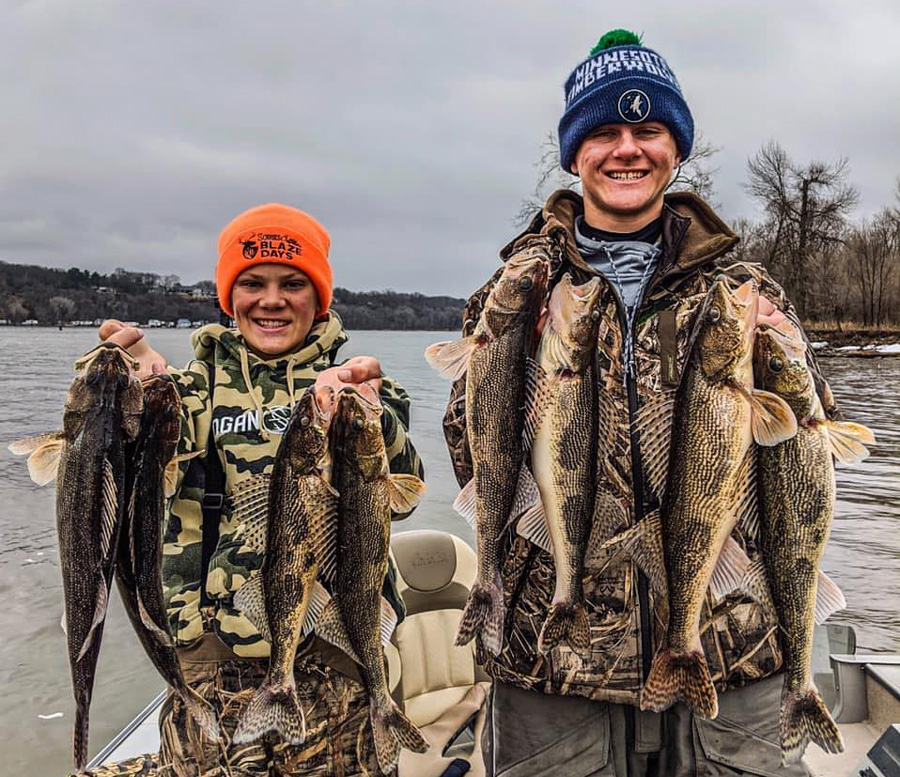 A lot of times I have a plan in mind but by the time I hit the water the plan has changed. I dream of getting to one of my favorite fishing spots, but when I get there, somebody else has beat me to it. Or, I think the panfish are in shallow areas getting ready to spawn, but when I get there...there are no weeds and no fish.
Or, I go to launch my boat and there are thirty boats ahead of me. Or...it's been raining for three days and the river is high and muddy, the water temperature is ten degrees higher than I figured and the walleye are gone. Or even worse; the water level is so low that all my good spots are high and dry!
Using Ice Jigs or Small Jigs for Panfish
Years of experience catching fish in all lakes and rivers and having experienced so much doom and gloom has led me to the decision that, in May you better bring along a good selection of jigs! Let me rephrase that...a good selection of jigs for all species.
I first started using ice jigs around 30 years ago. I figured if they worked through the ice, why wouldn't they work in open water, too? Guess what? They work just as good if not better once the ice melts. Not only do they catch panfish, but walleye, spring bass and catfish love them, too!
Bring your kids on your fishing trips!
Getting your kids involved in fishing can be a daunting task. With all the computerized distractions they are brought up on, kids today want instantaneous gratification. Fishing can be boring if you are not catching. That's why fishing for panfish is a great way to start them off. These fish might be small, but they offer a whole lot of fun! Check out this video featuring our latest fishing pro - Paige:
The secret is bait. Bait them up with the right stuff and they will produce. Waxworms, maggots, redworms, nightcrawlers and minnows are the right live bait. Plus, you can't go wrong by adding a nice soft plastic!
Pitch a little jig with a teeny tiny minnow and who knows what you will catch...but you will catch something. You can use a bobber or fish them on a tight line, depending on conditions.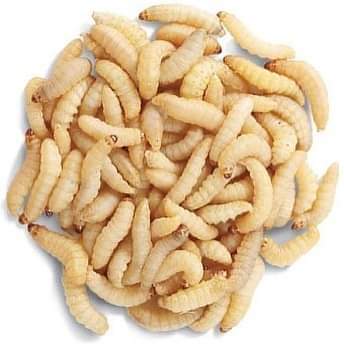 Stained water? This does the trick!
For dirty or stained water, I will use a small round plastic bobber that I can "pop" once in a while to attract the fish in. Pitch it shallow over weeds in a weedy bay or area with a lot of flooded timber and keep it moving slowly.
It's the "plop" when the bobber hits the water that gets the fish's attention and then the "Pop" on the retrieve that attracts them. Then it's up to the little jig underneath to get them to strike.
Picking the right jig
Little ice jigs like Custom Jigs & Spins' Flu Flus, Gill Pills, Demons, Ratfinkees and Nuclear Ants work well. Size 8 or size 6 models are just the right size for panfish and larger fish will strike them and stay hooked as well.
I always add a Finesse Plastic tail or a Wedgee tail for a little extra color and wiggle before I add live bait.
All of Custom Jigs & Spins famous Flu Flu Jigs are the finest quality, hand-tied feathered jigs available. Flu Flu's are available in 42 fish-catching colors with an open, paint-free eye for hassle-free rigging.
Flu Flu's are proudly made with gold-plated Aberdeen razor-sharp hooks! The hooks thin-wire construction won't damage live bait, keeping wax-worms wiggly and minnows always kicking!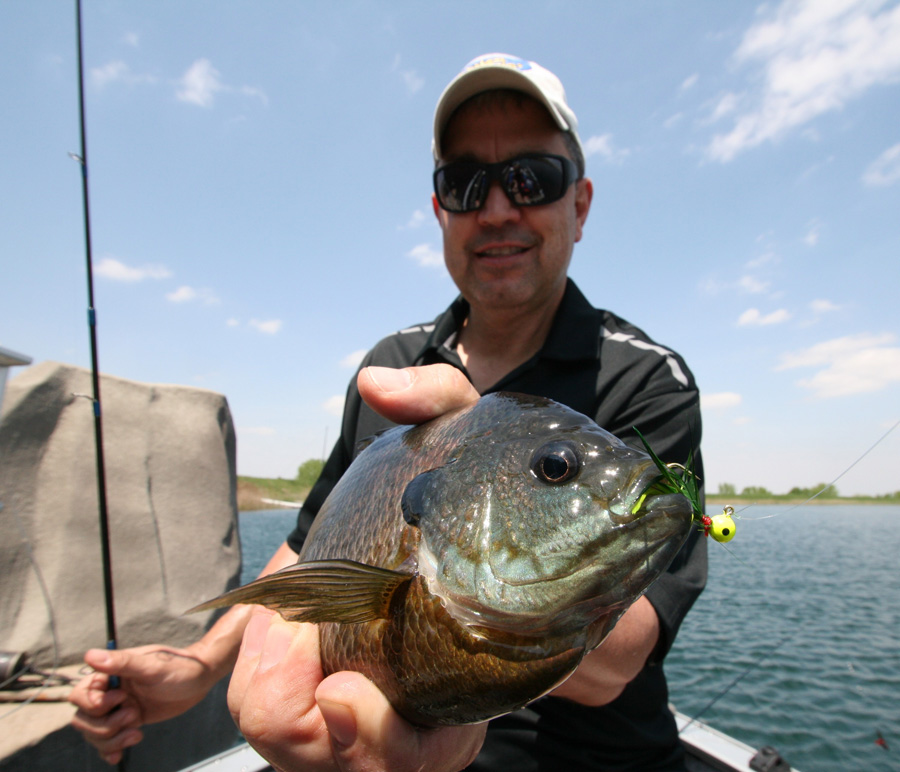 Pitch a Flu Flu under a pier, around a fallen tree or drop it down to crappie depths. You can use it with a slip bobber or float for some fantastic catches. Anglers throughout the United States have had good luck with our original Flu Flu jigs for decades.
You can add minnows, worms or bugs to make the Flu Flu even more appealing! So if you want to eat fish tonight...use a Flu Flu today!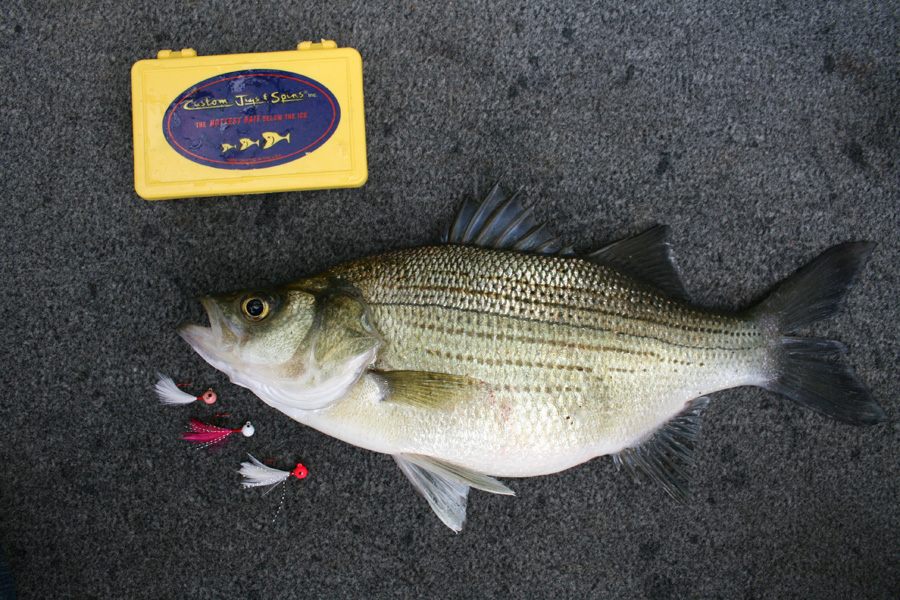 I'll use tungsten jigs on a tight line (no bobber)pitched right up to shoreline cover. The size 8 tungsten Glazba or 5mm Chekai from Custom Jigs & Spins are great choices for pitching for whatever is swimming around shallow. This Glazba has a little diamond flash on the nose that really attracts the fish to it. I like it and big bluegill do too!
In clear water, I will make longer casts, fish a little deeper and use a pencil style bobber, like a Thill Shy Bite float. This float makes very little noise and splash when it hits the water. Clear water fish spook easily, If you can see the fish, then they can see you and hear you. They usually don't like what they see, even if you are wearing your lucky hat!
Jigs for Walleye and Other Species
I fish for walleye quite often and 90% of the time in May, I'll be using a jig. A jig let's you feel the bottom and work an area for whatever is down there, be it a walleye, white bass, catfish, carp or drum.
Anything that puts up a fight is fair game! And anything is possible when you are jig fishing!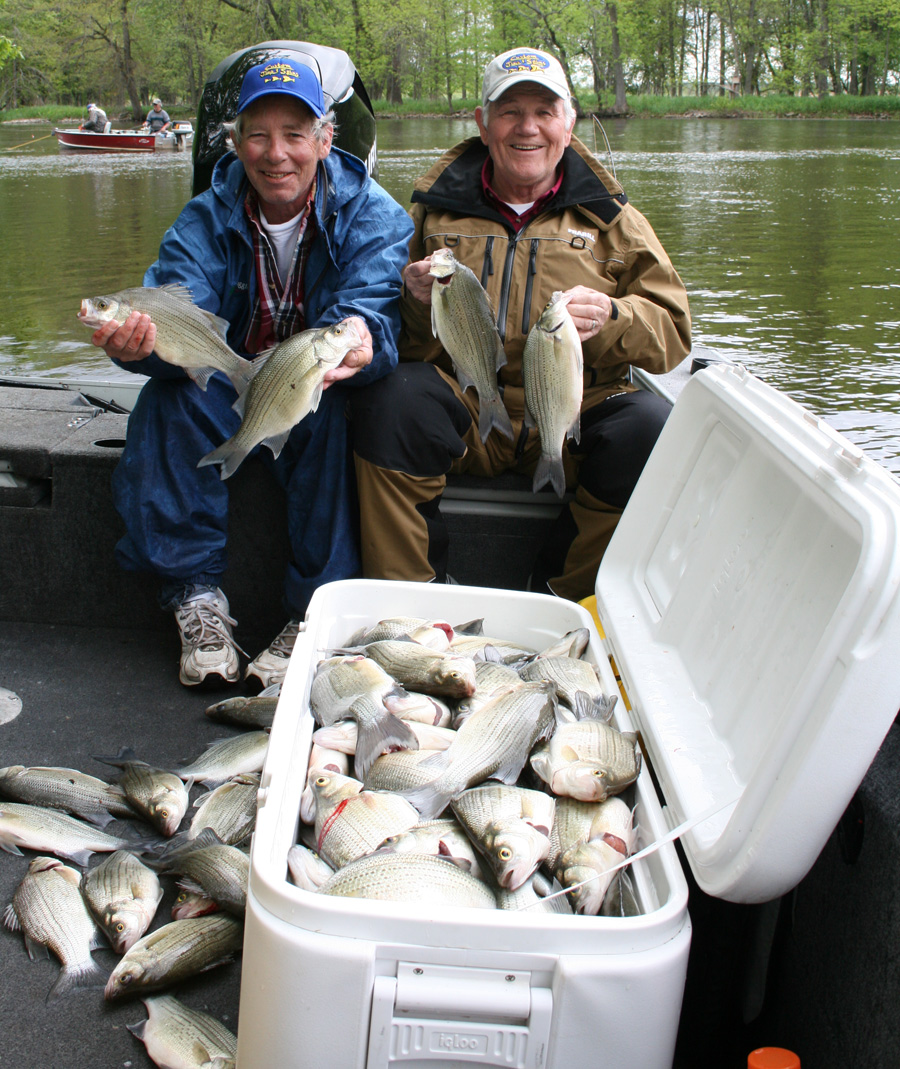 Grab some jigs if you want a mess of White Bass!
The two styles of jigs I like to use are B Fish N H20 jigs and Draggin' jigs. H20 jigs are great because they have a balanced design, cut through current nicely on rivers and have a small wire keeper that will hold plastic and live bait tight to the head. They also come in 9 different weights and 19 different colors for every situation.

If I'm jigging in a river, I'll use an AuthentX Ringworm or Moxi pushed right up to the head of the jig. They are great river choices since they have a lot of attraction and are especially effective for walleye.
B Fish N Tackle AuthentX Plastic from top to bottom: Ringworm, Moxi, Pulse-R, Ribb-Finn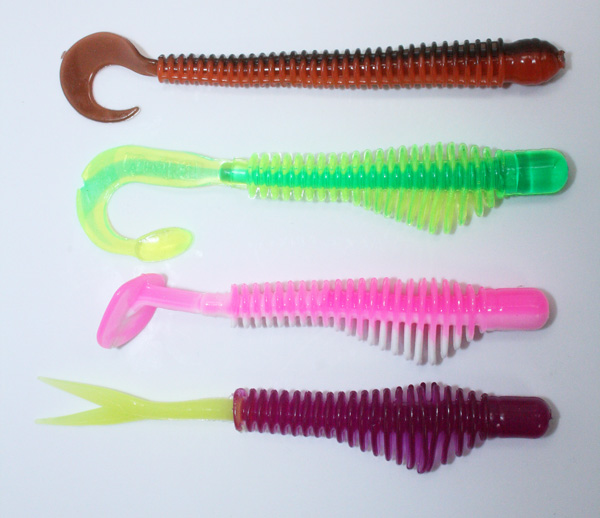 The Draggin' Jig is unique in that it has a thin profile wedge head that drops quick and is nearly totally weedless! I will cast this jig right up into fallen trees, rocky shorelines and weed edges...basically anywhere that I would never cast a standard lead head jig that would instantly snag up.
I've pulled some nice walleye and sauger from these areas, plus bonus other species including largemouth bass. If I'm tossing shallow and the walleye are there, great. But if I'm tossing shallow and white bass or largemouth bass are there, then that is just as good.
Why would you want to leave a bunch of active fish that are up shallow simply because they are the wrong species? Unless you are fishing in a tournament, why not take what the lake gives you and have some fun?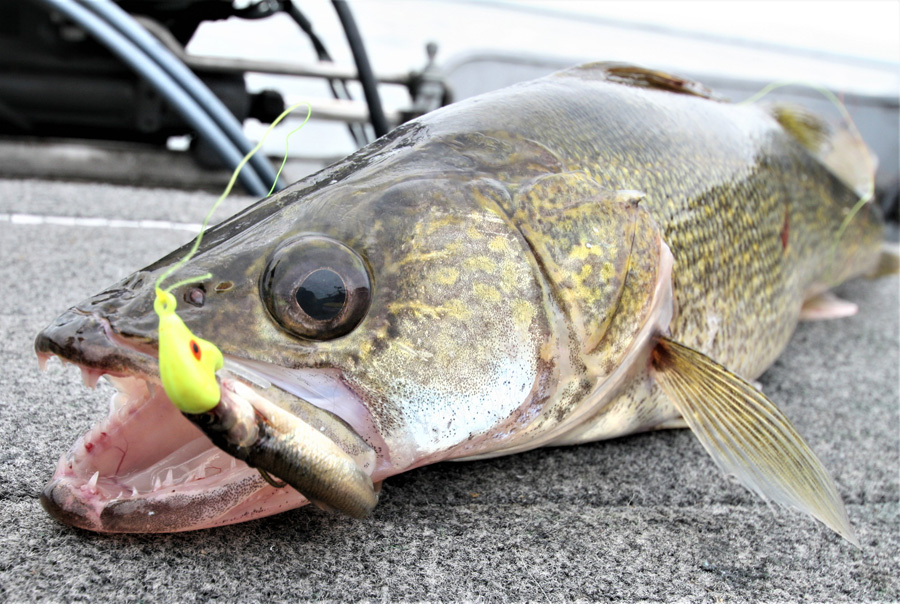 Casting and plastics
Casting jigs and plastic is technique that really shines in May. The AuthentX Pulse-R and Paddletail plastics are great because you can't really fish them wrong since they are so versatile. I've pitched them shallow, burned them in quick over heavy cover, vertical jigged them and drug them behind the boat on a Draggin' Jig.
So this May don't forget jigs, plastic, live bait and a positive attitude and you will catch fish! If you stick to one tried and true method and the conditions ain't right for it...switch to a jig! The conditions are always, always right for a jig!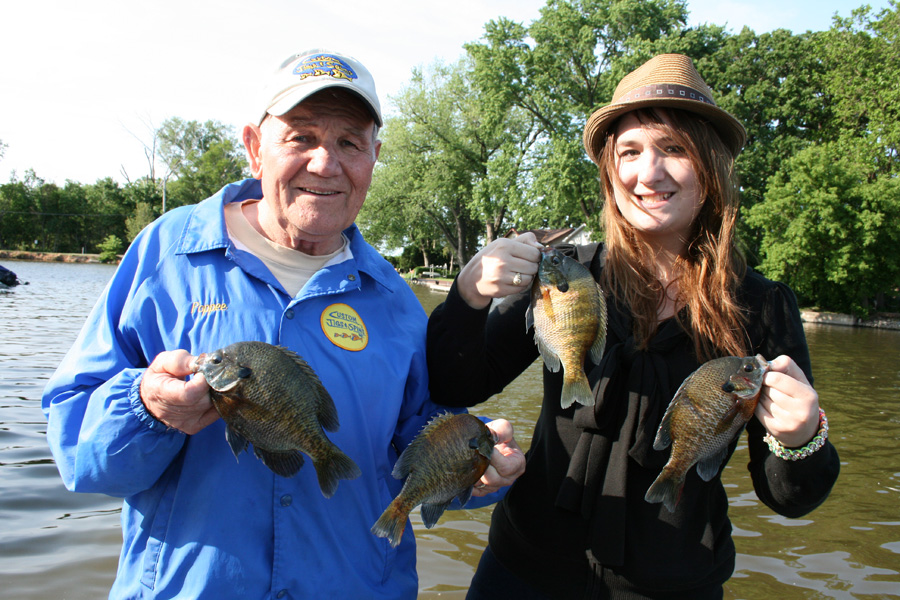 If you enjoyed this article, you will also like these: