Posted by Walt Mattan, Chief lure designer for Custom Jigs & Spins and B-Fish-N Tackle on Mar 9th 2023
My father, Poppee, hobbled out on the ice. His surgically repaired titanium hip squeaked a little as he walked. When he smiled, his tungsten teeth sparkled in the sunlight. He turned and reached into his bucket and pulled out 26" Frabill Quick Tip ultralight ice rod with a titanium spring bobber tip. "HASTA LA VISTA, BABY!" He whispered and lowered a tiny 4mm tungsten Glazba jig down the hole.
Chekai is the stuff of fishing nightmares!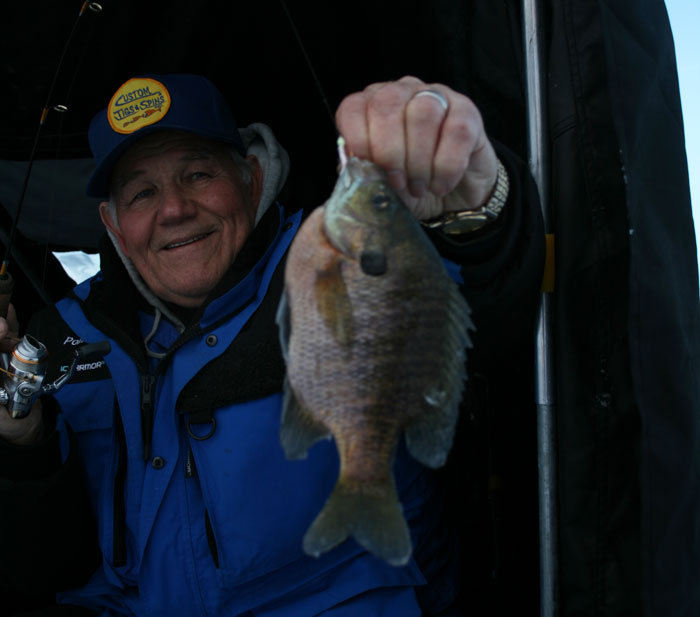 Immediately he had a bite. It was heavy, screaming drag, but soon he gained ground. Finally, out popped crazy cousin Chekai from the hole, flopping on the ice, Glazba jig stuck in his upper lip...then I woke up! I guess I shouldn't have eaten that second bowl of Oxtail soup before I went to sleep, yeeesh!
Poppee is gone now, to the big frozen lake in the sky, but his methods and perseverance live on in me every time I go fishing!
Fishing before high-tech ice fishing tools
When I first started ice fishing, thirty-some years ago, I'd fish fast. Drill and move, drill and move, drill and move. Never fishing a hole for more than five minutes. Poppee would be batting clean-up right behind me, looking for that hot hole. Once when he found it, he was wearing cement shoes-you just couldn't move him!
I'd use lures that fished fast (this was before tungsten really sped things up). Jigs like the Ratso, Diamond Jig,and Gill Pill. I used a longer 40" Frabill Quick Tip rod and I'd hop from hole to hole, Gypsy fishing. The Vexilar would check the hole first. If there was movement, I'd fish. If it was a blank screen, time to move on. I caught a lot of fish this way, A LOT OF FISH!!!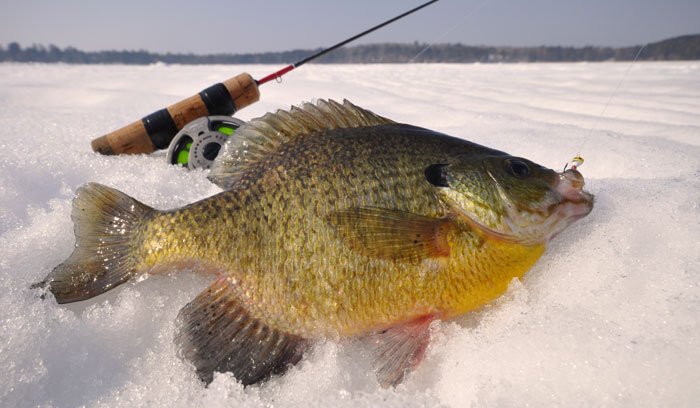 Poppee would be moving much slower, thoroughly covering my "used up" holes and once he'd find a few bluegill or crappie, he'd call me over to drill a few more until everything was "just right." Then I'd set up the Aqua-Vu for a little bit of tech fishing.
He'd fish slower falling, old school ice spoons like the Demon, 2-Spot and Rocker. Spoons that took a little more time to get down, but provided a lot more flash and flutter. Poppee caught a lot of fish this way, A LOT OF FISH!
Video: "Old Reliable Ice Jigs Still Produce!"
Drilling holes got easier too!
Back then, I had a 4" hand auger and an 8" gas auger. I can't remember which was worse! I could hand auger a half dozen holes before wearing out or gas drill about the same number (those old gas augers were awfully heavy).
Now, I use a battery powered Milwaukee power drill with a 8" auger Strikemaster Auger bit extensions for big jobs and bigger fish. Light weight, easy to handle and a fast driller!
Now for a little GPS fishing tech
Have you ever TRIED to find that hot hole from last week? Nearly impossible on a heavily fished lake that has more holes than a block of Swiss cheese. For that I've got a Humminbird Combo Locator/GPS with a LakeMaster map chip. I can mark a spot and return to it year after year. I use it on my boat and then convert it to a portable ice machine.
I've also got a Garmin Livescope loaded with maps that I use on the boat and convert for ice fishing use. I can fish fast with the Hummingbird and find a spot. I'll run it on the ATV or in the truck when the ice is thick. Then I'll hunker down on top of the fish and watch their reactions to my jigs and see them moving about with the Livescope.
The Livescope is a game changer, you can watch the fish in real time, scan an area for a larger school and save spots on the map. One thing that you notice right away with live scope is that there are a lot more fish down there than you ever thought possible!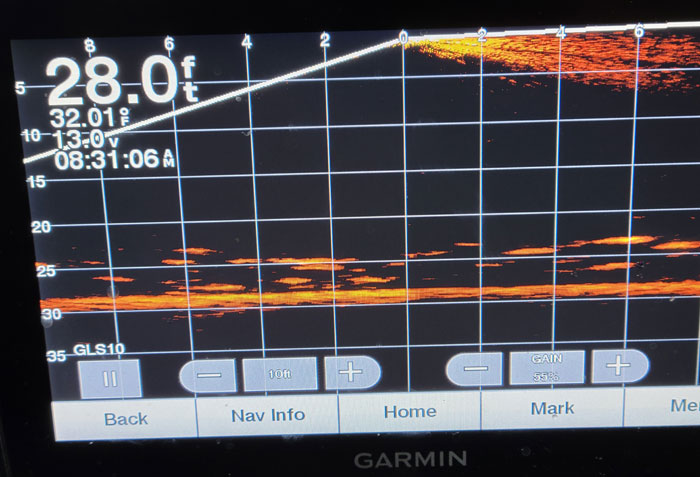 Jigs have also gone high-tech
Jigs have gone hi-tech also, with tungsten being all the rage now. Tungsten jigs really shine in shallow water when panfish huddle up in the weeds. You need a jig that is heavy enough to pound down to the bottom of the weeds where these fish are lying.
A great jig choice is the 3mm or 4mm Custom Jigs & Spins Chekai Jig, tipped with a smooshed waxworm. By using this tiny, yet heavy jig, you can drop it down a weed filled hole and jiggle it to the bottom of the weed stalk, where the big ones lurk.
If you want to keep the little ones off the hook, switch to a size 10 tungsten Wolfinkee. It has a Plastic tail, offers plenty of action to attract the sows in!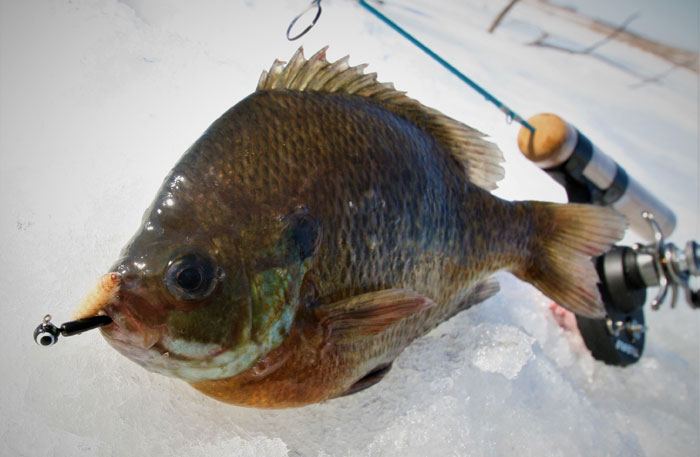 I've been working on different designs of Custom Jigs & Spins tungsten jigs for the past decade along with my cousin Chekai who hails from Lepoglava Croatia. Chekai is about as low tech as one can get, so it makes things difficult to be a hi-techer. He still uses the traditional Croatian Hammer and chisel to make an ice hole for God's sake!
If you enjoyed this article, you may also like: