Posted by Walt Matan, Chief Lure Designer on Nov 16th 2020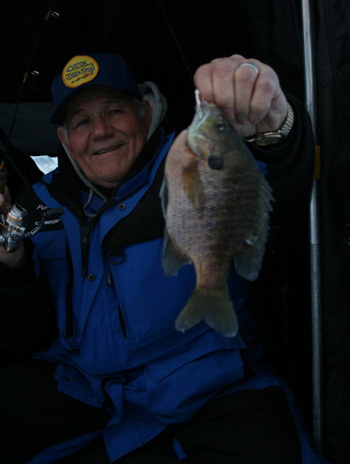 How the heck did anyone ever catch a fish through the ice without modern advantages of flashers, underwater cameras and Panoptics Livescope? Well, once upon a time, we had none of those things, all I needed was a jig, a hand auger and some wigglers. I'd drive a hundred miles for those wigglers. Those wigglers were the key, they were golden!
It don't get more old school than Poppee on the ice!
Well looking back on more than three decades of ice fishing, a lot has changed. In the beginning, I was young and strong, I could drill a dozen holes with my hand auger, move around and drill a dozen more. I could drive four hours to fish, fish for eight, drive back, clean the fish and go to work after a few hours of sleep.
Nowadays I try to take advantage of everything I can. I hate driving for hours to get to a spot, I hate drilling holes and I absolutely hate those stinky smelly wigglers.. I haven't used a wiggler in a long, long time.
Mixing in new fishing technology
Two years ago, I fished with NAIFC tournament angler Kevin Fassbind. He is a master at finding quality panfish. He mixes new technology with old school fishing.
When we hit the ice, he immediately began drilling at least 40 tiny holes all around, just big enough to drop his micro camera transducer down. He'd spot fish, but kept moving and checking until he found the largest pod of big bluegill in the area. Then he'd start fishing.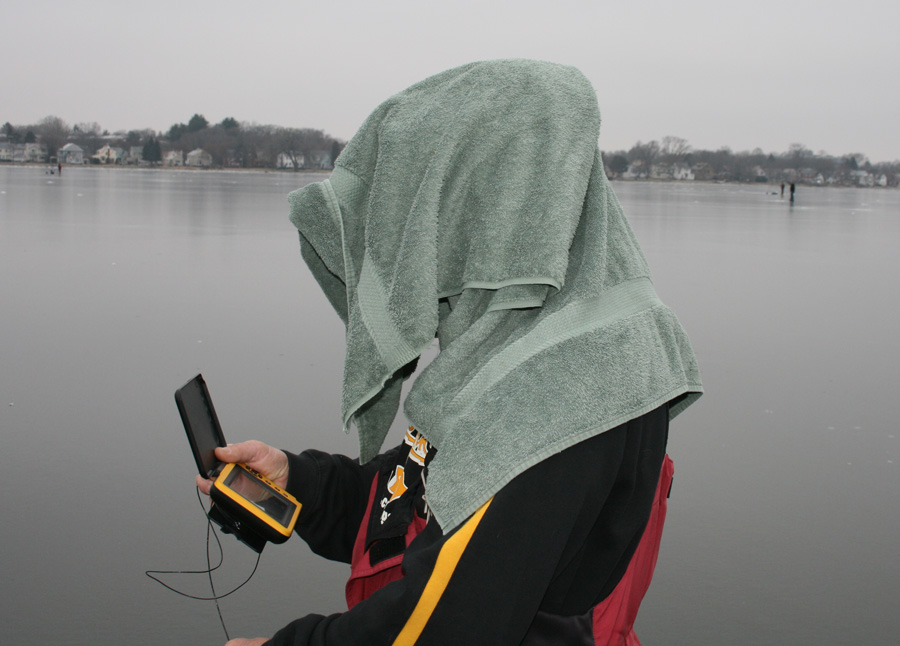 Custom Jigs & Spins pro Kevin Fassbind searches for active fish with his micro camera! (Towel on head keeps out the sun's glare while looking stylish!)
Old and new tech work together!
Last year, I fished with Kevin again and this time he had the Garmin Panoptics Livescope. That day he only drilled a few holes, dropped the transducer down and rotated it to scout the area, before drilling a single hole that produced more whoppers than I knew existed.
But when it was Kevin's turn to fish, he put away the electronics and picked up his trusty homemade long rod with spring tip, purple Majmün tungsten jig and single red maggot. He'd stare at the rod tip and slowly bob the rod up and down, ready to pounce when the spring moved. He was rocket fast on the hook set...the bluegill didn't stand a chance!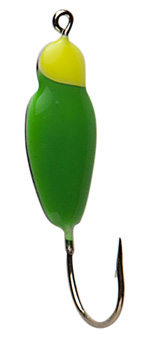 Me, I went semi-old school. I drilled two holes, spotted fish on the flasher and started fishing. I was catching fish a half hour before he ever dropped a jig down the hole, then when my action slowed, I moved over to the area where he was, stole his Livescope, so that I could watch the action and how the fish react to my presentation and started catching once again. What can I tell you, I'm lazy!
A Chekai tungsten bug produced for me on that day!
Different areas require different tactics. I fish the shallow Mississippi River backwaters a lot and fishing there is pretty low tech. You don't need an arsenal of jigs, but you do need a variety of shapes and sizes so you are ready for whatever mood the fish are in.
The CJ&S Original Demon is an excellent shallow water option.
Catching more fish with tungsten
But what technological advances do you really need to easily catch more fish? Tungsten jigs, for one are a big advantage. Tungsten is nearly twice as heavy as lead so it gets down to the fish zone fast and allows you to use smaller jigs than the lead versions.
Case in point, take one of my favorite jigs of all times, the Custom Jigs & Spins Ratso. When it first came out, I used a black Ratso for two years before tying on another jig. I still always have a Ratso tied on. And because it comes in three sizes, I've caught bluegill, crappie, white bass, walleye, catfish, whitefish and trout on it!
The CJ&S Ratso changed the game and was the first ice jig & Finesse Plastic hybrid!
But the Ratso head is made from lead. So what do you do when you want to get down deeper with a Ratso without changing sizes? Why, you invent a tungsten version. So that's exactly what we at Custom Jigs & Spins did, with the help of Croatian lure designer and snappy dresser, Cousin Chekai.
Chekai and Custom Jigs President Bob Gillispie testing out the Tütso tungsten jig last season!
The Tütso was born. It has a tungsten head, a gold Mustad super sharp jig hook, A Finesse Plastic body and some wild paint jobs. It comes in three sizes, for all species of fish!

CJ&S Tütso ...go deep without live bait!
The tungsten jig line-up!
We extensively tested the Tütso last season and MAN, did it deliver! Not only was the size 8 and 10 great for deep water panfishing, but when we hit a school in shallower water, BOY did it get down fast to keep the action going. Plus, I swear that color makes a difference. There is definitely a correlation between color being better on specific bodies of water and the hot color changing during the day!
Check out our current tungsten jig collection!

The right rod matters too
Another big advance is the fishing rod. While I still swear by my thirty year old Silstar rod, my twenty year old Frabil quick tip and my fifteen year old St. Croix Legend with Greg "the Prowler's" spring tip, I've found two new rods by Eyeconic that really opened my eyes to matching rod action to jig size.
The Eyeconic 32" Medium Lite, Extra Fast is perfect for 4mm to 7mm Chekai jigs, 1/8th ounce Slender Spoons and RPM 3's and 5's. I'll use it with a straight line reel and three to five pound test. It's got plenty of backbone to set the hook, plus a really fast tip. This is my power rod for bigger crappie, white bass, walleye and trout.
The NEW Eyeconic is 25" Ultralight is my favorite rod for all my panfish jigs from 3mm tungsten to 1/16th ounce Slender Spoons and everything in between. Designed by guide and bluegill master John Gosvenor from the bluegill factory known as Okoboji, this baby is super light, super sensitive and the key to making your jigs bounce properly, for more fish catching!
See, I don't just tie on a jig, add some bait and drink a beer. I'm out to have fun catching fish. Having the right equipment and mindset to do the job will make you a lot more successful. Plus, there is plenty of time to drink that beer at the fish fry!
In conclusion whether you're out on open water or simply looking for the best ice fishing jig for panfish, you'll find adding a variety of tungsten jigs to your arsenal will help you catch more fish, faster.
If you liked this article, you may also like: