Posted by Walt Matan, Chief Lure Designer, Custom Jigs & Spins and B-Fish-N Tackle on Apr 23rd 2020
There are more ways to catch walleye and other gamefish than on a jig-n-minnow on opening day. While I have caught my fair share on them, I've since found other ways, too. Jig and Plastic combinations made from AuthentX Plastic like Ringworms, Moxi's, Paddletails, K-Grubs, and pulse-R's have been added to my arsenal.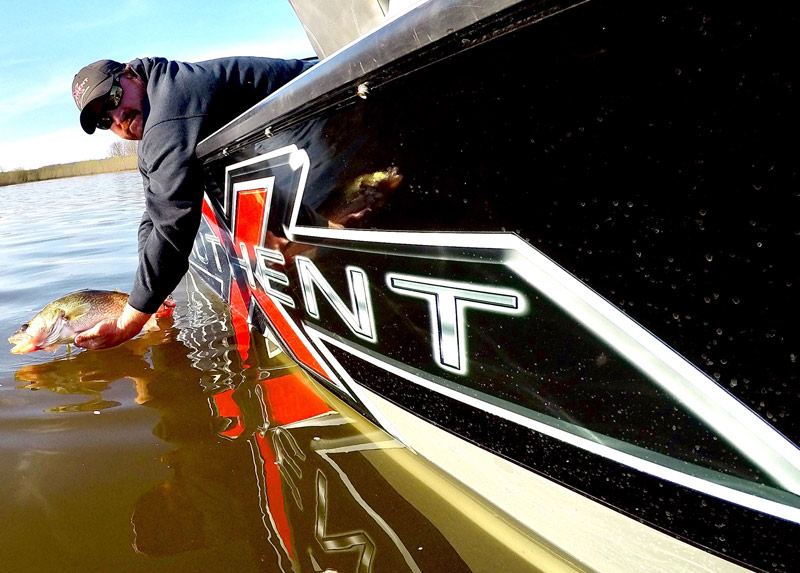 The Dubuque Rig
I've fished in Dubuque, Iowa. It's about an hour away from my house. Up there on the Mississippi River is where the Dubuque rig was born. This river rig works well for slipping or dragging downstream or pulling upstream in low water conditions.
A good shore fisherman can use a Dubuque rig also, but you don't want too heavy of a jig on the bottom or you will snag up.
My Dubuque rig centers around the three-way swivel which is attached to the mainline. Then I tie off a 12" length of 8-12 fluorocarbon to a 3/8 to 5/8 ounce B-Fish-N H20 jig rigged with an AuthentX 4" Moxi. The trailing line is a 24" length of fluoro to a1/16 ounce H20 jig with an AuthentX Ringworm.
This time of year the river walleye can be near the current seam down from a dam in 6-15 feet of water. Depending on the current speed, you can slip downstream in a controlled drift, slowly pull upstream, spot lockdown on high percentage areas, or anchor. Whichever way you go, as low as one-foot lift and drop will catch you some nice walleye.
The Wolf River Rig
The Wolf River Rig is similar to the Dubuque Rig except that it uses a 1/2 ounce to 2-ounce weight in place of the heavy jig. I've found this rig to be a better choice while anchored. The original pre-tied Wolf River Rigs have a weight and a hook that you add a minnow to.
If I'm anchored, I'll use two rods, one will have the Wolf River Rig and a minnow and the other will have a lighter weight H20 jig with an AuthentX Pulse-R. With this jig, I will cast to the side of the boat and allow the jig to swing and drift downstream, a deadly technique that definitely catches fish.

What About Snag City?
In snag infested areas, jigging with a standard jig is nearly impossible. If the area is infested with branches, brush and fallen trees, or larger rocks and boulders that eat standard roundball jigs, it will also be infested with walleye.
In this case, I'll use a B-Fish-N Draggin' Jig. It has a head design and weed guard that allows it to snake its way through the roughest underwater terrain.
I'll tip the jig with a Moxi,Pulse-R or Paddletail and pull it upstream or drag it downstream. Either way, I won't be re-tying since I won't be snagging up.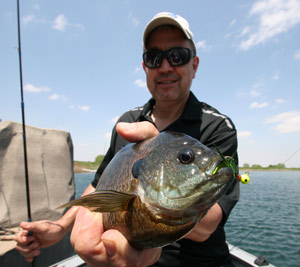 The Dropshot Rig
Another rig I love is a drop shot. While this technique was developed by bass fishermen, it works equally well on walleye, white bass, crappie, and bluegill, depending on how you rig it. Bass fishermen like to use tungsten weights, but these are too expensive for this river rat, so I'll just use a lead bell sinker.
I'll tie a loop at the end of my line and then slide the bell into and around the loop. Then off the mainline, I'll tie off one or two VMC Spinshot hooks 12 inches from the weight and 12 inches apart.
The Spinshot has swivels on the top and on the bottom with the hook in the middle. There is no twist with this rig and you can precisely present a Ribb-Finn, Ringworm, or Moxi to the distance you want it to be off the bottom. Plus, you can drift it, pull it or cast and retrieve it.
If you are after panfish, tie off a long shank gold number 8 hook so it hangs vertical and then add Custom Jigs & Spins Wedgee or Finesse Plastic to the hook. You can also add a waxworm, this is a deadly combo for panfish especially when they are patrolling the weed edge.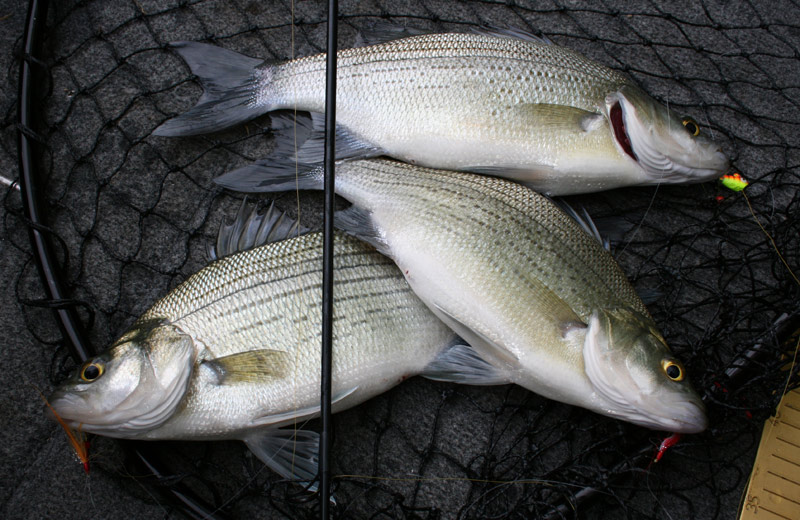 The Double Jig Rig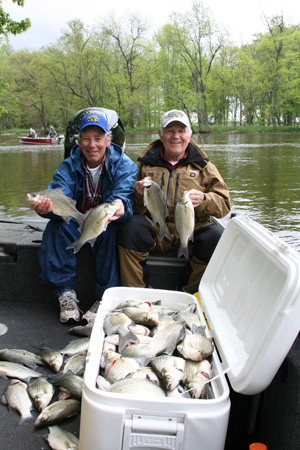 I saw this on an In-Fisherman episode once. Doug Stange had tied up a pair of jigs of the same weight off two-foot lengths of fluorocarbon attached to a three-way swivel. He was fishing smallmouth and mentioned how it would work for walleye, white bass, and other species, too. I filed it away in my brain as a silly idea.
Then a few years later when I was wailing on the white bass over by the wolf River with my Buddy Walt Baumgartner and my late father, Poppee, I saw an Oriental fellow catching them two at a time.
Remembering the Stange Rig, I tied on two B-Fish-N H20 Jigs to make a double jig rig and added minnows. I was destroying the whites on this rig, but we were running low on minnows, so I made a switch.
I tied on two 1/32 ounce Flu-Flu jigs and, as an added bonus, hung a white bass fly on another leader up from the three-way (three hooks on one line are legal in Wisconsin) and man oh man...it was a feeding frenzy! Try pulling in three 12" whiteys on the same rig, all swimming in different directions!
I've found the double jig rig to be effective on walleye and smallies when these fish are in shallower water and there is plenty of food present, be it shad, minnows, perch, or suckers. Flu-Flu's work, as do all of the AuthentX plastics. Try mixing colors, and try the AuthentX Paddletail. It falls quickly and really excites the fish!
By experimenting with jig combos, different colors, weights, and sizes you will key into what the fish are attacking on any given fishing day. If you just stick with the old reliable jig and minnow you might be passing up on a lot of fish you didn't know were there, the sport is called fishing, but I like it a lot more when I'm catching!
If you enjoyed this article, you may also like: