Posted by Walt Matan, Chief Lure Designer on Dec 22nd 2020
Oh panfish. I love panfish. They are fun to catch and good to eat. If you're new to fishing, you may wonder what is a panfish? It isn't a specific species. It's a term that refers to many different species of fish that are small enough to fit in a frying pan but large enough to be legal and fun to catch. Perch, bass, crappie, are all panfish and we talk a lot about how to catch them.
Once upon a time the Fox Chain in Northern Illinois was a yellow bass factory. Everyone complained that those pesky yellow bass were infiltrating on their bluegill and crappie fishing, but not me and Poppee. Those yellows were just perfect for us...they schooled up, attacked anything in their territory, were good fighters and didn't taste too bad fried up with a big glob of tartar sauce on the side!
But then through a combination of the introduction of muskie and over harvest of yellows by ice anglers, they thinned out. The good news was that the bluegill, crappie and walleye fishing seemed to improve. The bad news was that our fishing methods had to be refined and new jigs and spoons had to be invented to catch them. I guess we had a job to do!
In looking back on thousands of hours spent ice fishing and jig making, two things are for certain, a fish is a fish as long as it is the same species and each species reacts to, eats and attacks prey differently. Let's take a quick look at proper presentations by species.
Bluegill
Bluegill are an ice fisherman's best friend. They are readily available, school up, hide in relatively shallow water near weeds and can be easy to catch. I spent a lot of time staring at a spring bobber, wondering what was going on down below. I spent more time watching a locator trying to get those flashing marks to line up so I would know when to set the hook. But perhaps the time I spent watching bluegill react to my baits with an underwater camera was the biggest eye opener of all!
Bluegill will feed like piranha as long as there is competition from other bluegill. Small fish are peckers. They peck and pull and jerk your rod tip. But those bigger, loner fish are slow movers...sniffers. These toads will move within inches of your dancing jig, until in one motion, will inhale and suck in your bait. If your bait is too heavy, rod is too stiff or you are not paying attention, you will never notice.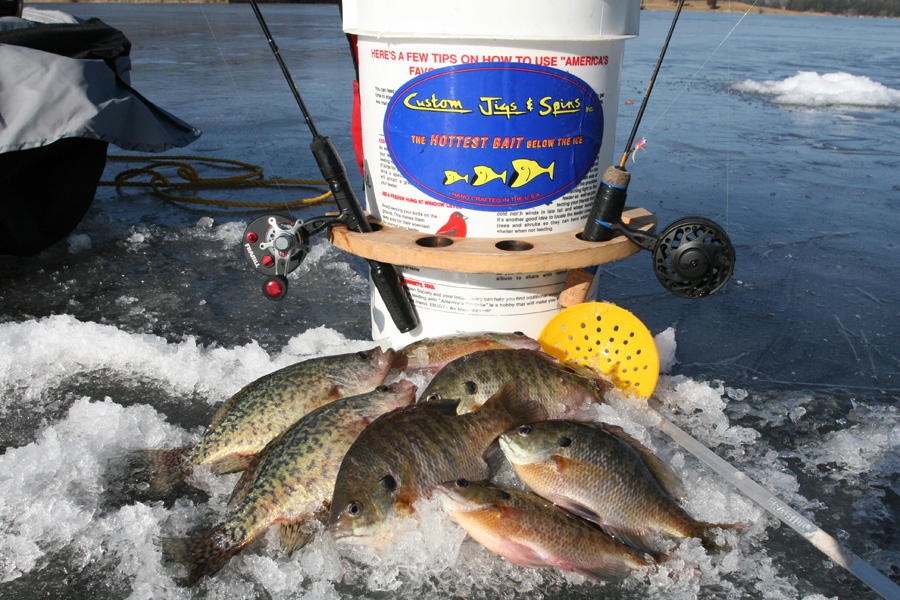 Jigs and lures for bluegill
When it's all said and done, I prefer a flasher. It is easier to spot fish and pick up and move on when they move on. Ice jigs for bluegill need to be fairly tiny. I like a size 12 or 10 Custom Jigs & Spins (CJ&S) Demon when fishing in shallow water. This light weight is for a bluegill to inhale and flutter-on-the-fall action really attracts the fish. Add a juicy waxworm or a few red spikes and you are good to go!
Another top choice is a CJ&S size 10 Ratso. The Ratso will hop and dart about...kind of like an underwater bug or small minnow. Jiggle and pause, jiggle and pause...do it long enough and bluegill can't resist them! When those fish get a little deeper it's time for tungsten. The CJ&S Tütso is a new creation that has a tungsten ball head and a Finesse Plastic body, the same body as the Ratso.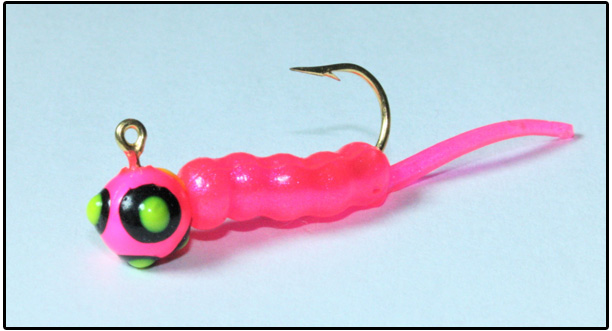 Tutso tungsten jig shown in Pink Clown
You can buy Ratso and Tütso Finesse Plastic separately. You can mix and match colors to make your own creations. Finesse Plastic will also work on any of your lead or tungsten jigs!
Lead jigs versus tungsten jigs
The difference between lead and tungsten is the weight. Being nearly twice as heavy as lead, a tungsten jig will get down quick plus it will hop differently when you jiggle your rod tip. Got to get the right jiggle motion down! It's always a good idea to drop a jig down the hole a little, weight, and give it some jiggles, lifts, falls and see what it does before letting it plummet down into the fish zone.
Crappie
Crappie inhabit the same areas as bluegill, but can also suspend over deeper water, usually near the weed edge. Crappie approach a jig differently than bluegill. They usually move right in and gulp the bait right up. Up is how they feed.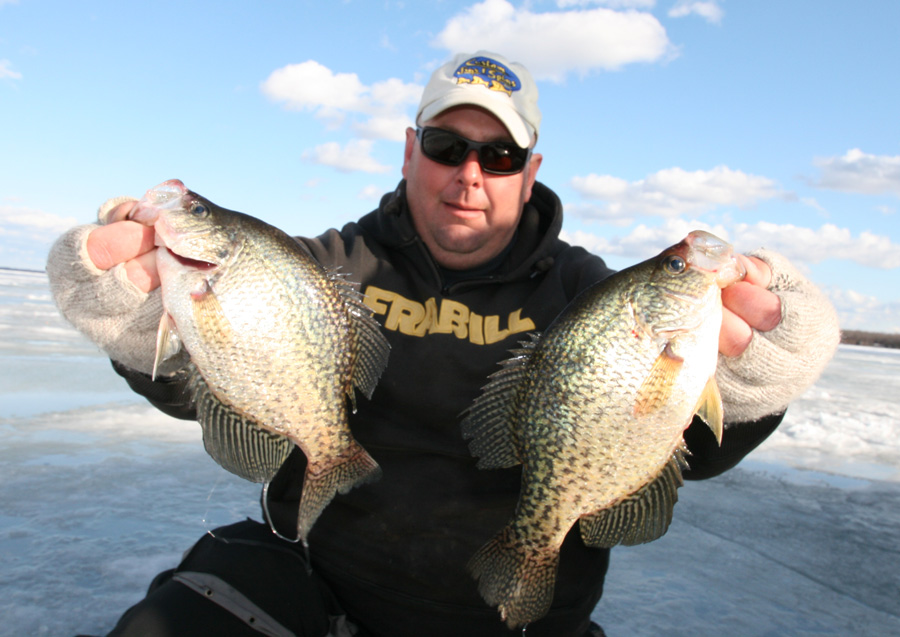 Because they can be anywhere in the water column, a flasher is the only way to go to locate and catch them. Since a camera will only work in a certain depth range, finding crappie with a camera is hit or miss. The flasher lets you watch your jig sink and watch the crappie move up upon it. Get 'em to move, shake 'em up!
Jigging spoons are premier crappie locators. You want an action spoon as opposed to a slab spoon. CJ&S Slender Spoon's and Demon Jigging Spoons are my top choice. Glow variations are the go-to colors, waxies, spikes and minnows are the baits. I have also have had tremendous success with the RPM3 balance minnow bait with no bait (just a lot of jiggling).
If you are fishing in shallow weedy areas and catching bluegill, try raising your jig up a few feet to attract the crappie. Sometimes they are even right under the top of the ice. When fishing deeper water move your locator around until you spot suspended fish in a hole before you start fishing. At least put the odds in your favor!
Perch
Perch are like pigs, they root around on the bottom, snout down, stirring up the muck and munching on anything and everything within sight. If pigs lived underwater, they would be perch. They swim up and down the water column, happy to eat whatever is in their path.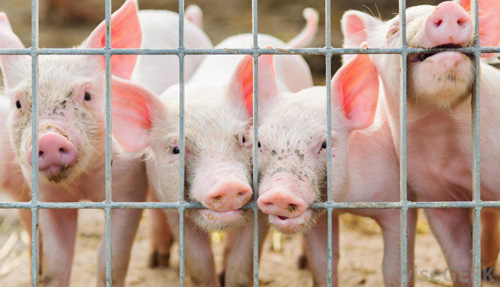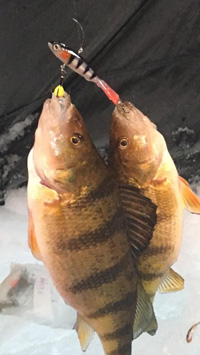 Perch like bugs and shiny things. They will eat a jig like a Ratso, the tungsten Tütso or a flashy Slender Spoon fluttering about! Perch are attracted to action, catch one and the commotion will bring in more. Old timers hook a large nickel spoon on a heavy line and work it aggressively to call the perch in from a distance! Then once in, catch them on smaller offerings.
I've had better luck with perch on walleye water on reefs, the edges of the reefs and transition areas from rock to sand. Sometimes though, those perch will pop up anywhere!
White and Yellow Bass
White and yellow bass are schoolers. They hang together and compete for a meal, any meal. I've caught them on everything from a tiny 3 mm Tungsten Chekai jig to a 1/4 ounce Slender Spoon and size 5 RPM Minnow...a bait meant for walleye! When times are good, go big...white bass are aggressive, when times are tough (like a barometric pressure swing) you have to go tiny.
When it comes to ice fishing, panfish are king! Whether you are after bluegill, crappie, perch or whites and yellows...they all fight well and taste great fried up...what more could you ask for as an ice fisherman?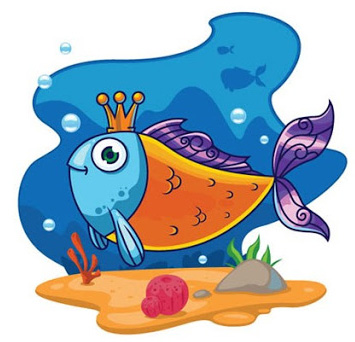 If you liked this article, you may also like: